Why Babysitting Can Be the Perfect Side Gig in Your Early 20s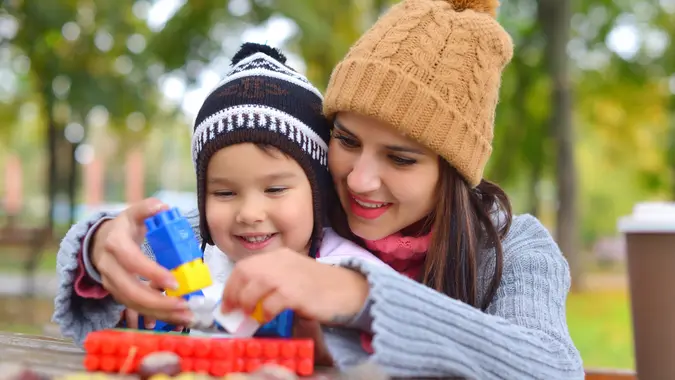 Pazargic Liviu / Shutterstock.com
Side hustles have always been a popular way to earn extra cash — especially for young people. But nowadays, not having a side hustle may put you in the minority. A 2021 Bank of America survey revealed that 62% of Gen Zers and 56% of millennials had picked up a side gig since the start of the pandemic. 
With the cost of living rapidly inflating across the U.S., getting a side gig is a great way to pad your bank account. The question then becomes: What kind of side gig should you get? 
See: 22 Side Gigs That Can Make You Richer Than a Full-Time Job
More: 11 Things You Should Never Buy at Walmart
If you're good with kids, you should consider babysitting. Babysitting in 2022 is both flexible and lucrative if you're the right fit. Whether you have prior babysitting experience or are starting from scratch, here's why it could be the perfect side hustle for you.
Make Your Money Work Better for You
3 Big Pros to Babysitting
Check out some of the best reasons to consider babysitting for your side gig.
Nowadays, Babysitting Can Be Pretty Lucrative
"In your early 20s, babysitting can be a flexible, fun and well-paying side hustle," said Sarah Davis, founder of Motherhood HQ. 
"According to a study in 2021, the average hourly pay for babysitters is $20, which is significantly higher than many entry-level jobs. Students, part-time employees and entrepreneurs may find that babysitting helps them reach their personal and financial goals."
Data from UrbanSitter reported by Axios puts the average hourly pay for babysitters at $20.57 — and that's for one kid. The average pay to watch two kids is $23.25, and for three, it's $24.35. Of course, the cost of living in your area could affect what you're realistically able to charge. 
POLL: Do You Have a Side Gig or Other Hustle?
You Control Your Hours 
"As a babysitter, you are free to find and take jobs that fit your schedule; there are no commitments to working at specific times or on specific days," Davis said. 
Make Your Money Work Better for You
Rachel Fink, CEO and founder of Parenting Pod and mother of seven, agreed. "Babysitting can be quite flexible in regards to how many hours you dedicate and when those hours are, giving you the freedom to pursue other things at the same time," she said. 
If you're searching for new clientele, though, you may want to make yourself fairly available. Evenings and weekends are the bread and butter of babysitting, and you can expect to make more if you're open to overnight stays and last-minute jobs. 
Parents May Prefer (and Pay More for) Older Babysitters
Babysitting is classically a job for teenagers, but not every parent feels comfortable leaving their kids with a teen. Even if you have little experience, being in your 20s may help you secure a babysitting gig. 
"I cannot speak highly enough of the college-aged babysitter we found for our third (and later fourth) child, and based on that experience, weigh heavily in favor of babysitters in their early 20s, especially for active toddlers and preschoolers," said Alexandra Fung, mom of four and co-founder of Upparent.
Make Your Money Work Better for You
"Our babysitter had this perfect balance of energy that came from her relative youth, with sufficient age and experience to be aware of how closely our kids needed to be supervised in order to keep them safe. In my opinion, it's this balance that is often present in young people in their early 20s that makes them especially ideal candidates for babysitters." 
How To Get Babysitting Gigs
Babysitting can be tricky to get started in. Parents won't leave their kids with just anyone — they want to feel assured that you're more than capable of keeping their children safe and entertained, and if you have no prior experience, you'll need to show this in other ways.
Make Your Resume More Attractive 
"There are no certifications or degrees required to begin babysitting, but there are things you can do to make yourself more marketable to parents. First Aid/CPR certification is a great first step. Parents will be assured that, in the case of an emergency, you will be able to provide assistance to a child until medical professionals arrive," Davis said.
She added, "If you will be taking a child to the pool or an outdoor body of water, you might want to consider water safety or lifeguarding certificates. The Red Cross also provides a number of courses specifically related to babysitting and child care. Having a driver's license and being willing to transport children is another great way to stand out to parents." 
You may also consider having business cards printed — this shows parents you're serious about the job. 
Understand What Parents Are Looking For
Babysitting is more than just a job; it's someone's child (or children). In that sense, interviewing for a babysitting job is very different from, say, a fast-food job. You need to demonstrate that you're not only qualified but possess critical soft skills like communication, patience and compassion.
"When looking for a babysitter for my child, my focus is usually on assessing their character and competence first and this means making sure that they are good with time management, responsible and present a good level of confidence and leadership skills. In this respect, it often helps when they have some references that can vouch for their quality of character, be it from a teacher, former client, former employer, etc.," said Mila Garcia, co-founder of iPaydayLoans.com.
Set Up a Profile on a Babysitting Site
After you've beefed up your resume, you're ready to advertise your skills. This could mean creating a profile on a babysitting site where interested parents can find you. 
Popular sites include: 
You can also try advertising your services in local Facebook parenting groups.
Ask Your Friends and Family for Referrals
You may have better luck finding clients if you come recommended by a family member or friend. It's much easier to establish trust when you have a third party vouching for you.
"Friends and family are great sources of recommendations, as they have my kid's best interests in mind. It is easier for me to find a reliable babysitter through endorsement of the people I trust. Recommendations can also come from my child's pediatrician, hospital or day care," said Ling Ling Fung, CEO of Metro Baby. 
Put some feelers out in your personal network and see if anyone you already know needs babysitting services. Otherwise, they may know someone who does.
More From GOBankingRates
Make Your Money Work Better for You