Why You Might Need a Side Gig in 2024 — and Which Ones Will Be in Demand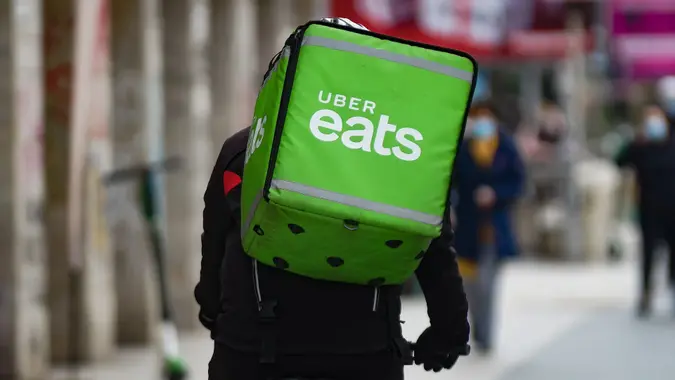 lcva2 / iStock.com
As the world of work changes, side gigs seem to be becoming an increasingly viable way to make extra money. Yet many people have still yet to jump in.
According to a recent GOBankingRates survey, 60% said they did not need a side gig in the past year. Perhaps some people have been able to make do with savings from the peak pandemic years; but, as prices continue to rise, more might need side gigs in 2024.
Savings Are Down, Debt Is Up
Indeed, the overall savings rate for Americans has been falling. In June 2023, the national savings rate was 4.9%, meaning people saved that amount on average from their disposable incomes. By September, it had dropped to 3.4%, according to the Bureau of Economic Analysis. For some people, the situation is even more dire.
"American debt loads are at or near an all-time-high and foreclosures are starting to rise again," said Joey Ruffalo, owner of J.R. Financial Coaching. "The need for income will be there and the apps/side gigs can provide an easy and accessible way to supplement that income."
By age, the story also differs. The survey found that 79% of those 65-plus did not need to take on a side gig, but 52% of those 18-34 did take on side gigs for spending money and 10% did it to pay bills. The younger the age group, the more likely they were to say they took on side gigs. So, as more young people enter the workforce, side gigs could become more common.
Make Your Money Work Better for You
Charles Rosenblatt, president of PayQuicker, a payments platform that offers payout services to gig workers, said, "We have seen a major shift in the mentality of the gig worker, and I believe the shift will only increase in 2024. It's a myth that people take on gig work to fully replace their primary source of income. Rather, people are looking to add another $250 to $500 each month to their income and need that income to pay bills and other expenses."
More people also might take on side gigs for more enjoyment in how they earn money.
"There are many who also use their gig as a way to fulfill their interest and passions," Rosenblatt said. "As the economy has tightened, we are seeing gig workers combine their hobbies with a way to make extra money, and a better way to get a second or third job to pay their bills."
Popular Side Gigs
If you're looking to take on a side gig in 2024, you likely have many options. But some might stand out more than others.
"I think there will be a bit of a shift from gig jobs that have a built-in cost structure behind them," Rosenblatt said, mentioning ridesharing that includes car expenses. Instead, the move will be more toward "jobs in the affiliate marketing space that are more tech-driven and where you can make money without leaving the comfort of your home."
"During Covid," he said, "those affiliate incomes grew and then began to drop again as people headed out after being in their homes. But, the pendulum is swinging back and people are looking for side income that can be a little more passive."
Make Your Money Work Better for You
Ruffalo agreed that more work-from-home opportunities could arise for side gig workers.
"One outcome from the pandemic is that businesses became more comfortable with remote/work-from-home situations," he said. "Skills that can help offset the burden of a remote workforce will continue to be in demand. Digital marketers, copywriters, coders and graphic designers should continue to do well."
That said, he still sees a place for app-based side gigs.
For example, he said, "Food delivery/grocery delivery will continue to be in demand as people have grown accustomed to the convenience."
But if these types of side gigs aren't calling out to you, don't worry. There are plenty of ways to forge your own path.
Side gigs tend to align with entrepreneurism.
For example, Rosenblatt said he knows someone who made a side hustle out of creating tour packages for a theme park she loves.
"In exchange, she makes money and gets discounts for when she has her own family excursions," Rosenblatt said.
So, as the new year approaches, consider not only which side gigs are in demand, but also what you could enjoy doing or grow to enjoy over time, like if you're learning to code. Ultimately, that can help you sustain your side hustle and reach your income goals.
More From GOBankingRates
Make Your Money Work Better for You