Grant Cardone Says These Are the Top 3 Mistakes That Will Hold You Back From Building Wealth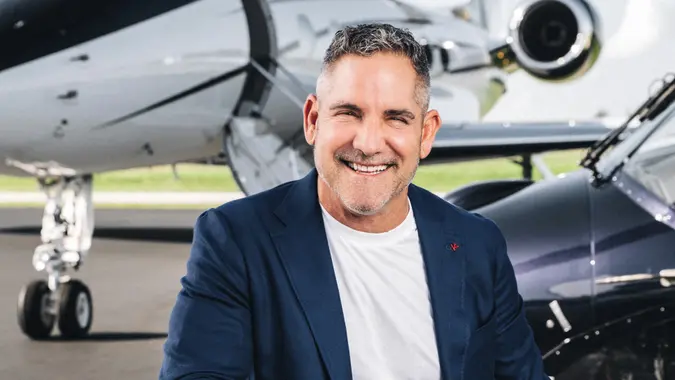 Building wealth is part of the American dream for many people — and Grant Cardone, serial entrepreneur and author of "The 10x Rule", said it should be the dream for everyone.
"Wealth should be a mandatory goal for all people," he told GOBankingRates. "Creating wealth should literally become part of the American pledge."
Unfortunately, you may unknowingly be holding yourself back from building the wealth that you want. Cardone shared the three most common mistakes that can hold you back from achieving financial success.
Overspending
Many Americans live above their means, entering them into a cycle of debt that they cannot get out of. When you have debt, you can't build wealth. That's why it's so important to stick to a budget, and ensure you have money left over each month to put towards your financial goals. This will often mean making some sacrifices.
"I had to exercise tremendous discipline to achieve the wealth I have today," Cardone said.
This may mean driving a used car, going out to eat less and cooking more, or cutting back on vacations. These short-term sacrifices can pay off big in the long term.
Not Investing
If you are living below your means and setting money aside each month, you are on your way to building wealth. However, what you do with that money is important.
"Money in a savings account will never achieve success, and it will never grow at a rate that can provide wealth for you or your family," Cardone said.
Make Your Money Work Better for You
Instead, you should invest your money. To put things into perspective, the average savings account interest rate is currently 0.42%, according to the FDIC, while the average annualized return for the S&P 500 index is 9.82%, according to Investopedia.
Diversifying
While many financial professionals tout the importance of diversifying your investments, Cardone believes that this is not the best way to build wealth.
"Go deep on one thing," he said. "You will have more control over your investment if you do. I invest all my money in real estate and it has been what has created all of my wealth."
More From GOBankingRates