The 7 Most Expensive Lego Sets in the World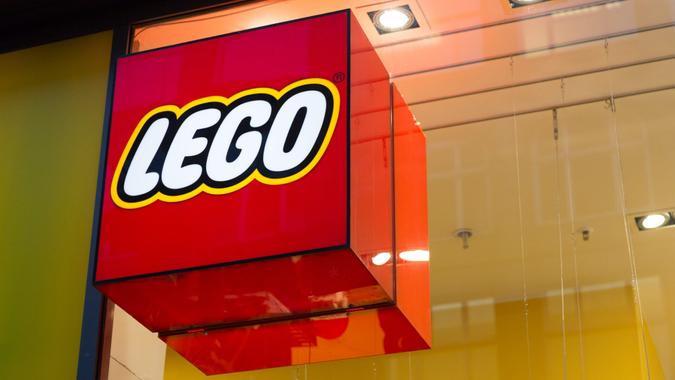 Cineberg / Shutterstock.com
You might never have thought of a LEGO set as an investment, but at one time, collectible LEGO sets were outperforming gold and other precious metals in terms of appreciation. Though no more recent studies have been done on the subject, there's still a massive secondary market for the world's rarest and most intricate sets, especially those that are in mint condition.
Top 7 Most Expensive Lego Sets in the World
Because prices for these sets on secondary markets fluctuate constantly, this article focuses on the highest-priced model sets at the time of release.
1 (Tie). Roller Coaster #10261 – $379.99
Anyone who's ever wanted to build a working roller coaster finally has the chance. This set includes 4,124 pieces that make up the track, trains, sign, and surrounding scene, even down to a cotton candy vendor and a frog pond. As a bonus, you can upgrade this set with a motor and power hub — sold separately.
On the official LEGO site, this set is listed as out of stock and "retiring soon." However, you can find it elsewhere online for $500-$700. 
Make Your Money Work Better for You
1 (Tie). Lamborghini Sián FKP 37 #42115 – $379.99
First introduced in 1977, LEGO's Technic system includes beams, gear wheels and axles. This classic toy set is probably one of the coolest things that LEGO has ever created, and it helps make this intricate kit possible.
This 3,696-piece set includes a working 8-speed transmission, V12 engine, scissor-opening doors and more. LEGO designates this as a "hard to find" set, but it's still available on their site as well as in other places for about the same price.
2 (Tie). Diagon Alley #75978 – $399.99
Fans of the Harry Potter series will love this magical set, packed with details from the movies and including minifigures of their favorite characters. The scenes depicted include Ollivanders Wand Shop, Weasley's Wizard Wheezes, Flourish & Blotts and more.
The set can be built four different ways, and the whole thing is compatible with the LEGO Modular Buildings series. Diagon Alley is still available from official LEGO stores at the original price.
Make Your Money Work Better for You
2 (Tie). Hogwarts Castle #71043 – $399.99
Another Harry Potter favorite, this 6,020-piece set is designed to "make the magic come alive" with tons of detail inspired by the hit films.
More than just scenes, this set includes 27 microfigures of your favorite characters, four legendary Hogwarts wizards, and a buildable Hungarian Horntail dragon. Hogwarts Castle is still available on the LEGO site, but it's described as being "hard to find." Online, it sells for about $430 on average.
3. Liebherr R 9800 Excavator #42100 – $449.99
The Liebherr R 9800 Excavator set has a CONTROL+ app that you can use as a remote for select models. This particular Technic set is powered by seven motors that allow for precise movements via intuitive controls from a compatible smart device.
For even more fun after the challenging construction, the CONTROL+ app includes a challenges & achievements screen where you can unlock reward badges by completing specific tasks. This set is currently sold out at the official LEGO site and other major retailers, but you can find it elsewhere online for $536. 
4. Death Star (Ultimate Collector's Series) #75159 – $499.99
The 2016 edition of the Death Star is a marvelous memorabilia set, with 23 minifigures, movable lasers, scenes from the original movie, and a planet destroyer to top it all off. This challenging set also includes more than 4,000 pieces, so it's sure to keep you busy for a while.
Make Your Money Work Better for You
Unfortunately, this set has already been retired, so to get your hands on one, you'll have to turn to the resale market, where prices on this collectible have increased monumentally — north of $1,300.
5. Colosseum #10276 – $549.99
This colossal Creator Expert set is the largest to date in terms of pieces, with more than 9,000 reasons to watch where you step. The model is faithfully recreated, even down to the surviving archways, original paving stones and olive trees. The Colosseum is still readily available on lego.com for the original price.
6. Imperial Star Destroyer (Ultimate Collector Series) #75252 – $699.99
Nearly 4,800 pieces and a finished model measuring more than 3 feet long and 2 feet wide, the finished model is one of the largest LEGO sets to date, and the build is no easy task. This model was created to display all of the details shown in the opening scene of "Star Wars: A New Hope."
The set is still available on the LEGO site, but collectors expect it to appreciate further once it retires in the coming years.
7. Millennium Falcon (Ultimate Collector Series) #75192 – $799.99
With more than 7,500 pieces, the UCS Millenium Falcon is easily among the most intricate LEGO models ever made. Released in early 2018, it includes minifigures of the classic crew as well as three members of the Episode VII/VIII crew – Older Han Solo, Rey and Finn.
Despite the fact that it hasn't yet been retired, it can be hard to find: as of this writing, it's available on Amazon at retail, temporarily out of stock on the LEGO site. Additionally, you can find several listings on eBay for more than $1,000.
Good Advice

Before you go out and buy every set you can find, remember that they don't all appreciate over time. That, and there's no true consensus as to what a set is worth — only what a buyer is willing to pay.
Some of the sets on this list have appreciated steadily, and this usually happens after a set has been retired. Your best bet is to either buy the sets you'd like to build along with an extra copy to keep in mint condition or spend time learning what makes a good LEGO investment set.
Cynthia Measom contributed to the reporting for this article.
Our in-house research team and on-site financial experts work together to create content that's accurate, impartial, and up to date. We fact-check every single statistic, quote and fact using trusted primary resources to make sure the information we provide is correct. You can learn more about GOBankingRates' processes and standards in our editorial policy.