The Suite Food Experience Across NFL Stadiums

6 min Read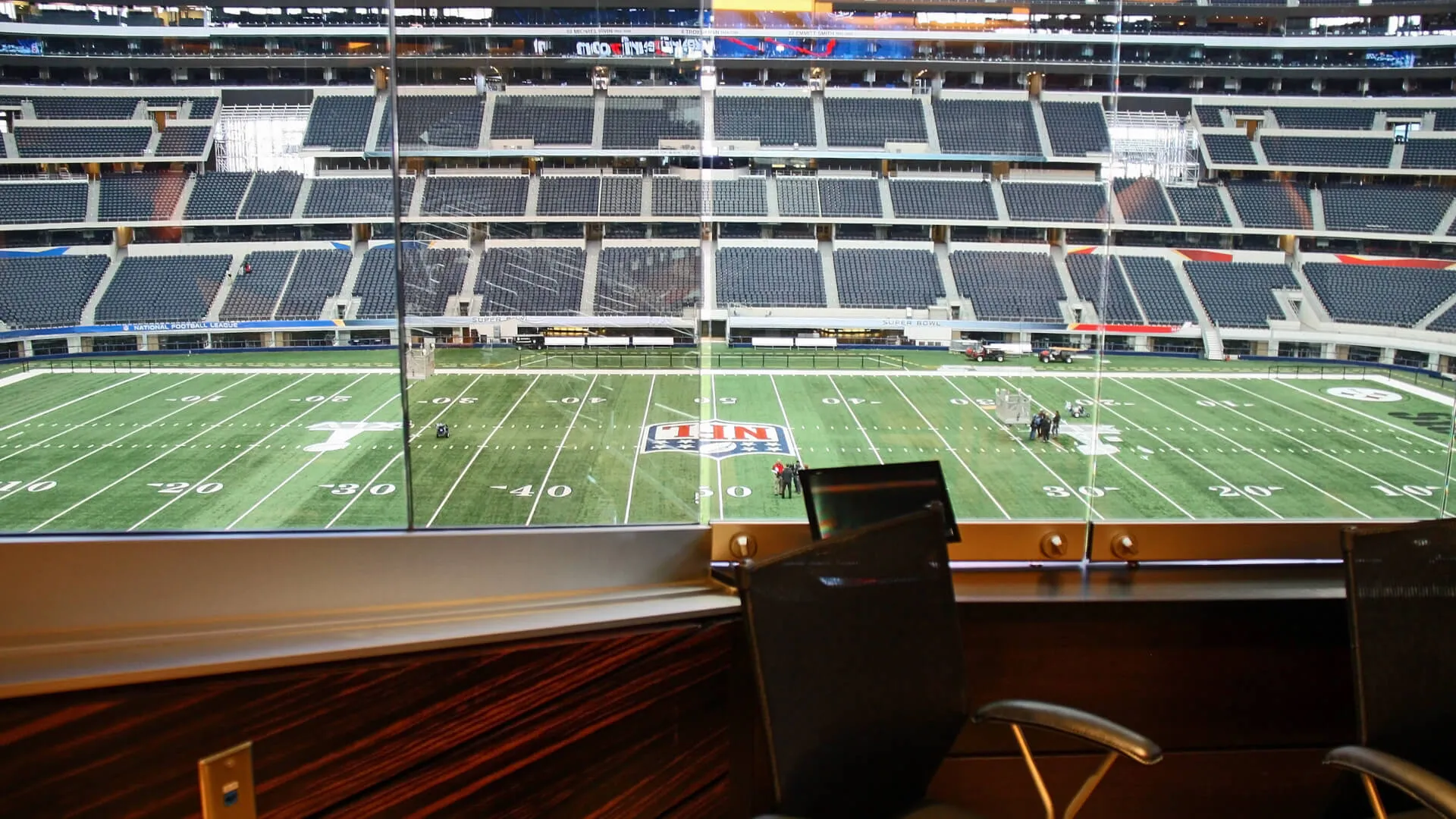 With the big game approaching, it's time to start planning the menu for your Super Bowl party. But what should you dish up? Just take your inspiration from what NFL stadiums serve to their most well-heeled customers — those sitting in the luxury suites.
See the List: GOBankingRates' Best Banks of 2023
More: Protect Your Financial Future With Gold and Silver
Wealthy Millennials Aren't Banking on Stocks: Here's What They're Investing In Instead
As it turns out, watching a game from a suite doesn't mean enjoying free-flowing Champagne, endless caviar and meat sliced by a chef at a carving station. If you glance at the menu offerings for NFL stadium suites, you'll see that the food on the buffet table resembles what's on yours, except for maybe a few local favorites the stadiums offer.
Take a look at a sampling of the menus at seven NFL stadiums from coast to coast to inspire your own game-day preparations, as well as to see just what it costs to feed your friends if you have a suite. Keep in mind the prices listed here are for the recently concluded 2022 season and cover food only; you'll likely have to pay a service charge and sales taxes on top of that. Drinks, from bottled water to soda to alcohol, aren't part of the packages.
If you're wondering just what it costs to rent a suite at State Farm Stadium in Glendale, Arizona, which is hosting Super Bowl LVII on Feb. 12, the stadium's website listed one remaining suite still available less than two weeks before game day. The suite comes with tickets for 18 guests and two VIP parking passes. The cost? $1.7 million. At least it covers the food and alcohol package.
Make Your Money Work Better for You
Buffalo
When you invite friends to your suite to watch the Bills at Highmark Stadium in Buffalo, your menu should include some of the foods the city is known for: chicken wings, beef on weck — carved roast beef served on a salted hard roll with caraway seeds — and Sahlen's hot dogs come to mind.
The "7 Won 6" package serves 12 and includes those three Buffalo iconic foods, plus kettle chips and dip, artisan cheese, pizza logs, a souvlaki platter, pizza, cupcakes and ice cream novelties for $875. If you want a little someone extra, add on the Mediterranean falafel platter ($110) or the Buffalo chicken mac and cheese ($90).
Take Our Poll: What Are Your Financial Priorities in 2023?
Chicago
At legendary Soldier Field, try the "Taste of Chicago" package as you watch the Bears play. Start with popcorn — served local-style with cheese and caramel — kettle chips and caramelized onion dip, the Chicago chopped salad, artisan cheese and a charcuterie board. Then dig into the entrees: Chicago Vienna beef hot dog with classic Chicago toppings, chicken and cheese flautas, smoked gouda mac and cheese, chili and chocolate chip cookies ($1,045, serves 12).
For that extra Chicagoland flair, don't forget to add a side of deep-dish pizza ($90) and cheddar and potato pierogi nachos ($95).
Green Bay
What is Wisconsin all about? Cheese. Why else do Packers fans wear cheeseheads? But it's also about the bratwurst, and the Local Wisconsin menu at Lambeau Field has got you covered. It's got classic popcorn, candy, chips and dip, beer cheese dip and pretzels, twists, cheese, bratwurst, maple bacon baked beans, coleslaw, crudités, pizza and the cookie and brownie combo ($730, serves 16). As an add-on, try another local favorite: fried cheese curds, served with marinara and ranch ($45).
Make Your Money Work Better for You
Los Angeles
Los Angeles is a cosmopolitan city with residents from around the globe, so it's no wonder the menus at the suites at SoFi Stadium in suburban Inglewood, California, reflect that.
Take Package Three, for example. If you order that offering for your guests ($2,250, serves 10 to 12), you'll dine on California fruit, seasonal crudités, house-made potato chips with caramelized onion dip, guacamole and tortilla chips, chopped salad, California cheeses and charcuterie, salad, tri-tip, smoked jalapeno and cheddar bratwurst, roasted Jidori chicken, a brownie platter and salted caramel tart.
The menu planners at SoFi Stadium, home of the Rams and Chargers, recommend adding the 60-piece sushi tray ($350) to this package. Other California treats to consider: the walking taco bar ($150) and vegan ice cream ($100).
Miami
At Hard Rock Stadium in Miami Gardens, Florida, make a splash with the surf and turf-inspired "Taste of Hard Rock" package ($1,850, serves 14). It starts with an iceberg wedge salad and includes Everglades BBQ pulled pork, breaded chicken wings, tuna poke, seared tenderloin steak, creamy shrimp mac and cheese with Key West shrimp, and, for dessert, bundt cakes and mini mojo desserts.
Bring the Latin American and Caribbean influences of the region to the table with some extras:  handcrafted chicken empanadas ($200) or the classic Cubano sandwich ($115).
New Orleans
If you made a list of NFL cities that foodies dream about visiting, New Orleans would land among the top. The suites menu at Caesars Superdome, the home of the Saints, reflects the local fare — especially the extensive list of a la carte menu items.
But start with the "Hail Mary" package for $810 (serves 12) and munch on the standard starters — popcorn, mixed nuts, potato chips and onion dip — before digging into the hot dog bar and chicken tenders. Then, enjoy the New Orleans-inspired foods: New Orleans gumbo chicken, Louisiana fried meat pies served with Cajun ranch dip, and the "Roast Beef Debris Po-Boy," which consists of roasted beef served with horseradish mayo freshly baked pistolettes.
Finish it off with cookies for dessert. If you're craving more of the taste of New Orleans, add these dishes: barbeque shrimp and grits ($240), jambalaya ($110), crawfish étouffée ($190) or fried catfish ($125).
Make Your Money Work Better for You
Pittsburgh
Which NFL teams have six Super Bowl victories? There are only two — and the Pittsburgh Steelers are one of them. So, it's appropriate at Acrisure Stadium to order the "Six Rings Package," which takes stadium food to a higher level. The package ($1,450, serves 12) starts with house-made potato chips and onion dip as well as the dip trio and pita chips, then it graduates to include fresh berries and fruit, charcuterie and artisan cheese, seared halloumi wrapped in prosciutto, crab cocktail, caprese salad, crispy chicken club slider, peppercorn-crusted tenderloin and teriyaki salmon.
For the true taste of Pittsburgh, add one of the Steel City's hallmark foods: the pierogi tray ($91).
More From GOBankingRates
About the Author