Walmart Will Pay 4 Million Dollars in Scam Compensation: Are You Eligible for Payment?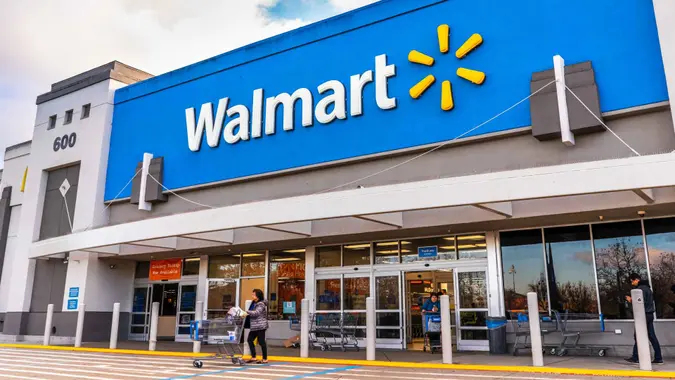 Sundry Photography / Getty Images
Using gift cards is a great (and normally secure) way to ensure that a gift is appreciated and put to good use by a recipient. But they are also a treasure trove for criminals looking to trick people out of their hard-earned money.
Top Class Actions reported that the U.S. Department of Justice (DOJ) has ordered retail giant Walmart to pay a total of nearly $4 million in remission payments to consumers stemming from gift card scams that started in 2015.
After discovering the fraud, Walmart reportedly froze card balances in 2016 and 2017, typically for amounts between $500 and $1,000. If you were a victim of one of these scammers between the beginning of April 2016 and the end of July 2017, you could benefit from the Walmart remission payment decision.
If you were a victim of a scam resulting from a Walmart gift card bought during the fraudulent scheme period and believe you are owed money, check out eligibility qualifications, remission payment amount and claim filing instructions below.
Who is Eligible To Receive a Remission Payment?
Fraud victims may be eligible for a remission payment if they purchased and were sent a Walmart gift card from an unknown fraudster between April 1, 2016 and July 31, 2016 — the period when Walmart seized gift cards and froze balances that were connected to suspected fraud. You don't have to be a U.S. citizen, according to the DOJ Walmart Gift Card Remission FAQ page.
How Much Money Will Be Repaid?
Remission payments are based on the amount loaded onto the compromised gift card in question (values were typically between $500 and $1,000). The payment issued will most likely be less than the amount a customer lost because many victims have already received recoveries from a bank or other source. Money transfer fees, incidental losses, transfers sent through other companies or other collateral expenses can't be recovered.
Make Your Money Work Better for You
How To File a Claim for a Remission Payment From Walmart
Those qualifying for a remission payment can file a Petition for Remission online securely on the case website — or you may file a Petition for Remission you received via mail. You may mail the petition to: Walmart Gift Card Remission Claims Administrator, P.O. Box 6175, Novato, CA 94948-6175. Make sure you enter all requested information that applies to your claim. Failure to do so could result in your petition being deemed deficient and potentially delay payment. The deadline for victims to file a remission form is July 14, 2023.
Important Things To Keep in Mind
If your petition for remission is approved, it will reviewed by the Treasury Offset Program to make sure you don't owe any money to the federal government or have state government debts. Your remission payment will be used to pay outstanding debts if you owe money. Hence, claimants will need to provide their Social Security number.
Filing a false claim is punishable under penalty of perjury. If you do not qualify for this settlement, don't file a claim. If you're unsure if you qualify, please read the FAQ section of the DOJ's settlement website.
For the latest information about the remission process, check the Walmart Gift Card Remission home page for updates, email info@walmartgiftcardremission.com or call 1-888-846-6824.
More From GOBankingRates