How Much Is Elon Musk Worth?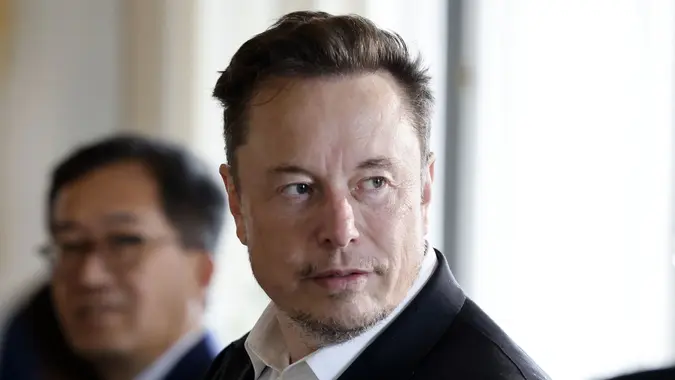 LUDOVIC MARIN / POOL / EPA-EFE / Shutterstock.com
Elon Musk, a South African-born, Canadian-American entrepreneur and businessman, owns and runs multiple companies, including SpaceX, electric vehicle manufacturer Tesla, The Boring Company, Neuralink, high-speed internet satellite provider Starlink, and social media platform Twitter. He holds the title of CEO at Tesla and SpaceX, and recently stepped aside as Twitter CEO, appointing former NBC Universal advertising executive Linda Yaccarino to the role. In a tweet, Musk declared himself "executive chairman and chief technology officer" at Twitter.
In 2021, Musk edged out Amazon founder Jeff Bezos to become the richest man in the world. After the purchase of Twitter for $44 billion in October 2022, Musk fell to the second slot behind Bernard Arnault, the French head of luxury goods giant LVMH, according to Forbes. Musk remains the wealthiest billionaire in the U.S.
Forbes notes that most of Musk's income is derived from Tesla and SpaceX. Tesla, of which he owns 23% in stock and options, has a market cap of around $587.2 billion as of April 2023. SpaceX had a $137 billion valuation as of January 2023, Reuters reported.
Forbes lists Musk's net worth at $188.4 billion as of May 23, 2023. This is following an alleged large donation to Florida Governor Ron DeSantis, who announced that he is running for president during a conversation with Musk on Wednesday, May 24, 2023, at 6 p.m. ET. DeSantis and Musk hosted the event on Twitter Spaces with tech entrepreneur David Sacks as moderator.
In a recent tweet, Musk said it was "tbd" (to be determined), whether or not he would vote Republican in the 2024 presidential election. But when Twitter-user "Tesla Owner Silicon Valley" asked, "What are you leaning towards," Musk replied: "DeSantis."
Make Your Money Work Better for You
Early Life and Career
Elon Reeve Musk, the eldest of three children, was born to Maye and Errol Musk in Pretoria, South Africa, on June 28, 1971. His mother was Canadian, but he grew up in his father's homeland of South Africa. His parents divorced in 1980. With a keen interest in engineering and computers, Musk was just 12 when he developed and sold the code to his first video game, called "Blastar." The game can be played here.
After graduating from Pretoria Boys High School in South Africa, he knew he wanted to further his education in North America. As a first step, he used his mother's Canadian citizenship to get a passport and move to Canada, where he attended Queen's University in Kingston, Ontario, for two years. He then transferred to the University of Pennsylvania, where he graduated with degrees in economics and physics in 1995. That same year, he enrolled at Stanford University to pursue a doctorate but dropped out after two days to join the internet boom. 
In 199, Musk founded a searchable internet business directory called Zip2, running it with his brother Kimbal and another business partner, Gregory Kouri, according to Brittanica.com. In 1999, Musk sold Zip2 for $307 million in cash and $34 million in stock options. He went on to found the company X.com, which later became Paypal and was then acquired by eBay for $1.5 billion in stock in 2002. That same year, Musk created SpaceX. The following year, he joined Tesla with a $6.3 million investment in the company during a Series A funding round, Way.com reported.
Elon Musk's Personal Life
Musk has been married three times to two women. From 2000 to 2008 he was married to Justine Wilson, an author. They have five surviving children – twins born in 2004 and triplets in 2006. Their first child died in 2002 of sudden infant death syndrome, Page Six reported. In 2010, he married his second wife, Talulah Riley. They divorced briefly in 2012 and remarried a year later only to get divorced again, making their split official in 2016. 
Make Your Money Work Better for You
He began dating Canadian musician Grimes, born Claire Elise Boucher, in 2018. They "semi-separated" in December of 2021, but remained close. So close in fact, that they recently welcomed a daughter together via surrogate in December 2021. Baby Exa Dark Sideræl, called Y, joins their son, X Æ A-Xii, who was born in 2020. According to an interview with Vanity Fair, Grimes has not ruled out more children with Musk.
Musk has two more children, twins born in November 2021, with Shivon Zills, an executive at Neuralink, one of his companies, Reuters reported. The babies were born through in-vitro fertilization and not a product of a romantic relationship, per the report.
Take Our Poll: Do You Think AI Will Replace Your Job?

His Intentional Lack of Real Estate
Musk previously owned a 100-year-old house in Northern California that he bought for $23.364 million in 2017. His portfolio once showed six other homes in California. Those properties included a 20,000-square-foot house in Bel-Air that he bought for $17 million in 2012 and a 9,300-square-foot house that he paid $24.25 million for in 2016. After announcing that he would sell half his worldly possessions, Musk sold his six Southern California properties. He currently lives in a $50,000 modular home in Boca Chica, Texas, near Starbase and the SpaceX launch site in South Texas. The home sits on one-fifth of an acre and is owned by SpaceX, according to the Wall Street Journal, much like many of the properties in the area.
Make Your Money Work Better for You
Elon Musk: Philanthropy
Since 2002, the Elon Musk Foundation has donated $280 million, with the bulk going to nonprofit science and education programs. The foundation also has funded $75 million in grants. In addition to donations from his foundation, Musk has given money to groups like Wikimedia Foundation, Big Green and Future of Life Institute.
Musk also gave away $150 million directly to charities between January and April of 2021. According to Recode, that doubled all his previous outlays combined.
Dawn Alcott, Jami Farkas and Allison Hache contributed to the reporting on this article.
More From GOBankingRates