Tony Robbins and 18 of the Richest Social Media Influencers You Should Be Following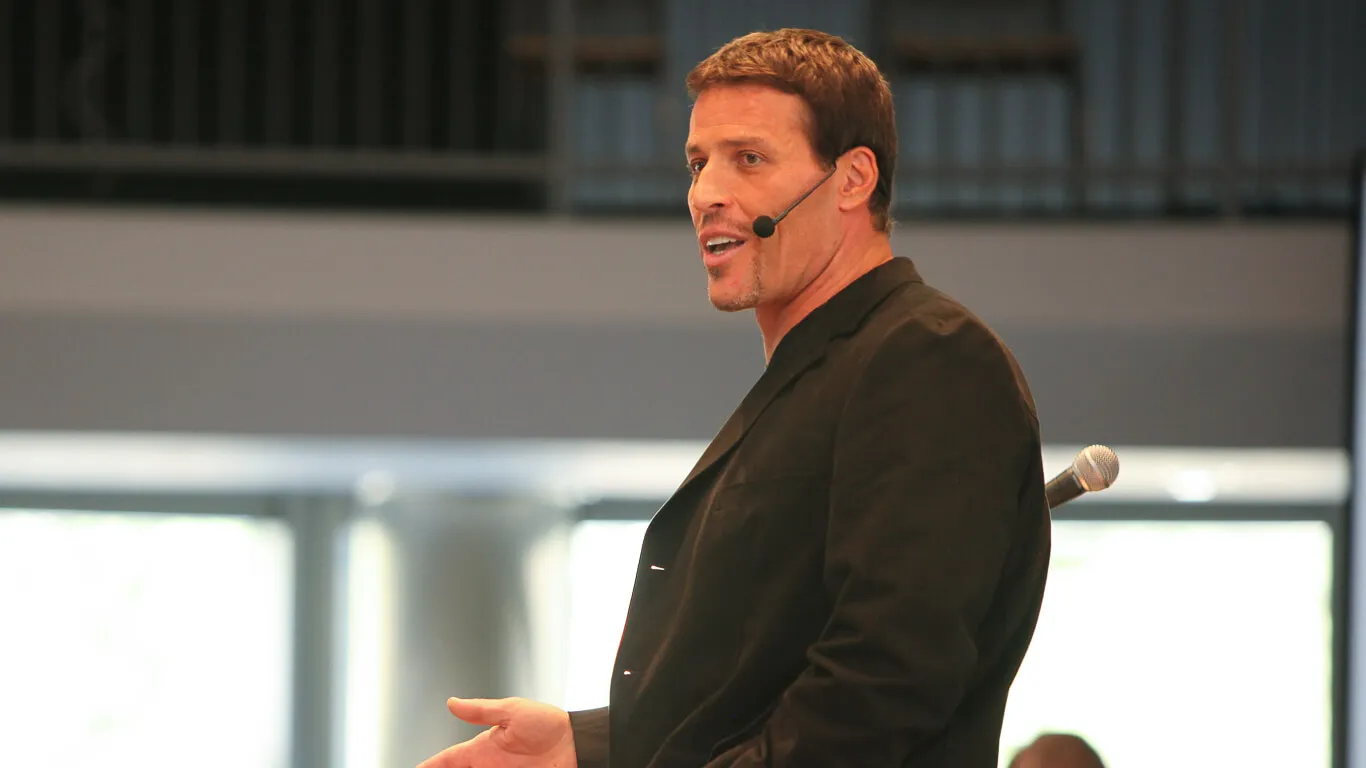 You probably have at least one social media account for keeping in touch with friends, family and co-workers. But along with staying in contact with people in your inner circle, you might also follow your favorite entrepreneurs and celebrities on Facebook or Twitter.
In fact, most celebs have online profiles where fans can catch glimpses of their adventures and personal lives. But, a celebrity's profile can offer more than just vacation photos and makeup tips — it can also provide inspirational gems to help you carve a path to success. Click through, and follow these rich influencers on social media.
Follow Mark Zuckerberg If You Want to Challenge Yourself
With a net worth of more than $50 billion, Facebook CEO Mark Zuckerberg is one of the wealthiest people in the world, according to Forbes. Currently, more than 85 million people follow him on the social network he created. If you're looking to advance in business or life, you might want to add yourself to that list.
Zuckerberg is committed to achieving personal goals and encourages others to challenge themselves as well. According to a recent Facebook post, every year Zuckerberg takes on a personal challenge to learn new things and grow outside of work. For anyone thinking about entrepreneurship, this advice serves as a reminder to strike a healthy balance between working and pursuing outside interests.
Facebook handle: Mark Zuckerberg
Twitter handle: @Finkd
Instagram handle: zuck
Make Your Money Work Better for You
Follow Tony Robbins If You Want to Master Your Money
With Facebook and Twitter followings of almost 3 million each and a net worth of $500 million, Tony Robbins has the financial expertise to help you realize your money goals.
A businessman, philanthropist and author of the forthcoming book, "Unshakeable: Your Financial Freedom Playbook," Robbins is worth following if you want to achieve success in your career, money or business. Known for empowering others with his words, he recently offered his Twitter followers this advice: "The only thing keeping you from getting what you want is the story you keep telling yourself about why you can't have it."
Facebook handle: TonyRobbins
Twitter handle: @TonyRobbins
LinkedIn handle: Tony Robbins
Instagram handle: TonyRobbins
Follow Kim Kardashian If You Want to Promote Your Brand
She is a former stylist, a reality star and a major influencer, so it comes as no surprise that Kim Kardashian has 29 million Facebook followers and more than 90 million Instagram followers.
Boasting a net worth of $150 million, Kardashian gives her social media devotees a sneak peek into her life as she travels the world promoting her brand. She's also the person to follow if you want to develop your own brand. In an interview with Variety, Kardashian offered the following food for thought: "If you find something you're really passionate about, figure out a way to make that your job. Then you'll be happy. If you aren't doing what you want to do, you'll be frustrated."
Facebook handle: KimKardashian
Twitter handle: @KimKardashian
Instagram handle: KimKardashian
Make Your Money Work Better for You
Follow Taylor Swift If You Want to Rise Above the Haters
Boasting a net worth of $360 million, Taylor Swift has a massive fan base that includes more than 83 million followers on Twitter and 97 million on Instagram. Follow Swift if you want to learn about her life outside the studio while improving your own outlook.
Young and energetic, Swift uses social media to gives fans a glance at her day-to-day routine, whether she's hanging with friends or rocking the vote. Additionally, the star, who is often the subject of stinging gossip, offers straightforward advice for dealing with criticism. In her song, "Ours," Swift sings, "So don't you worry your pretty little mind/People throw rocks at things that shine."
Facebook handle: TaylorSwift
Twitter handle: @TaylorSwift13
Instagram handle: TaylorSwift
Follow Robert Kiyosaki If You Want to Be a Better Entrepreneur
If you need to overcome a financial rut, find the strength by following Robert Kiyosaki, who has an impressive $80 million net worth. An entrepreneur, author and motivational speaker, Kiyosaki gives his 1 million Twitter followers and 3.4 million Facebook fans personal finance advice on a regular basis.
Follow Kiyosaki if you're ready to change your mindset and your money. To help his followers get ahead financially, he recently gave this advice on Twitter: "You cannot solve a problem with the same brain that caused the problem; first you must change your mindset."
Facebook handle: RobertKiyosaki
Twitter handle: @TheRealKiyosaki
Instagram handle: TheRealKiyosaki
Follow Clark Howard If You Want Consumer Shopping Tips
Clark Howard — a consumer advocate and New York Times No. 1 best-selling author — has a net worth of $15 million. And with 1 million followers on Facebook and 122,000 on Twitter, he has a sizable audience for his money-management wisdom. Follow Howard for tips on the best month and day to buy a used car, advice on home buying and other practical techniques for managing your finances no matter your income level.
Facebook handle: ClarkHoward
Twitter handle: @ClarkHoward
Make Your Money Work Better for You
Follow Dave Ramsey If You Want Debt Advice
Dave Ramsey accumulated his $55 million net worth in part by helping other people get out of debt and fix their finances. The author and radio show host has more than 700,000 Twitter followers and 3.5 million followers on Facebook.
Follow Ramsey and receive insightful, simple advice on improving your income, building wealth and controlling your money. In a recent Twitter post, he wrote, "If you stay out of debt and invest what would have been a car payment you will be a multi-millionaire."
Facebook handle: DaveRamsey
Twitter handle: @DaveRamsey
Instagram handle: DaveRamsey
Follow Barbara Corcoran If You Want to Become a Leader
This entrepreneur, real estate mogul and "Shark Tank" host has a no-nonsense approach to managing finances. Barbara Corcoran's net worth is $80 million, and following her on social media can provide you with a blueprint for financial and business success of your own.
A LinkedIn Influencer, Corcoran has 569,000 followers on Twitter and 400,000 followers on Facebook. And she knows what it takes to be a leader and entrepreneur. According to Corcoran's Twitter page, "Book smarts are overrated. Street smarts and thinking fast on your feet make a great #entrepreneur."
Facebook handle: TheBarbaraCorcoran
Twitter handle: @Barbara Corcoran
LinkedIn handle: Barbara Corcoran
Instagram handle: Barbara Corcoran
Follow Mark Cuban If You Want Business Success
Mark Cuban amassed his $2.7 billion net worth through multiple business ventures. He's currently the owner of the Dallas Mavericks, Landmark Theaters and Magnolia Pictures.
By becoming one of his 6.2 million Twitter followers, you can get a look inside his daily life and learn from his pearls of wisdom. In a recent tweet, Cuban wrote, "Sometimes it seems like getting the job is the hard part. It never is. Doing a great job is always the greatest challenge."
Facebook handle: MarkCuban
Twitter handle: @Mcuban
LinkedIn handle: Mark Cuban
Instagram handle: Mcuban
Follow Gary Vaynerchuk If You're Building a Brand
Gary Vaynerchuk has 1.4 million followers on Facebook and 1.3 million on Twitter. He's also a four-time New York Times best-selling author and CEO of VaynerMedia, a brand consulting agency. Vaynerchuk's net worth is $160 million, and if you follow him on Instagram, you'll find inspirational quotes to help you achieve your own idea of success. He's also the one to follow if you're a rising entrepreneur looking for advice on marketing and brand building.
Facebook handle: Gary
Twitter handle: @GaryVee
LinkedIn handle: Gary Vaynerchuk
Instagram handle: GaryVee
Make Your Money Work Better for You
Follow Oprah Winfrey If You Want Inspiration
Oprah Winfrey has a net worth of $3.2 billion. The media mogul and author also has robust social media accounts on Instagram (8.3 million followers), Facebook (11 million likes) and Twitter (35 million followers).
Follow Winfrey for motivation on living a healthy life and to see clips from her high-profile celebrity interviews. She's also an inspirational figure, having overcome poverty and abuse to become one of the most powerful women in the entertainment industry. Her example suggests you too can rise above major obstacles and find success.
Facebook handle: OprahWinfrey
Twitter handle: @Oprah
LinkedIn handle: Oprah Winfrey
Instagram handle: Oprah
Follow Warren Buffett If You Want to Be a Great Investor
With a net worth of $65 billion, Warren Buffett is one of the most successful investors in the world. This fact alone makes him the ideal person to follow if you want advice on increasing your net worth and investing in business. You can join Buffett's 1.2 million Twitter followers to see what the chairman and CEO of Berkshire Hathaway — a holding company that owns several brands including GEICO, Benjamin Moore, Clayton Homes, Duracell and Fruit of the Loom — does with his days.
Twitter handle: @WarrenBuffett
Follow Robert Herjavec If You Want a Profitable Business
Whether you're looking for advice on selling your products or turning a profit, modern-day success story Robert Herjavec is the one to follow on social media. He's a LinkedIn Influencer, one of the sharks on ABC's "Shark Tank" and the founder of Herjavec Group, an information security company. By becoming one of his 669,000 followers on Twitter or 1 million followers on LinkedIn, you can give your entrepreneurial career a jump-start.
Herjavec, who has a net worth of $200 million, offered the following advice on Twitter: "One of the biggest mistakes entrepreneurs can make is giving out too much equity right at the start."
Facebook handle: RobertHerjavec007
Twitter handle:@RobertHerjavec
LinkedIn handle: Robert Herjavec
Instagram handle: Robert_Herjavec
Make Your Money Work Better for You
Follow Bill Gates If You Want Leadership Advice
If you have an interest in computers, technology or software, following Bill Gates is pretty much essential. This Microsoft founder and successful author has a net worth of $90 billion and plenty of wisdom to share.
Gates is known for spreading optimism on his social media accounts, so follow him if you want help maintaining a positive mindset. He is also an Influencer on LinkedIn. By becoming one of his 6.7 million LinkedIn followers, you can benefit from his posts about leadership and achieving success.
Facebook handle: BillGates
Twitter handle: @BillGates
LinkedIn handle: Bill Gates
Follow Richard Branson If You Want to Dream Big
The founder of Virgin Group, Richard Branson is the person to follow if you want to expand a brand. His companies include Virgin America, Virgin Mobile and Virgin Megastore. Boasting an estimated net worth of $5.1 billion, he shares motivational quotes to help his 1.3 million followers on Instagram and 9.5 million followers on Twitter stay optimistic while realizing their dreams.
Adventurous and business savvy, Branson is all about thinking big without having a big ego. For example, he recently gave this advice on Twitter: "What's my top tip for achieving a growth mindset? Talk about your failures."
Facebook handle: RichardBranson
Twitter handle: @RichardBranson
LinkedIn handle: Richard Branson
Instagram handle: RichardBranson
Follow Jeff Bezos If You Want Tips on Retail
Jeff Bezos is the founder of Amazon.com and owner of the Washington Post and aerospace company, Blue Origin. His estimated net worth is $70 billion, and he has 180,000 Twitter followers.
You should follow Bezos if you have an interest in retail entrepreneurship, investing or technology. Additionally, you'll receive up-to-date information on the latest developments with his businesses.
Twitter handle: @JeffBezos
Follow Suze Orman If You Want Financial Advice
Suze Orman's net worth is $35 million. Given her background as a television host, author and motivational speaker, Orman has the money smarts to help you reign in spending and build your personal net worth.
If you need advice on saving money, paying off debt or investing, Orman offers simple strategies to help you build a solid financial foundation. She recently gave this non-nonsense advice to her 1.6 million Twitter followers: "Don't spend more than you have. Face your money with certainty. No debt, no doubt."
Facebook handle: SuzeOrman
Twitter handle: @SuzeOrmanShow
LinkedIn handle: Suze Orman
Instagram handle: TheRealSuzeOrman
Make Your Money Work Better for You
Follow Sheryl Sandberg If You Want Motivation
Sheryl Sandberg is an entrepreneur and the chief operating officer of Facebook. With a net worth Forbes estimates at $1.3 billion, Sandberg is the ideal influencer to follow if you're a woman who wants to leave her mark on the business world. The "Lean In" author has 1.9 million followers on Facebook and 220,000 on Twitter. In previous tweets, she's offered insights designed to empower women in the workforce — such as tips on negotiating raises and overcoming gender stereotypes.
Facebook handle: SherylSandberg
Twitter handle: @SherylSandberg
Instagram handle: SherylSandberg
Follow Tim Ferriss If You Want Courage
If you're young and determined to be a successful entrepreneur, following Tim Ferriss on social media can point you in the right direction. He's the author of the New York Times best-seller "The 4-Hour Workweek" and host of "The Tim Ferriss Show," a business podcast. He has a net worth of $100 million.
With a Twitter following of 1.4 million and an Instagram following of 388,000, Ferriss is clearly a man whose advice is in high demand. He offers his social media followers inspirational quotations and tips for diversifying income, being productive and developing courage. He recently gave this advice to entrepreneurs on Twitter: "In order to take that first step, you need courage and that's much more important than confidence."
Facebook handle: TimFerriss
Twitter handle: @TFerriss
LinkedIn handle: Tim Ferriss
Instagram handle: TimFerris
Whether you're looking to build your own empire or increase your personal net worth, there's a lot you can learn from the biggest influencers on social media. It takes determination, courage and knowledge to improve professionally and financially, and many celebs and entrepreneurs are willing to share what they know to help you reach the top.
*Net worth information was taken from CelebrityNetWorth.com unless otherwise indicated.

BEFORE YOU GO
See Today's Best
Banking Offers