Demi Lovato Net Worth: See the Young Actress-Singer's Fortune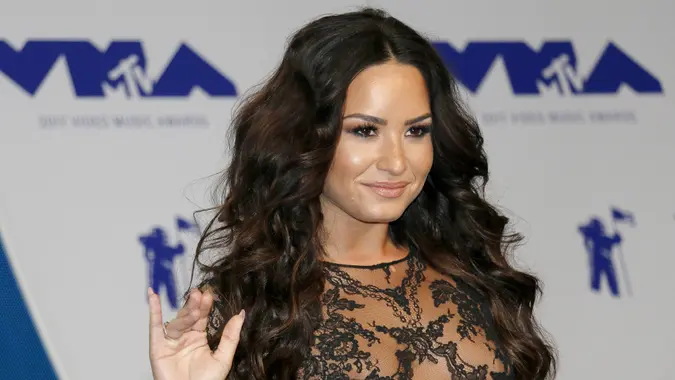 Tinseltown / Shutterstock.com
Singer-actress Demi Lovato — who has amassed a fortune with hits like "Sorry Not Sorry" — was taken to a Los Angeles hospital for an alleged heroin overdose on July 24, 2018, according to TMZ. She is now in stable condition, People reported. The former Disney star expanded her career through music and movies, and produced collections for and endorsed brands like Fabletics and Skechers. She has spoken and sung openly about her struggles with substance abuse, most recently in her 2018 song "Sober," which was released through streaming services like Spotify. Despite her addiction battles, Lovato has had a successful career and made millions:
Net worth: $33 million
Age: 25
Birthday: Aug. 20, 1992
Primary source of wealth: Music
Career highlights: GLAAD Media Vanguard Award, MTV Video Music Award
Social following: a combined 145 million, according to her website
Click to learn more about the young star's career.
Demi Lovato Net Worth: $33M
Lovato rose to fame with her role in the Disney Channel original movie "Camp Rock" in 2008 and successfully made the transition from child actress to pop star. Her singing and acting have helped her to amass a $33 million fortune, according to Celebrity Net Worth.
Adding to her net worth are her endorsement deals with brands like Fabletics and her A-list real estate. Lovato owns a four-bedroom, 5.5-bathroom home in the Laurel Canyon area of Los Angeles worth $8.3 million, according to Variety. She also released a book, "Staying Strong: 365 Days a Year," which became a New York Times best-seller.
Make Your Money Work Better for You
Demi Lovato Music
Lovato released her debut album, "Don't Forget," in 2008, and has since put out five more albums: "Here We Go Again" (2009), "Unbroken" (2011), "Demi" (2013), "Confident" (2015) and "Tell Me You Love Me" (2017). As of 2017, she had sold 2.4 million albums and over 20.8 million song downloads, Billboard reported.
Lovato has had 29 songs on the Billboard Hot 100 chart, including four songs in the top 10: "Sorry Not Sorry" (2017), "Heart Attack" (2013), "Skyscraper" (2011) and "This Is Me" featuring Joe Jonas (2008). Her latest single, "Sober," was released in June 2018.
Ranked: The 30 Richest Country Music Stars
Demi Lovato Tour
Though it's not likely Lovato will appear at the final U.S. stop on her "Tell Me You Love Me" tour, she is scheduled to perform on July 26 in Atlantic City, N.J. The singer is also scheduled to make tour stops in South America and Mexico in September and November.
Previously, Demi Lovato and Nick Jonas toured together in 2016 on the "Future Now" tour.
See More: Ticket Prices Sour When Legendary Musicians Play Their Final Shows
Make Your Money Work Better for You
Demi Lovato TV and Movie Career
Although Lovato is best known as a singer now, she got her start in movies and TV. After starring in "Camp Rock" with the Jonas Brothers, she got her own Disney show, "Sonny With a Chance," that aired from 2009 to 2011.
Lovato is one of several former Disney stars voicing characters in 2018's "Charming," including ex-boyfriend Wilmer Valderrama. She stars as main character Lenore, according to IMDB. She is also set to appear in the upcoming "Camp Rock 3," though no release date is set.
Her other acting credits include "Smurfs: The Lost Village" (2017) and "Princess Protection Program" (2009).
Demi Lovato Family and Relationships
Lovato isn't the only one in her family who's in the entertainment industry. Demi Lovato's sister Madison De La Garza starred in "Desperate Housewives," and her other sister Dallas Lovato is also an actress.
Although she's currently single, Demi Lovato's boyfriends have included Joe Jonas and Wilmer Valderrama. Most recently, Lovato dated MMA fighter Guilherme Vasconcelos, but they split in May 2017.
Make Your Money Work Better for You
Click through to read more about the richest celebrity from every state.
More on Celebrities