How Rich Is Katy Perry?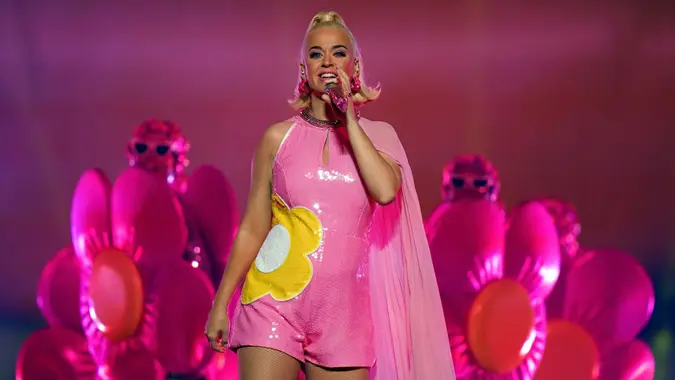 SCOTT BARBOUR/EPA-EFE/Shutterstock / Shutterstock.com
Katy Perry is an American singer, songwriter, and television personality who is recognized for her influence on the 2010s pop era. These days, Perry is juggling her Las Vegas residency, being a judge on American Idol, and being a mother to her 2-year-old daughter she has with her fiance Orlando Bloom. Here's how she reached multimillionaire status.
Read More: If Your Credit Score Is Under 740, Make These 4 Moves Now
See Our List: 100 Most Influential Money Experts
Net Worth
Since rocking the charts with her 2008 hit "I Kissed a Girl," Katy Perry has been one of the world's busiest musical artists and a prominent endorser, but her focus has changed in the past year. On Aug. 26, 2020, she gave birth to Daisy Dove Bloom, who she shares with her fiancé, actor Orlando Bloom. Now, post-pandemic, she's following other celebrity moms, including Celine Dion, Mariah Carey and Britney Spears, and readying a Las Vegas residency.
Perry ranked No. 86 on Forbes' list of highest-earning celebrity entertainers at $38.5 million, down from her income in 2015, when she was the world's highest-paid woman in music with $135 million in earnings. That year, she had her "Prismatic World Tour" to thank for the influx of cash, as it grossed more than $2 million per city over the 126 shows included in the calculation.
Make Your Money Work Better for You
Today, Perry's net worth sits at $330 million, according to Celebrity Net Worth.
Take Our Poll: Are You Struggling To Keep Up With Your Utility Bills?
Tour Earnings
Katy Perry hasn't toured since "Witness," which opened in Montreal in September 2017 and closed in New Zealand the following summer. The tour featured a rotating roster of opening acts — including Noah Cyrus, Purity Ring and Carly Rae Jepsen.
For now, at least, Perry doesn't seem to miss the tour grind. In a February 2018 interview with Glamour, she said she knew there was something more out there for her than money and career.
"I've come to learn, after 10 years of success in the spotlight, that being happy is something you have to work for every single day," Perry said at the time. "Even if you have money or houses or status or fame — and all of that stuff is great for a moment–if you don't have happiness charging the train, you're gonna derail. A lot of my early twenties were really intense, really extreme, and somewhat unconscious. It was all career focused, which was great, but once you touch the ceiling so many times, it's like, 'Oh yeah, I did that. I touched the ceiling.' Now I want to touch the stars, which has to do with the heart."
Make Your Money Work Better for You
| | | |
| --- | --- | --- |
| Tour Name | Year | Earnings |
| "Hello Katy" | March 2009 to May 2009 | Unknown |
| "California Dreams" | February 2011 to January 2012 | Nearly $60 million |
| "Prismatic" | May 2014 to October 2015 | More than $200 million |
| "Witness" | September 2017 to August 2018 | $124.2 million |
Sources: Page Six, Forbes, KatyPerry.com, Seventeen, E! Online, Billboard and MTV
Songs and Albums
Fun and edgy, Katy Perry's songs have been captivating fans since her debut Billboard chart-topper "I Kissed a Girl" in 2008. Since then, she's landed a total of nine No.1 hits and 14 in the top 10.
When her hit single "Roar" hit the 10 million sales mark in June 2017, she became the first artist in history to earn three Diamond Song Awards. That same month, her latest album "Witness" debuted at the top spot on the Billboard 200.
Song Title

Album

N

umber of Units Sold

"Roar"

"Prism"

10 million

"Dark Horse"

"Prism"

10 million

"Firework"

"Teenage Dream"

10 million

"E.T."

"Teenage Dream"

8 million

"Hot N Cold"

"One of the Boys"

7 million

"Teenage Dream

"Teenage Dream"

7

million

"California Gurls" (featuring Snoop Dogg)

"Teenage Dream"

7

million
Make Your Money Work Better for You
Source: Recording Industry Association of America (RIAA) 
Las Vegas Residency
Katy Perry started back on tour, sort of, beginning Dec. 29, 2021. That's when "Play," her 16-show residency, launched at Resorts World Las Vegas, which last summer became the first megahotel to open in the city in a decade. And she won't be the only glittery star to shimmer at the new venue.
Resorts World Las Vegas lined up mini-residencies with Celine Dion, who kicked off the series in November, as well as with Carrie Underwood and Luke Bryan.
American Idol
Katy Perry is returning as a judge for the next season of "American Idol," which will return to ABC in spring 2023. She'll be joined on the panel by Luke Bryan and Lionel Richie, with Ryan Seacrest set to host. Perry, with her appeal to younger audiences and vast social media reach, was an appealing hire for producers in 2017. The $25 million deal she signed to join the show reportedly ruffled some feathers — and the show's budget. With Bryan and Richie set to earn only $2.5 million each, the showrunners were forced to give the judges raises to a reported $7 million.
More From GOBankingRates
Jami Farkas contributed to the reporting for this article.
Make Your Money Work Better for You