Marianne Williamson's Net Worth as the Spiritual Lecturer and Author Runs For President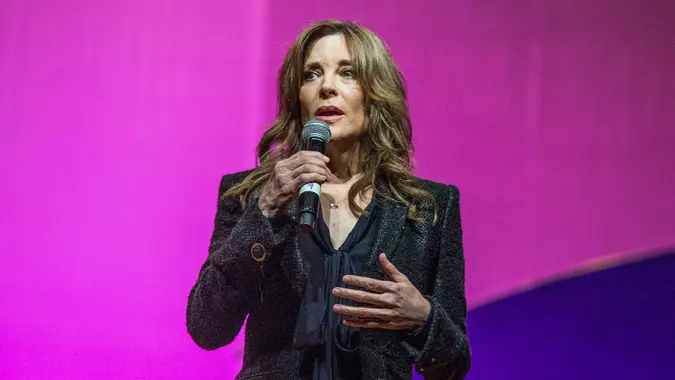 Invision/AP/REX / Shutterstock.com
Marianne Williamson announced on Aug. 20 that she has met the donor requirement for the third round of the Democratic primary debates.
She made her fortune as a best-selling author.
Williamson has never held a government-elected position.
Perhaps the next best thing to Oprah Winfrey running for president is Marianne Williamson — whom Winfrey helped bring to prominence — running for president. It was with Williamson's announcement in January that she joined the ever-growing field of Democrats all too eager to defeat President Donald Trump in the 2020 presidential race.
Williamson participated in the first and second rounds of the Democratic primary debates, the latter of which took place on July 30 and 31 in Detroit, bringing to the national stage her ideas for overhauling the current political system and addressing "the deep emotional and psychological dynamics within the average citizen." People seem to be intrigued by what she has to say: She was the most searched candidate during the first night of the Detroit debates.
It remains to be seen whether Williamson will make it to the debate stage for the next round, which is scheduled for Sept. 12 and 13. To qualify for the third round, candidates must have 130,000 unique donors and receive at least 2% support in four polls by Aug. 28. As of Aug. 20, Williamson does not have any qualifying polls, but she has met the donor requirement.
This morning we made it to the 130,000 unique donor mark! Many thanks to those of you who made it happen. Now we wait to see whether we make 2% in 4 DNC-designated polls, and that will determine whether not I'll be in Houston for the third debate.

— Marianne Williamson (@marwilliamson)

August 20, 2019
Here's a look at Williamson's net worth, career and political platform.
Make Your Money Work Better for You
Birthdate: July 8, 1952Net worth: $783,031 to $2.1 millionPrimary source of income: Book salesCareer highlight: Best-selling author
How Much Is Marianne Williamson Worth?
According to the Center for Responsive Politics, which obtained a financial disclosure report that she signed in May 2019, Williamson's net worth is estimated to be somewhere between $783,031 and $2,126,006. She amassed her wealth from sales of her books, lecture earnings and fees from celebrity clients, including Katy Perry, Nicole Richie and Laura Dern.
Check Out: Guide to the 2020 Presidential Candidates
Marianne Williamson's Political Platform
As demonstrated by the 2016 presidential election, many Americans are desperate for political outsiders to govern. As a self-help author and spiritual lecturer, Williamson fits that bill. She wants to provide Americans with a "moral and spiritual awakening" and resonates with voters who want "to dig deeper into the questions we face as a nation."
Platitudes aside, chief among Williamson's campaign issues is a proposal for $200 billion to $500 billion in reparations for slavery, which would go toward economic and education projects. Additionally, she has put forth plans for a U.S. Department of Peace to support a peace-building approach to national security. But don't think that Williamson's bid is a lark: The celebrity made an unsuccessful play for Congress in 2014 and has spoken at length about her disapproval of Trump, whom she credits for mobilizing a "dark psychic force of the collectivized hatred" in the nation.
Make Your Money Work Better for You
If you think any of this wonkiness is going to deal with this dark psychic force of the collectivized hatred that this President is bringing up in this country then I'm afraid that the Democrats are going to see some very dark days.

#BigTruth #DemDebatehttps://t.co/xJijP9BeOD

— Marianne Williamson (@marwilliamson)

July 31, 2019
Also See: 2020 Democratic Primary Debates — Details on Round 2
Marianne Williamson's Personal Life and Career
The Houston native is the daughter of an immigration lawyer and a stay-at-home mom. Despite her seemingly nuclear upbringing, Williamson's 20s could be characterized as wayward and adrift: She spent just two years at Pomona College before dropping out and moving to a New Mexico commune. While crisscrossing the country, Williamson turned to various sources of comfort. "I sank deeper and deeper into my own neurotic patterns, seeking relief in food, drugs, people or whatever else I could find to distract me from myself," she later wrote in her book "A Return to Love." Winfrey promoted the title through her book club.
Williamson began studying "A Course in Miracles," a text that covers spiritual themes, in her mid-20s. In 1983, she started giving talks on the teachings of "A Course in Miracles" at the Philosophical Research Society in Los Angeles. In 1989, she founded Project Angel Food, a nonprofit organization that delivers free meals to people with serious illnesses in the Los Angeles area. Williamson later went on to co-found The Peace Alliance, a nonprofit that focuses on fostering peace-building efforts.
Williamson was briefly married and has one daughter, India Emma, who was born in 1990.
Keep reading to see fellow presidential candidate Elizabeth Warren's net worth.
More on Presidential Candidates
Make Your Money Work Better for You
Emily Luong contributed to the reporting for this article.