How Much Is Paul Rudd Worth?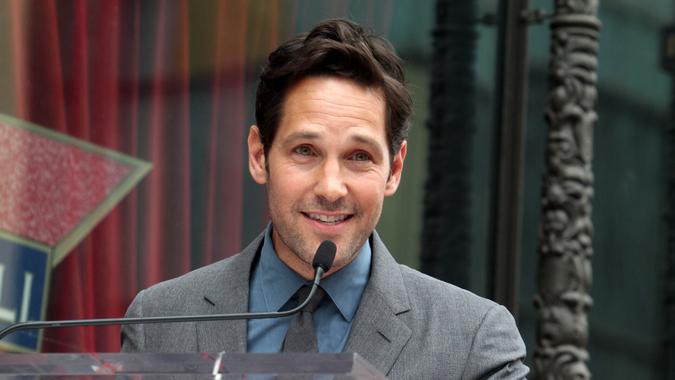 Kathy Hutchins / Shutterstock.com
Paul Rudd's net worth isn't as grand as that of fellow Marvel Cinematic Universe co-stars Robert Downey Jr., who is worth $300 million, or Chris Hemsworth, worth $130 million. However, the multifaceted actor, who played Ant-Man in the comic book-inspired film by the same name, its sequel "Ant-Man and the Wasp," "Captain America: Civil War" and "Avengers: Endgame," isn't exactly in the poorhouse.
In fact, as he turns 53 on April 6, Rudd has a net worth of $70 million, according to Celebrity Net Worth.
More: How Rich Is Pete Davidson?
Read: How Much is Volodymyr Zelenskyy Worth?
Rudd is set to reprise his role as Ant-Man/Scott Lang in the upcoming "Ant-Man and the Wasp: Quantumania," slated for release in the summer of 2023. He also voiced an alternate universe Scott Lang in the Disney+ original animated series "What If…?"
The 'Sexiest Man Alive'
No one was more surprised by People's 2021 "Sexiest Man Alive" than Paul Rudd himself. "This is not false humility," he told the publication. "There are so many people that should get this before me."
Make Your Money Work Better for You
Things that are not in question, however, are his talent and versatility as an actor, and his lengthy and prestigious film and television career that is entering its fourth decade. His break came in 1992 when he was cast as the love interest, and eventual husband, of the character played by Ashley Judd in NBC's "Sisters." His appearance in the 1995 film "Clueless" put him on Hollywood's map to stay.
Film and Television Career
Although Rudd has an impressive filmography dating back to the early '90s, he earned $40 million of his net worth between 2018 and 2019 alone, according to Celebrity Net Worth. He received $300,000 for his first appearance as Ant-Man, but as the character's popularity grew, so did Rudd's paychecks. He ultimately wound up making $1.5 million thanks to royalties from the first, according to The Richest, and then commanded a hefty $8 million for his role in the highest-grossing superhero movie of all time "Avengers: Endgame," Forbes estimated.
But, even with his massive success in the role, Rudd is in no danger of being typecast as the pint-size superhero Ant-Man, thanks to recent projects. Rudd plays Mr. Grooberson in the November 2021 release "Ghostbusters: Afterlife," a role for which he reportedly received $2 million, according to ShowBizGalore. He also plays psychiatrist Isaac "Ike" Herschkopf, opposite Will Ferrell, in the series "The Shrink Next Door," which debuted in November on Apple+ TV.
Make Your Money Work Better for You
In 2015, the versatile actor received a star on the Hollywood Walk of Fame.
Fans likely recognize Rudd from a number of film and television roles over the years, including as Phoebe's husband, Mike Hannigan, on the long-running TV show "Friends." He also appeared in several movies, including "Halloween: The Curse of Michael Myers," "The Object of My Affection" and "The Cider House Rules."
He's also teamed up with filmmaker Judd Apatow for a number of well-known comedies, including "Forgetting Sarah Marshall," "The 40-Year-Old Virgin," "Knocked Up" and "Anchorman: The Legend of Ron Burgundy" opposite Ferrell.
In addition to his film credits, Rudd has appeared in Broadway productions, worked as a voice actor in a wide range of animated pictures and held executive producer titles. More recently, in addition to the filming of "Ghostbusters: Afterlife" alongside original star Bill Murray, Rudd was the executive producer and lead actor in the 2019 Netflix original series "Living with Yourself."
The Sweet Stuff
Rudd and his wife, Julie, live in Rhinebeck, New York, about 100 miles north of New York City. After the death of local resident Ira Gutner in 2014, they vowed to keep his local treasure — Samuel's Sweet Shop — alive. The Rudds joined other area residents — including actor Jeffrey Dean Morgan and his wife, Hilarie Burton of "One Tree Hill" fame — in buying the candy and coffee shop.
Make Your Money Work Better for You
"One of the most important things any human can experience is to be a part of a community and feel connected to where you live and to other people who live there, especially in a job like mine," Rudd told the Poughkeepsie Journal in 2019.
He continued, "I'm in lots of different locations meeting lots of different people. At times, you can feel you're untethered a little bit. So to have this place, to come in and just serve coffee for a while and hangout at the store and hand out candies … to feel a part of the community makes us sane. It makes us feel part of something important."
More From GOBankingRates
Jami Farkas contributed to the reporting for this article.
Make Your Money Work Better for You