How Rich Is Will Ferrell?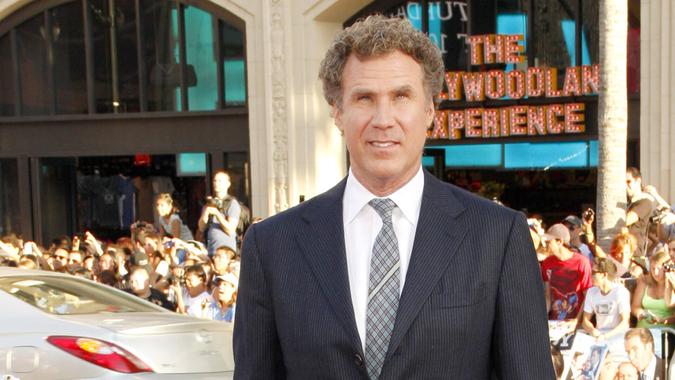 Tinseltown / Shutterstock.com
It's hard to say whether Will Ferrell is best known for his time on "Saturday Night Live," his role as Buddy in the classic Christmas movie "Elf" or the box-office hit "Talladega Nights: The Ballad of Ricky Bobby." These roles are just a few highlights of his vast career, which has made the funnyman one of the highest-paid actors in Hollywood. He currently has a net worth of $160 million, according to Celebrity Net Worth.
See: The 15 Highest-Grossing Actors of All Time
Find: 10 Highest-Paid Movie Roles of All Time
Will Ferrell's Early Career
As a child, Ferrell had little interest in a career as an entertainer, having watched his father struggle as a musician. But in high school, he started performing comedy skits in talent shows, and later went on to the University of Southern California, where he studied sports broadcasting. In 1994, he joined a comedy/improvisation group called The Groundlings, which ultimately led to an audition for "Saturday Night Live."
Make Your Money Work Better for You
See: Netflix's Most Expensive Productions Ever

Best 'Saturday Night Live' Cast Member Ever
Spending seven years on "SNL," the sketch comedy artist kept audiences laughing with his impressions of everyone from George W. Bush and Janet Reno to beloved personalities like Chicago Cubs announcer Harry Caray and long-time "Jeopardy!" host Alex Trebek.
After leaving the show in 2002, he returned five times as a guest host and, in 2014, was voted the best "SNL" cast member of all time. In 2001, Ferrell also happened to be the highest-paid "SNL" cast member, earning $17,500 per episode, or $367,500 per season, Celebrity Net Worth reports.
Find: What These 25 Netflix Stars Did Before They Were Famous
Will Ferrell's Movie Career
During his time on "SNL," Ferrell starred in a number of movies, many based on "SNL" characters he played. Ferrell began to make a name for himself on the big screen as the famous Frank "The Tank" Richard in "Old School" and then went on to play the beloved Buddy the Elf, who has been immortalized in memes.
Make Your Money Work Better for You
After earning $7 million for his breakout role in "Anchorman" in 2004, Ferrell's pay jumped to $20 million per movie for flicks such as "Talladega Nights," "Bewitched," "Kicking & Screaming" and "Land of the Lost," Celebrity Net Worth reports. Ferrell is worth the paycheck, it would seem, as his movies draw big crowds and large opening weekend profits. "Talladega Nights" earned $47 million out of the gate, while "Step Brothers" opened with worldwide revenue of $128 million.
See: 12 Movies Critics Hated — But Performed Well at the Box Office
Find: Most Successful Action Movies in the Past 10 Years
From Comedy to Soccer
In addition to his movie career, Ferrell has other business pursuits. He has appeared on Broadway in a one-man show and performed as a voice actor on hit animated films and shows such as "Curious George" and "Family Guy," according to IMDB.
Going back to his roots and his sports information degree, he also holds part ownership in the Los Angeles FC soccer team.
Ferrell lives in the Hollywood Hills on a 2.3-acre property he purchased for $9.9 million from Ellen DeGeneres in 2007.
More From GOBankingRates
Last updated: Sept. 30, 2021