How Rich Is Stephen Colbert?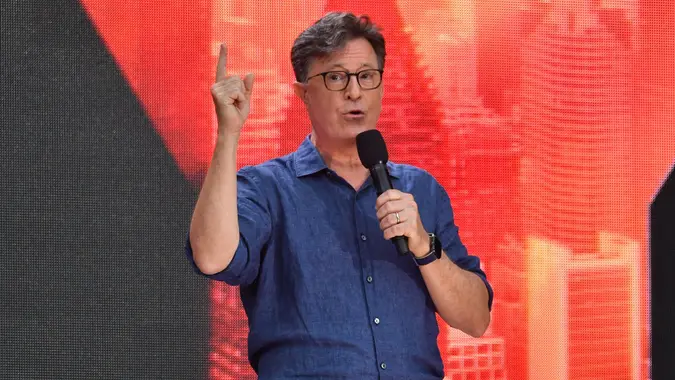 Erik Pendzich / Shutterstock.com
A staple on "The Daily Show with Jon Stewart" for years along with Steve Carell, Stephen Colbert went on to play the right-wing commentator from "The Daily Show" on his own Comedy Central series "The Colbert Report" from 2005 to 2014. The show, co-created by Colbert with Jon Stewart and Ben Karlin, won an Emmy and Peabody Award. Colbert also won three Emmy Awards as a writer on "The Daily Show."
By Comparison: How Rich Is Trevor Noah?
Discover: How Rich Is Anderson Cooper? His Fortune at Age 54

In 2015, Colbert dropped his far-right persona to replace David Letterman on "The Late Show With Stephen Colbert," appearing before audiences as himself, a satirical comedian with moderate-to-liberal leanings. In recent years, Colbert has garnered an average of 3.6 million viewers, according to Suggest.com.
Television Paychecks
Deemed the wealthiest late-night talk show host, the actor and comedian boasts a net worth of $75 million, according to Celebrity Net Worth. From 2015 to 2018, Colbert earned $6 million per year on "The Late Show." In 2019, he extended his contract with CBS through 2023, with a salary of $15 million per year.
More Net Worth: How Rich Is Bill Maher?

Colbert's other television credits include the sketch comedy show "Exit 57," "The Dana Carvey Show," "Saturday Night Live" and "Good Morning America." He's had guest appearances on "Spin City," "Curb Your Enthusiasm" and "Law & Order: Criminal Intent," while also having worked as a script consultant for music television networks VH1 and MTV.
Other Projects
A prolific author, Colbert has penned many humor and satire books, including "I Am America (and So Can You!)," "America Again: Re-becoming the Greatness We Never Weren't" and "I Am a Pole (and So Can You!)," which he co-wrote with Paul Hildebrand.
Make Your Money Work Better for You
See: Jimmy Fallon's Net Worth As He Turns 47
Learn: Ellen DeGeneres' Net Worth as Her Show Begins Its Final Season

Real Estate
Eschewing the Hollywood lifestyle, Colbert has lived in Montclair, New Jersey since 2000. Colbert and his wife purchased their first home in the Jersey suburb for $515,000, selling the 3,000-square-foot home in 2008 for $950,000, Heavy.com reports. Their second home in Montclair seems to be substantially larger. Based on published pictures, the house appears to be at least three stories, with a sprawling backyard, spacious patio and roaring fire pit.
More From GOBankingRates
Last updated: September 22, 2021