How Rich Is NASCAR Driver Denny Hamlin?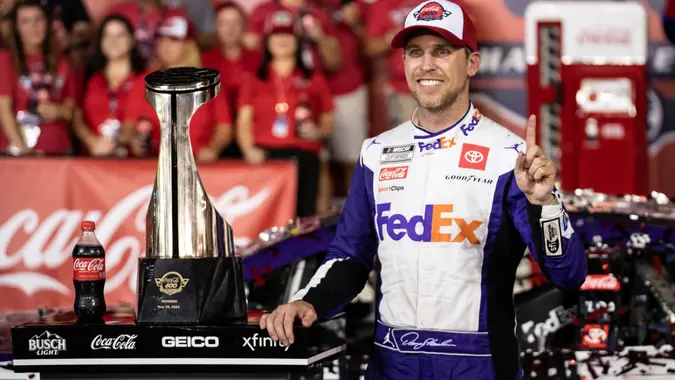 Matt Kelley/AP/Shutterstock / Matt Kelley/AP/Shutterstock
Denny Hamlin has been one of the highest-paid NASCAR drivers during his career.
SNAP 2022: Is My State Giving Out Extra EBT Food Stamp Money in June?
Learn: 10 States That Receive the Least Social Security
He drives the No. 11 Toyota Camry. He also drives in the NASCAR Xfinity Series, where he is behind the wheel of a Toyota Supra.
Read on to find out how Hamlin made his millions.
Denny Hamlin Earnings
In 2020, Hamlin was the third-highest-paid NASCAR driver on the track, earning $13.1 million in salary and prizes and another $1.5 million in endorsements and licensing, including a long-time agreement with Nike's Jordan brand, according to Forbes. From June 2018 to June 2019, Hamlin earned $14 million on the track, according to Celebrity Net Worth.
Poll: How Much Do You Expect To Spend on Travel This Summer?
Career and Wins
Hamlin won the Daytona 500 in 2016, 2019 and 2020. In 2016, NASCAR stopped disclosing the total purse for races or winners' earnings, but the 2015 winner, Joey Logano, earned more than $1.5 million, according to Sporting News. Sports Casting reported that about 40% to 45% of winnings go to drivers, while the rest is divided between their team.
Make Your Money Work for You
In 2020, NASCAR once again revealed the prize purse, which was the largest in the history of American Motorsports, according to Sporting News. As the 2020 winner, Hamlin may have received at least $2 million of the total $23.6 million purse, Sporting News surmises.
In May of this year, Hamlin finished first in the Coca-Cola 600 series, marking his 48th win in the cup series and his first win in a points race at Charlotte Motor Speedway.
More From GOBankingRates
Net worth information is sourced from Celebrity Net Worth and accurate as of June 7, 2022.
Make Your Money Work for You