Is It Financially Worth It for Schools To Play College Sports Right Now?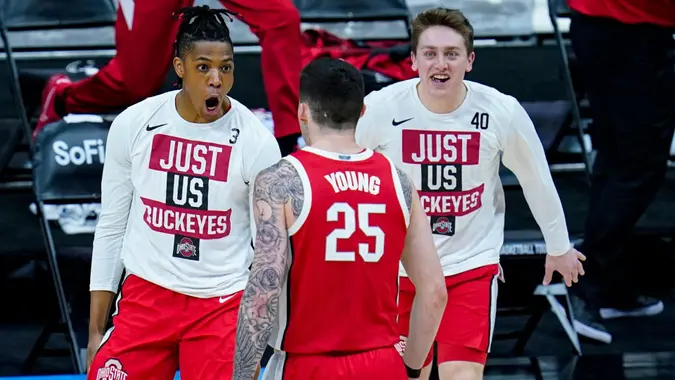 Michael Conroy/AP/Shutterstock / Michael Conroy/AP/Shutterstock
Last week was the one-year anniversary of the World Health Organization's declaration of COVID-19 as a global pandemic. It's also been almost about a year since the NCAA canceled March Madness, which is one of the moments when the virus became real for much of America. If an organization as fixated on dollar signs as the NCAA was willing to give up its cash cow, things must be pretty bad. After all that 2020 laid on the world of college athletics, is it even worth it for schools to play college sports right now? That depends on the school, depends on the sport, depends on who's watching and where they're watching from.
Read: COVID-19's Financial Impact After 1 Year: See All Our Coverage
If People Watch on TV, Playing Is Worth It for the NCAA
Nearly $868 million of the roughly $1.12 billion the NCAA made in 2019 came from fees from television and marketing rights. The next biggest chunk, $178 million, came from championships and national invitation tournaments, with the rest trickling in from investment income, sales and services, and contributions.
Make Your Money Work for You
See: 8 Momentous Times Sports Were Canceled Throughout History
Exactly How Big Is TV to the NCAA? Just Look at 2019 vs. 2020
In 2020, COVID-19 chopped the NCAA's $1.12 billion revenues in half to a little more than $500 million. Unlike every other year when television broadcasts inch toward $1 billion and account for the lion's share of the NCAA's bacon, only $165 million came from TV profits in 2020. That's because last year, the majority of the NCAA's profits — a measly $270 million — came not from broadcast rights, but from loss-of-revenue insurance payouts. Without TV, 2020 proved, the NCAA is on welfare.
More: Highest-Paid College Football Coaches of the Last 10 Years
College Sports Don't Matter — March Madness Matters
The NCAA was set to rake in $827 million in 2020 from Turner Sports and CBS for the rights to broadcast March Madness. When the tournament was canceled, that number dropped to just $113.1 million. In all, the NCAA lost half its total revenue in 2020 from the COVID-19 forced cancellation of March Madness alone.
By comparison, only five of the NCAA's 90 championships generate as much money as they cost to produce. Men's basketball, of course, is one of them. The others are men's hockey, men's lacrosse, baseball and wrestling. You'll notice that college football didn't make the cut. That's because most college football revenue comes from playoffs and bowl games, but bowl games and the D-I College Football Playoff are independently operated — the NCAA doesn't get any revenue from them at all.
Make Your Money Work for You
Read: States That Produce the Richest Athletes
In short: 
Virtually all NCAA revenues come from television

Virtually all NCAA television revenues come from March Madness

Whether fans are in the stands are not, and no matter what happens with any other sports, if March Madness is televised and people watch, the NCAA will be fine
For Individual Schools, It's a Whole Different Story
According to Forbes, "Large universities rely on sports revenues in order to balance their operating budgets."
See: These Universities Profit the Most Off Their Student-Athletes
Unlike the NCAA as a collective, individual schools don't have a golden goose basketball tournament that will pay all the bills and then some if they can just figure out how to get some television cameras courtside. For example: 
Tuition and fees generate only 20% of the revenues at public colleges and universities.

Big D-I football schools suffer the most without sports. The University of Michigan, for example, took a hit of about $1 billion across its three campuses in 2020. 

The 65 schools in the Power Five Conferences depend on sports for 60% of their operating revenues. Cumulatively, $4.1 billion is at stake among the conferences this year. 
Make Your Money Work for You
More: The Most Valuable Sports Empires — And the Teams That Make Them Rich
For Them, Stands Full of Fans Make All the Difference
The NCAA can survive off of March Madness television rights alone. Individual schools, however, need people in seats — and those seats can't be on living room couches. The Ohio State University, famous for having the largest athletic budget of any school in America, lost money in 2020 despite earning $210 million in revenue. That's because like so many schools with much smaller budgets, mighty Ohio State — and its more than 1,000 student-athletes spread across 36 sports — depends on ticket sales as the single biggest source of sports revenue by far.   
It's not just colleges — entire college towns are threatened by the interruption of in-person university athletics. The small town of Clemson, South Carolina, for example, is home to just 17,000 people. On home game weekends, however, it and its businesses play host to 150,000, and each game not played translates into a loss of $2 million in economic impact on the town, according to Time. But the realities are the realities — in 2020, 37 Clemson players had tested positive for the coronavirus by August.
More From GOBankingRates
Make Your Money Work for You