How Does Winning a Gold Medal Impact an Olympian's Earnings?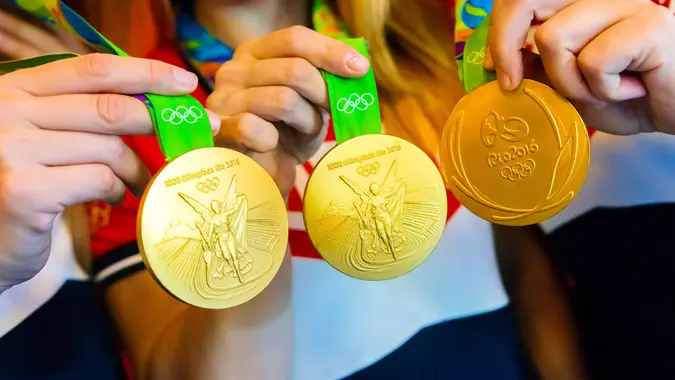 Maria Moskvitsova / Shutterstock.com
Olympic bronze medals are made of 95% copper and 5% zinc, according to Newsweek, but both silver and gold medals are made from pure silver. The difference is that the first-place medal is plated in at least six grams of pure gold.
With gold trading at around $58 per gram as of Feb. 7, the six grams of gilding alone is worth almost $350 — and that's not counting all that silver, which makes up the other 92.5%.
Find Out: The Richest Athletes in the Winter Olympics 2022
Learn More: The Richest Athletes in the World
But the real payoff for Olympic glory goes well beyond the metal in the medal. Here's how some Olympians cash in on winning gold — and how many don't.
In Many Countries, It Pays To Win
It's well documented that most Olympians struggle their entire careers just to break even thanks to the never-ending costs of training and equipment for obscure sports that don't pay. But in a lot of places, athletes can get a badly needed financial boost if they bring home a medal.
Make Your Money Work for You
Of the 91 countries whose athletes are competing for 327 medals across 15 sports at this year's Winter Olympics in Beijing, more than one in three will pay cash prizes to medalists, according to Forbes. Only four will give their medalists no bonus at all.
Travel Through Time: Most Successful Athlete From Every Decade
The US Pays — But Not Like Latvia and Turkey
America rewards its gold medalists with a $37,500 prize — then $22,500 for silver and $15,000 for bronze. A nice boost, indeed, but hardly anything to brag about by international standards. Slovakia will pay its athletes $56,000 for a gold this year. In South Korea, it's $52,000. In Slovenia, gold medal winners win two awards worth a combined $84,000.
But even that's small potatoes compared to the 12 countries that Forbes says will pay their athletes six-figure sums for bringing Olympic gold home from Beijing:
Czech Republic: $110,000
Estonia: $112,000
Kosovo: $123,000
Lithuania: $143,000
Bulgaria: $143,000
Hungary: $156,000
Latvia: $159,000
Cyprus: $168,000
Italy: $201,000
Malaysia: $238,000
Turkey: $383,000
Hong Kong: $642,000
For Most Olympians, Dream-Chasing Pays Poverty Wages
Last summer during the postponed 2020 Olympics in Tokyo, a Vox report on Olympic earnings found that a handful of household names hog most of the spotlight, media coverage and lucrative endorsement deals. If the average person has heard of an Olympian, the athlete is probably well off. If not, it's likely that the athlete is living on a shoestring budget. Many live at or near the poverty line, work jobs between training sessions, launch GoFundMe campaigns to pay for their equipment and training and rely on government benefits like SNAP to pay for food and other basic necessities.
Make Your Money Work for You
Read Next: Pro Athletes Who Have Lost Millions of Dollars
The Olympic Middle Class Is Tiny, Even Among Gold Medalists
Some gold medalists enjoy a lifestyle that's well below the Usain Bolts of the world, but above the sea of hopefuls living hand-to-mouth while they train and work and do little else — but the spots in this Olympic middle class are few and fleeting.
During the Tokyo Olympics last year, Forbes interviewed American track-and-field great Brittney Reese, who followed a grueling regimen while working several jobs and raising a child in her early Olympic years. A $100,000-a-year contract with Nike made things much easier, but only for a while. As she passed her prime, her sponsorship dollars quickly shrank.
Brittney Reese is no average gold medalist. She competed in four Olympics over more than a dozen years — every four years between 2008-2020 — winning three medals along the way, two silver and one gold.
Even she barely scratched six figures, and only briefly during the peak of her prime.
Most Olympians, according to Forbes, spend much of their time trying to cobble together grants for a few thousand bucks from organizations like the USA Track and Field Foundation, which estimates that most athletes live and maintain their expensive Olympic lifestyles on much less than $50,000 per year.
Make Your Money Work for You
Find Out: Best (and Worst) Sports Deals in History
Like the Glory, Most Olympic Cash Goes to a Few Rock Stars
On the other end of the spectrum — high above the hordes of ham-and-eggers chasing grants and crowdsource cash — are the Olympic giants. They're the household names that you see on the Wheaties boxes, on the Nike and Adidas ads and in the broadcast booth during television appearances for big network events.
U.S. gymnastics great Simone Biles is currently the No. 4 highest-paid woman in sports, according to Forbes, earning $10.1 million in the last year. The point-one part of that number came from salary and winnings. The other $10 million came from endorsement deals with companies like Visa and Gap.
Swimming great Michael Phelps, the most decorated Olympian in history across all sports, has amassed a fortune of $80 million, according to Celebrity Net Worth. He has his own signature line of swim spas, is a spokesperson for the mental health app Talkspace and has endorsement deals with Under Armour, PowerBar, Speedo, Subway, Visa and AT&T.
Swimmer Katie Ledecky has at least 10 endorsement deals with brands as varied as Adidas and Ralph Lauren, according to the Washington Post. She was already a star poised for greatness when she turned pro in 2018 and had the luxury of picking and choosing her contracts. She inked what's probably her best deal right away, a seven-year contract with the sportswear brand TYR that pays her $1 million a year for seven years through the 2024 Paris Olympics.
More From GOBankingRates
Make Your Money Work for You