How Rich Is NFL Star Russell Wilson?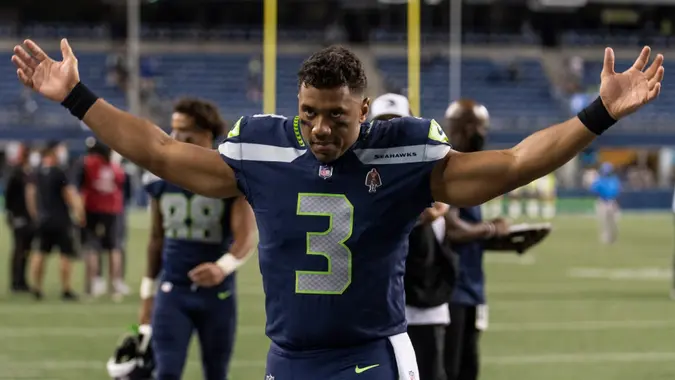 Stephen Brashear/AP/Shutterstock / Stephen Brashear/AP/Shutterstock
Russell Wilson is the starting quarterback for the NFL's Seattle Seahawks, a standout player and, according to Celebrity Net Worth, one of the highest-paid NFL players, if not athletes, in the world. He impressed reps for the Seahawks back in 2012 when he was first picked and has not disappointed since.
See: The 25 Richest NFL Team Owners
Russell Wilson Net Worth: $135 Million
In 2015, he signed a four-year contract extension for $87.6 million with a signing bonus of $31 million and a $60 million guarantee. In 2016, his base salary jumped to $12.34 million, then higher to $12.6 million in the next season, up to $15.5 million in 2018 and to $17 million in 2019. In 2019, however, things changed radically: He signed a four-year, $140 million contract extension with a massive $65 million signing bonus, considered "the richest deal in NFL history" at the time, according to Celebrity Net Worth. That translates to $107 million in guaranteed money. And he has earned $90 million from other work, such as endorsements for such big names as Nike, Microsoft, Bose, United Way and Alaska Airlines. His total net worth is now valued at $135 million.
Check Out: 27 Richest No. 1 NFL Draft Picks
Award-Winning Talent
It's no wonder he rakes in the big bucks: Wilson has earned numerous honors, including Pepsi's NFL Rookie of the Year, PFF Offensive Rookie of the Year and a ranking of No. 51 on the NFL Top 100 of 2013. He was a 2012 Pro Bowl selection — Wilson has seven Pro Bowls to his name and started in two Super Bowls, including winning Super Bowl XLVIII.
On top of all that, he can boast the record for most wins by an NFL quarterback through seven seasons and he's one of only two quarterbacks in NFL history whose career passer rating is over 100.
Make Your Money Work for You
Check Out: 13 NFL Players Who Lost Millions
Personal Life
Wilson has also made waves in his personal life, by dating and then marrying singer Ciara. They received media attention for taking a vow of celibacy until they married, which they did in July 2016 in England. The couple has since had two children together.
More From GOBankingRates
Last updated: Sept. 9, 2021
Make Your Money Work for You