How Rich Is NASCAR Driver Jimmie Johnson?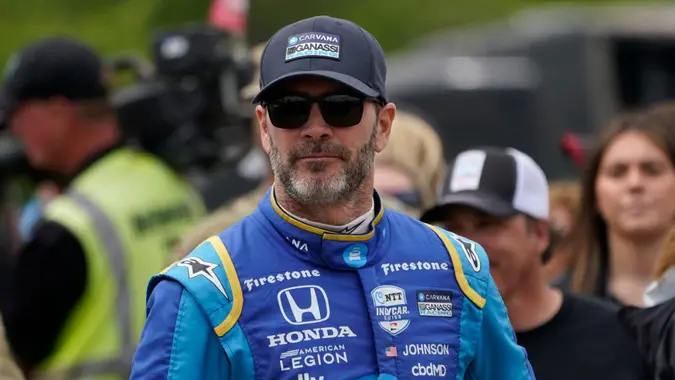 Paul Sancya/AP/Shutterstock / Paul Sancya/AP/Shutterstock
Forbes listed Jimmie Johnson as the second-highest-paid NASCAR driver of 2020, with earnings of $17.6 million for the year, with $14.8 million coming from his salary and prize winnings and another $2.8 million for licensing and endorsements.
Find: Here's How Much Cash You Need Stashed if a National Emergency Happens
Read: In Less Than a Decade, You Won't Be Able To Afford a Home in These Cities
Read on to learn more about this wealthy racecar driver.
Jimmie Johnson's Racing Money
Johnson made the Forbes list of highest-paid athletes in the world in 2017 with an income of $21.8 million that year, after winning the NASCAR Sprint Cup Series. That event earned Johnson and his team at Hendrick Motorsports a bonus of $1.9 million. In 2008, Johnson and his team earned $7.2 million for the same win, according to Forbes.
From 2017 to 2019, Johnson was ranked as NASCAR's highest-paid driver, earning $17.5 million in 2019. Johnson is also one of the most popular and well-loved stock car drivers, and his licensing earnings stand at nearly double most of the drivers on Forbes' highest-paid list for 2020.
Poll: How Much Do You Expect To Spend on Travel This Summer?
Endorsements and Businesses
Jimmie Johnson is personally sponsored by Ally Invest, and he has endorsed Chevrolet, Gatorade and Bank of America over the course of his career, according to Essentially Sports. He also owns a stake in a Chevrolet dealership bearing his name, Celebrity Net Worth reports.
Make Your Money Work for You
Real Estate and Cars
Not surprising for a race car driver and car dealership owner, Johnson owns several classic and antique cars, including a 1949 Stepside Chevy pickup truck, a 1967 Chevrolet Camaro and a collection of Chevrolet Bel Airs.
He lives in Charlotte, North Carolina, but also has an apartment in New York City and spends time in Aspen, Colorado, Essentially Sports reports.
Charitable Contributions
Johnson and his wife own the Jimmie Johnson Foundation to help children, families and communities in need. The foundation also assists the American Red Cross with disaster relief efforts as needed.
Celebrating Retirement
Johnson retired after 18 years of racing and 83 career victories in November 2020. He ranks third as the wealthiest NASCAR driver of all time, behind industry greats Dale Earnhardt Jr. and Jeff Gordon, according to Essentially Sports.
More From GOBankingRates
Make Your Money Work for You
Net worth information is sourced from Celebrity Net Worth and accurate as of June 7, 2022.
Make Your Money Work for You