How Much Is Shaquille O'Neal Worth?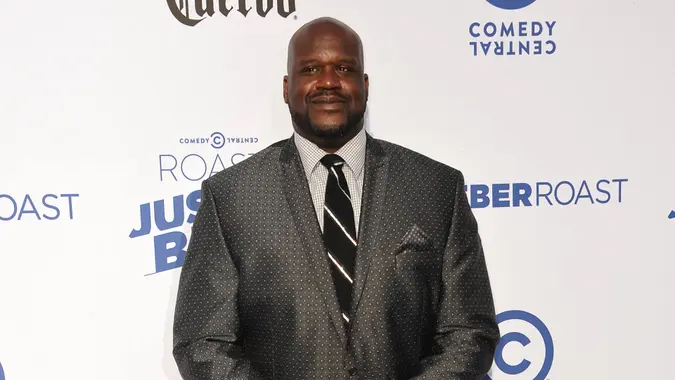 Jaguar PS / Shutterstock.com
Shaquille O'Neal is one of the most famous basketball players of all time thanks to his large stature and big heart, and his wealth reflects that.
Find: 10 Reasons You Should Claim Social Security Early
Read: 22 Side Gigs That Can Make You Richer Than a Full-Time Job
According to Celebrity Net Worth, he's estimated to have a net worth of $400 million.
Net worth: $400 million
Date of birth: March 6, 1972
Primary sources of wealth: Playing basketball, endorsements and real estate
Career highlights: Winning gold at the Olympics in 1996 and four NBA championships
Shaquille O'Neal's Net Worth: $400 Million
Much of Shaq's money came through his NBA career. He earned $292 million from his NBA contracts and an estimated $200 million in endorsements while he was playing. Today, much of his wealth comes from the superstar's new business endeavors.
Shaquille O'Neal's Career Highlights
Shaq started his NBA career in 1992 after being drafted by the Orlando Magic. He finished the year in the top 10 for shooting percentage, blocks, rebounds and scoring, and was named both an All-Star and Rookie of the Year.
Make Your Money Work for You
All of this success led to him signing the biggest NBA contract in history at the time with the Los Angeles Lakers — a deal worth $120 million for seven years. That same year, he also won gold at the Olympics. The rest of Shaq's career was filled with four NBA championships and other accolades. His highest-paid year as a player would come during the 2004-2005 season when he made over $27.5 million playing with the Miami Heat.
Poll: Do You Think the Baby Formula Shortage Will End Soon?
Shaquille O'Neal's Creative and Business Ventures
Even while he was still playing, Shaq explored other income avenues by starring in films like "Kazaam" and "Blue Chips." While he's no longer an active actor, he's a strong businessman. In 2019, he joined the board of directors of Papa Johns, a role that will earn him $8.25 million in stock and salary over a three-year period.
Shaquille O'Neal's Real Estate
O' Neal accumulated a number of properties over the years, including a Florida mansion he bought for $3.95 million in 1993. He listed the 31,000-square-foot $28 million and sold it three years later for $11 million, the Los Angeles Times reported.
Make Your Money Work for You
Shaq also was a co-developer of a high-rise apartment complex in Newark, New Jersey, in 2019. The building, located in his hometown, cost $80 million to build.
More From GOBankingRates
Jami Farkas contributed to the reporting for this article.
Make Your Money Work for You