What Is Patrick Mahomes' Net Worth?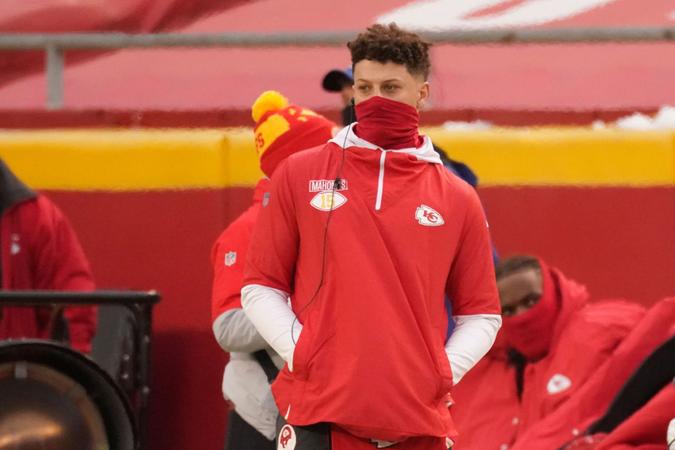 Charlie Riedel/AP/Shutterstock / Charlie Riedel/AP/Shutterstock
NFL Football player Patrick Mahomes of the Kansas City Chiefs might surpass the New York Giants' Eli Manning as the highest-paid player in the NFL once the 25-year-old starting quarterback gets a few years into his 10-year, $500 million-plus contract with the Chiefs. Despite his $40 million salary from his NFL team, Patrick Mahomes' net worth at the moment is a cool $40 million.
Where does he make his money, and how is he spending it so quickly?
Net worth: $40 million
Date of birth: Sept. 17, 1995
Primary source of wealth: Quarterback for the Kansas City Chiefs
Career highlights: Quarterback for the Kansas City Chiefs, Super Bowl winner, Sports Illustrated's Sportsperson of the Year honoree in 2020
Discover: Travis Kelce Lost Big Without a Financial Advisor — Why You Need One Too
On the Heels of the NFL's Highest-Paid Player
In his last year with the NFL, New York Giants quarterback Eli Manning achieved the title of highest-paid player in the NFL, with career earnings totaling $252 million. But the next generation is set to surpass his record. If Mahomes makes it the full 10 years with the Chiefs, he will earn a total of $503 million, making him the first half-billion-dollar athlete in sports history, according to Celebrity Net Worth.
Make Your Money Work for You
Find Out: How Much Drew Brees, Tom Brady and Other QBs Make Per Career TD Thrown
Splurging on His Fiancee
Shortly after signing the half-billion-dollar contract, Mahomes told CBS Sports, "I haven't bought anything… I feel exactly the same… I'm going to be the same person I was before I got the contract and before I got to the NFL."
He didn't leave money sitting in his bank account long, however. A few days after the CBS Sports interview, USA Today reported that he splurged on a Ferrari 812 Superfast — a $338,000-plus ride. More recently, he purchased an SUV for his fiancee Brittany Matthews, who's pregnant with their daughter. TMZ speculates from a video posted by the young mom to be that the vehicle could be a $200,000-plus Lamborghini.
Watch Your Spending: 13 NFL Players Who Lost Millions
Investing In the Future
However, not all of Mahomes' purchases have been for luxury. The same day he bought his Ferrari, Mahomes purchased a stake in the Kansas City Royals baseball team, a Major League Baseball club valued at $1 billion, making him the youngest team owner in the history of the sport.
More From GOBankingRates
Make Your Money Work for You
Last updated: Sept. 8, 2021
Make Your Money Work for You