The Richest NFL MVPs of All Time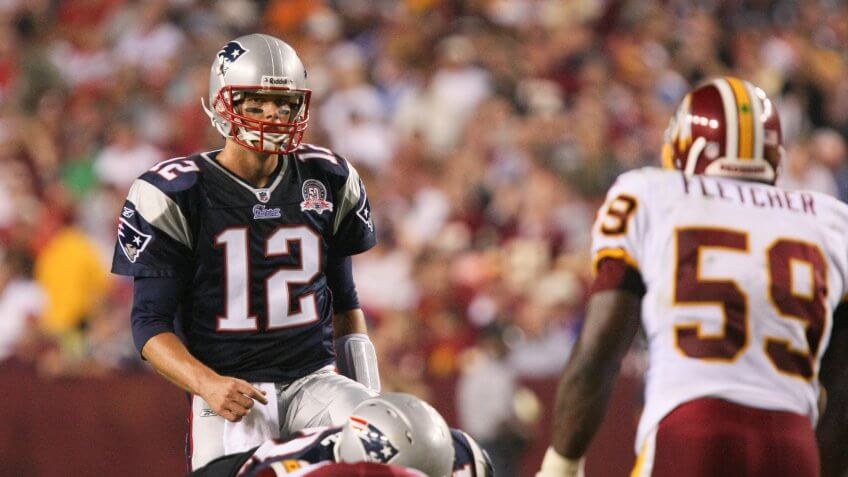 Keith Allison / Flickr.com
The National Football League is poised to name the Most Valuable Player of the 2016 season this February, and Atlanta Falcons quarterback Matt Ryan is an early favorite. Previous NFL MVPs have gone on to enjoy storied careers and achieve great wealth. In fact, some of the richest football players in history received NFL honors that included MVP awards.
Read on to see if your favorite NFL greats are among the world's richest athletes of any sport.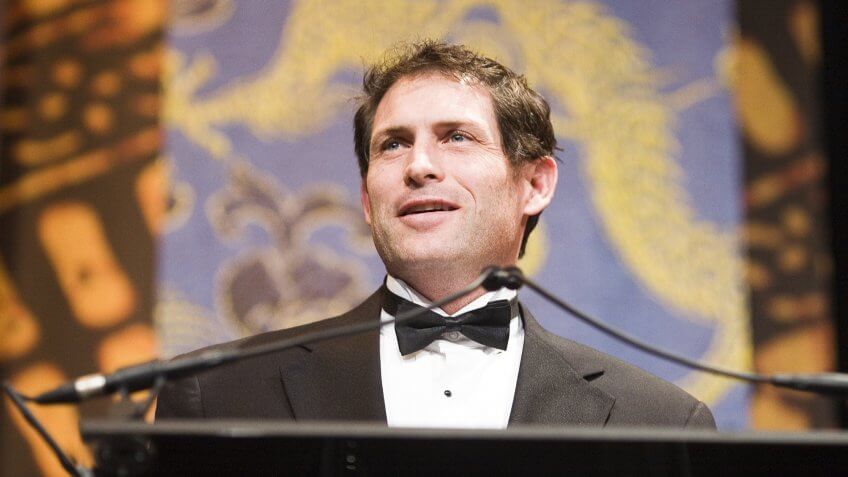 Thomas Hawk / Flickr.com
Steve Young Net Worth: $40 Million
When Steve Young replaced Joe Montana in the early 1990s, he faced the unenviable task of filling the shoes of the man who might be the greatest quarterback in history — and fill them he did. The future Hall of Famer would go on to be named MVP twice for his time with the San Francisco 49ers in 1992 and 1994.
During his 15 seasons in the NFL, Young became one of just two quarterbacks in history to lead the league in passer rating six times. He won three Super Bowls and played in seven Pro Bowls.
He currently runs a private equity firm.
Read More: Who's The Wealthiest NFL Hall of Famer?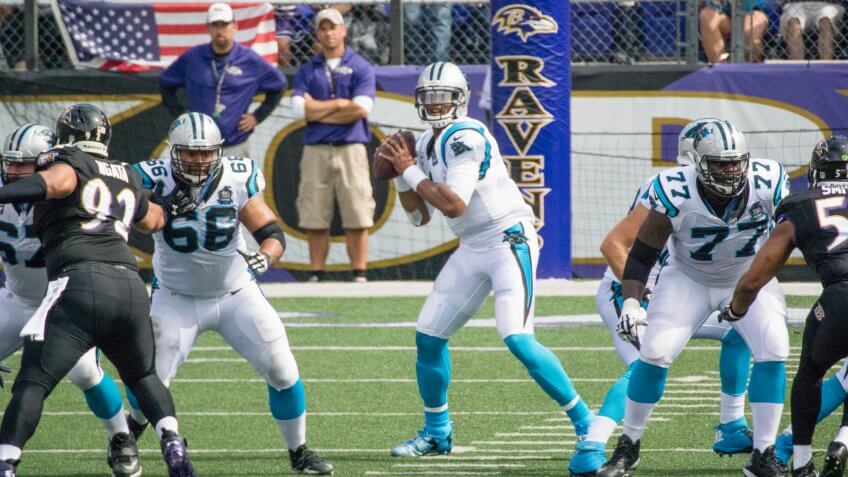 Keith Allison / Flickr.com
Cam Newton Net Worth: $45 Million
Dubbed "the perfect weapon for the modern NFL" by the Wall Street Journal, Cam Newton was the 2016 MVP. He earned the award with 48 of 50 possible votes after leading his team to a 15-1 regular season record. He also threw 35 touchdowns and rushed for 10 more.
The Carolina Panthers quarterback led his team to the Super Bowl that year but lost to Peyton Manning's Denver Broncos. Had he won, he would have joined the likes of Marcus Allen, who is the only player in NFL history to win a college national championship, the Heisman Trophy, an MVP award and a Super Bowl.
Newton earned $53 million in 2016, $41.1 million of which came from his NFL salary. The other $12 million came from corporate endorsements; in fact, he is Under Armour's highest-paid pitchman in the NFL. In 2015, he signed a five-year, $103.8 million contract.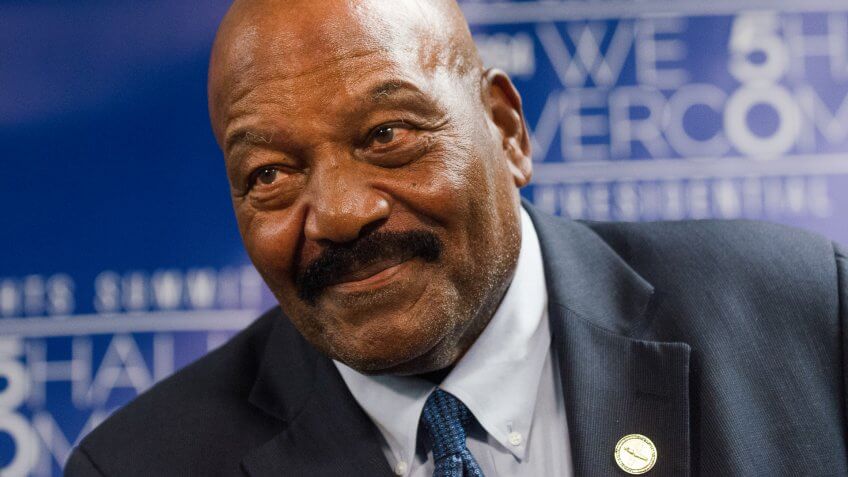 Marsha Miller Public Domain / Flickr.com
Jim Brown Net Worth: $50 Million
Jim Brown was named league MVP in 1957, 1958 and 1965. In 1957, the Cleveland Browns football icon and legendary tough guy was not only MVP, but also the No. 1 draft pick and Rookie of the Year. He played in nine straight Pro Bowls and was the NFL's leading rusher for eight years.
Brown is also a prolific actor who racked up 53 credits between 1964 and 2014. In a book about the football great, author Mike Freeman called Brown the country's "first black action hero." His film resume includes "The Dirty Dozen," "Slaughter," "Three the Hard Way," "The Running Man" and "Any Given Sunday."
He is also a successful television personality, hosting halftime updates, pregame shows and live cut-ins for CBS.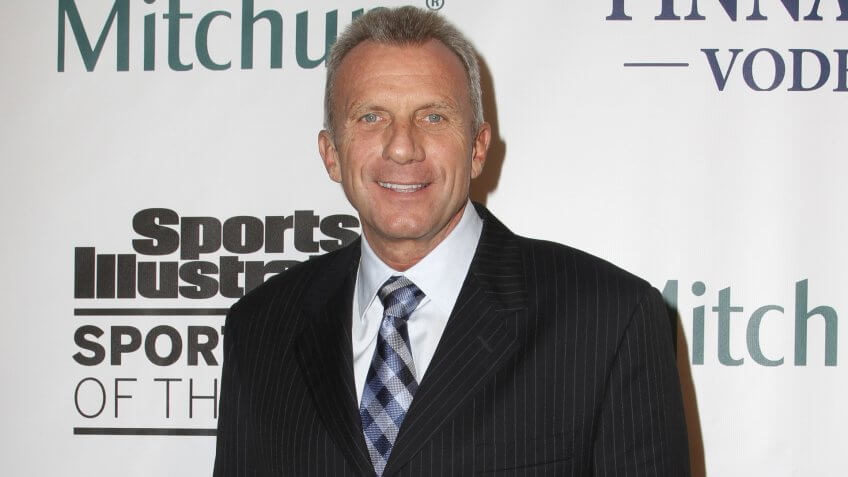 Debby Wong / Shutterstock.com
Joe Montana Net Worth: $80 Million
"Cool" Joe Montana is arguably the greatest quarterback ever to play the game, and his San Francisco 49ers might have been the greatest team ever assembled. He led San Francisco to four Super Bowl victories, which were peppered with last-minute dramatics. The league named him MVP in both 1989 and 1990.
Although Montana admits he endured both physical and mental stress when leaving football, he eventually found success off the field. Not only is he a familiar face from national endorsement deals with Papa John's, Hugo Boss and AT&T, but he has also found success on the speaking circuit. Montana earns an estimated $50,000 per speech.
He is also a general partner in Liquid 2 Ventures, a venture capital firm that focuses on seed investing for tech startups. In 2015, he bought a $2.28 million mansion in San Francisco's swanky Marina District.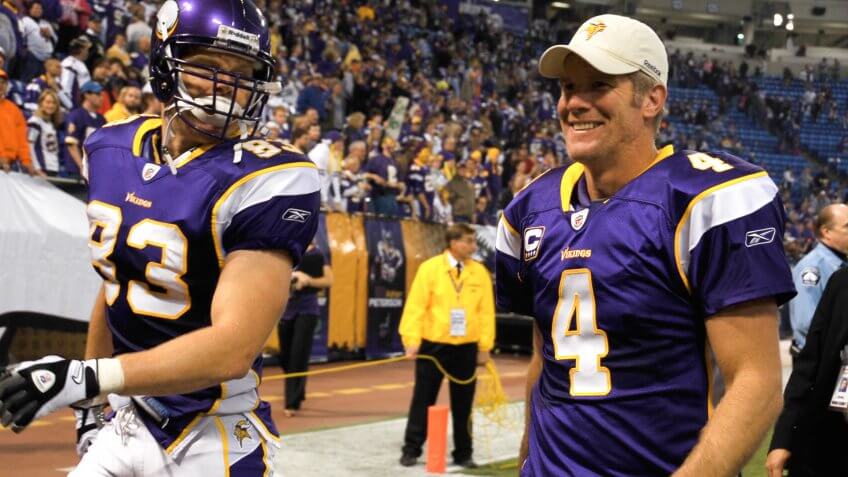 MN National Guard / Wikimedia Commons
Brett Favre Net Worth: $100 Million
NFL Hall of Famer Brett Favre is perhaps the greatest quarterback in the history of the Green Bay Packers, one of the oldest franchises in pro football. During his 20-year career, which also includes short stints with the Falcons, Jets and Vikings, he earned three consecutive MVP titles between 1995 and 1997.
Between his NFL salary and other incentives, Favre took home more than $137 million over the course of his two-decade run in the NFL. He also proved highly marketable off the field, earning lucrative endorsement contracts with organizations like MasterCard, Nike and Wrangler jeans. As a corporate pitchman, he made an estimated $7 million to $9 million a year until an embarrassing sexting scandal sidelined his off-field career in 2010.
Favre has since recovered both his image and his sponsorship deals. He currently works as a pitchman for MicroTouch Tough Blade razors and Copper Fit.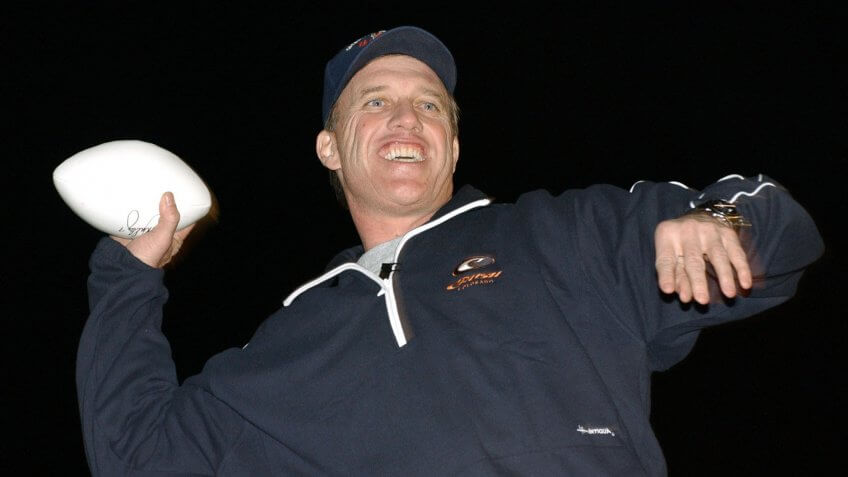 Tech Sgt. Marc Barnes / Wikimedia Commons
John Elway Net Worth: $145 Million
John Elway was named league MVP for his job at quarterback of the Denver Broncos in 1987. Thirty years later, he is the team's executive vice president of football operations and general manager. The Hall of Famer's 16-year career includes two Super Bowl Championship rings and five big game appearances.
Despite boasting the third-highest net worth in MVP history, Elway actually missed out on a chance to grow his fortune significantly. In 1999, Elway turned down an opportunity to buy a 10 percent stake in the Broncos for just $15 million.
The deal came with several sweetheart clauses, including the right to buy another 10 percent in the future and sell back the share for a profit down the line. The Broncos organization is now worth $2.4 billion, and it is estimated that Elway squandered the opportunity to make $444 million.
He did, however, sell a car dealership for $82.5 million in 1997. At that time, the deal was the most lucrative one any former player had made off the field.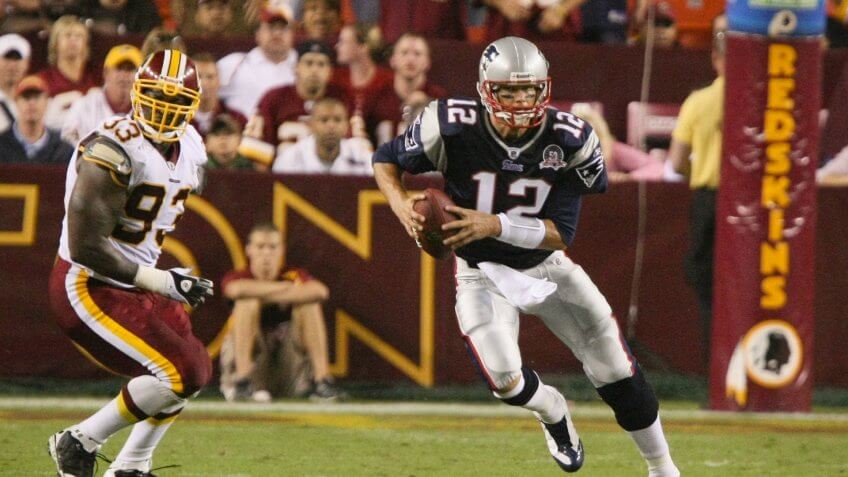 Keith Allison / Flickr.com
Tom Brady Net Worth: $180 Million
Just 53 celebrities across all industries earned more than Tom Brady in 2016. The two-time MVP winner (2007 and 2010) took home $44 million, $36.1 million of which came from his salary and $8 million from his off-the-field endorsement deals.
Brady and wife Gisele Bündchen are among the world's most successful power couples. Last year, they earned a combined $76 million, beating out Jay Z and Beyonce Knowles, David and Victoria Beckham and Brad Pitt and Angelina Jolie, who have since split.
Brady has won four Super Bowls to go with his two MVP titles. Time will tell if Super Bowl LI will be his fifth win. In December 2016, Brady won his 201st game, eclipsing Peyton Manning's record of 200 to become history's most-winning quarterback.
Related: The Best Teams for Cheap NFL Tickets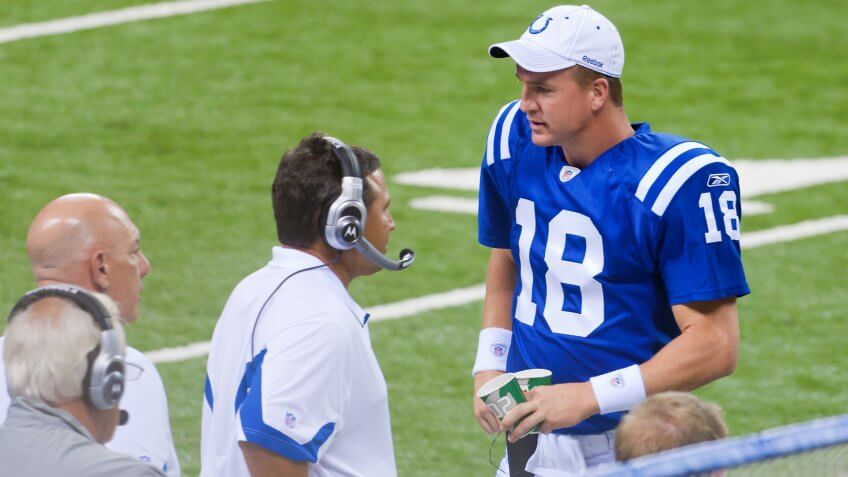 Alexey Stiop / Shutterstock.com
Peyton Manning Net Worth: $200 Million
Although he spent most of his 18 years in the NFL as quarterback of the Indianapolis Colts, Peyton Manning capped his storied career by leading the Denver Broncos to an upset Super Bowl victory over the Carolina Panthers. He left the sport as the all-time leader in passing yards, passing touchdowns and wins by a quarterback.
Not only is Manning the richest former MVP, but he is also the player who earned the award more times than anyone in league history. Manning was named the NFL's most valuable player in 2003, 2004, 2008, 2009 and 2013.
When he retired in 2016, Manning left the game with $400 million in career earnings, including endorsement deals with companies such as Nationwide, DirecTV, Buick, Nike and the Papa John's pizza chain. According to Forbes, that's more than any other player in history. He earned $249 million in salary alone, $61 million more than the next-highest on-field earner, who happens to be his brother, Eli Manning.
*Net worth information was taken from CelebrityNetWorth.com.