The Richest Super Bowl MVPs of All Time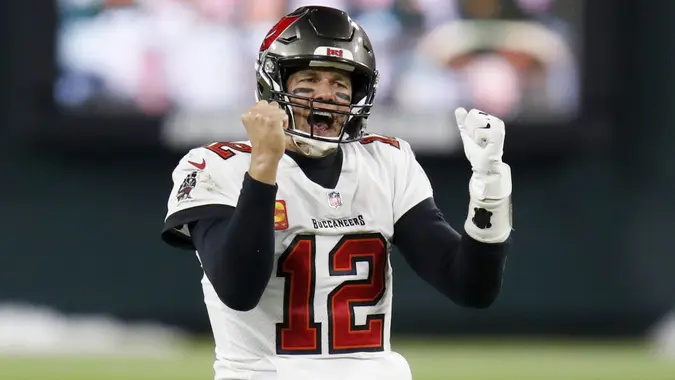 Matt Ludtke/AP/Shutterstock / Matt Ludtke/AP/Shutterstock
If the Tampa Bay Buccaneers defeat the Kansas City Chiefs in Super Bowl LV on Feb. 7, it will be the seventh NFL championship for quarterback Tom Brady. That would give Brady, who led the New England Patriots to six Super Bowl wins, more victories in the big game than any single franchise; the Pittsburgh Steelers are tied with the Patriots for the most all-time.A win would be another notch in the legacy of Brady, who holds the NFL record for most passing touchdowns with 581.
Find Out: The 10 Highest-Paid Players in This Year's Super Bowl
The 43-year-old Brady has been named Most Valuable Player of the Super Bowl four times, also a record. And while he has earned millions on and off the field, there is one title Brady doesn't own: richest Super Bowl MVP ever. That title belongs to Roger Staubach, who led the Dallas Cowboys to victory in Super Bowl VI following the 1971 season. Staubach played in an era before athletes earned millions but assembled a fortune following his playing days. He founded a real estate company in 1977 that he sold in 2008 for more than $600 million.
Make Your Money Work for You
So just where does Tom Brady fall on the list of the richest Super Bowl MVPs of all time? Read on to find out.
Learn More: The 25 Richest NFL Team Owners
Richest Super Bowl MVPs of All Time
In the more than half-century the Super Bowl has been played, it has morphed from a mere championship game into a worldwide event, with the game MVPs achieving instant fame. GOBankingRates compiled a list of the richest Super Bowl MVPs, listed in order of their impressive net worths. Only Super Bowl MVPs with documented net worth estimates were considered for this article. Among those included, Bart Starr, the MVP of the first two Super Bowls, passed away in 2019.
NFL Super Bowl MVP Net Worths
MVP
Net Worth
MVP-Winning Super Bowl
Position
Team
Roger Staubach
$600 million
Super Bowl VI
QB
Dallas Cowboys
Peyton Manning
$250 million
Super Bowl XLI
QB
Indianapolis Colts
Steve Young
$200 million
Super Bowl XXIX
QB
San Francisco 49ers
Tom Brady
$200 million
Super Bowl XXXVI, XXXVIII, XLIX, LI
QB
New England Patriots
Drew Brees
$160 million
Super Bowl XLIV
QB
New Orleans Saints
Eli Manning
$150 million
Super Bowl XLII, XLVI
QB
New York Giants
John Elway
$145 million
Super Bowl XXXIII
QB
Denver Broncos
Aaron Rodgers
$120 million
Super Bowl XLV
QB
Green Bay Packers
Joe Montana
$100 million
Super Bowl XVI, XIX, XXIV
QB
San Francisco 49ers
Joe Flacco
$75 million
Super Bowl XLVII
QB
Baltimore Ravens
Jerry Rice
$55 million
Super Bowl XXIII
WR
San Francisco 49ers
Troy Aikman
$50 million
Super Bowl XXVII
QB
Dallas Cowboys
Terry Bradshaw
$45 million
Super Bowl XIII, XIV
QB
Pittsburgh Steelers
Von Miller
$40 million
Super Bowl L
LB
Denver Broncos
Ray Lewis
$35 million
Super Bowl XXXV
LB
Baltimore Ravens
Kurt Warner
$30 million
Super Bowl XXXIV
QB
St. Louis Rams
Patrick Mahomes
$30 million
Super Bowl LIV
QB
Kansas City Chiefs
Joe Namath
$25 million
Super Bowl III
QB
New York Jets
Julian Edelman
$25 million
Super Bowl LIII
WR
New England Patriots
Lynn Swann
$20 million
Super Bowl X
WR
Pittsburgh Steelers
Emmitt Smith
$18 million
Super Bowl XXVIII
RB
Dallas Cowboys
Phil Simms
$16 million
Super Bowl XXI
QB
New York Giants
Hines Ward
$16 million
Super Bowl XL
WR
Pittsburgh Steelers
Deion Branch
$15 million
Super Bowl XXXIX
WR
New England Patriots
Desmond Howard
$14 million
Super Bowl XXXI
KR
Green Bay Packers
Nick Foles
$13 million
Super Bowl LII
QB
Philadelphia Eagles
Len Dawson
$10 million
Super Bowl IV
QB
Kansas City Chiefs
Doug Williams
$10 million
Super Bowl XXII
QB
Washington Redskins
Terrell Davis
$10 million
Super Bowl XXXII
RB
Denver Broncos
Jim Plunkett
$8 million
Super Bowl XV
QB
Oakland Raiders
John Riggins
$6 million
Super Bowl XVII
RB
Washington Redskins
Randy White
$5 million
Super Bowl XII
DL
Dallas Cowboys
Bart Starr
$4 million
Super Bowl I, II
QB
Green Bay Packers
Marcus Allen
$4 million
Super Bowl XVIII
RB
Los Angeles Raiders
Mark Rypien
$4 million
Super Bowl XXVI
QB
Washington Redskins
Franco Harris
$3 million
Super Bowl IX
RB
Pittsburgh Steelers
Larry Csonka
$2 million
Super Bowl VIII
FB
Miami Dolphins
Malcolm Smith
$2 million
Super Bowl XLVIII
LB
Seattle Seahawks
Make Your Money Work for You
Super Bowl LV is set to kick off Feb. 7 at 6:30 p.m. EST. The Weeknd will headline the halftime show from Raymond James Stadium in Tampa, Fla., and CBS will broadcast the game. Jim Nantz will handle the play by play, with Tony Romo the analyst. Reporters Tracy Wolfson, Evan Washburn and Jay Feely, as well as rules analyst Gene Steratore, will join Nantz and Romo.
The Buccaneers are the first team in Super Bowl history to play in the game in their home stadium.
More From GOBankingRates
Rachel Farrow contributed to the reporting for this article. 
Methodology: In order to find the richest Super Bowl MVPs of all time, GOBankingRates first used ESPN's "NFL History – Super Bowl MVPs" data to source (1) Super Bowl MVP names; (2) Super Bowl MVP positions; (3) team Super Bowl MVPs played for; and (4) the Super Bowl in which each MVP was awarded. With these 47 MVPs identified, GOBankingRates then found each Super Bowl MVP's (5) net worth, sourced rom CelebrityNetWorth.com. All data was collected on and up to date as o January 21, 2021.
Make Your Money Work for You
Last updated: Feb. 3, 2021
Make Your Money Work for You