How Much Is Stephen Curry Worth?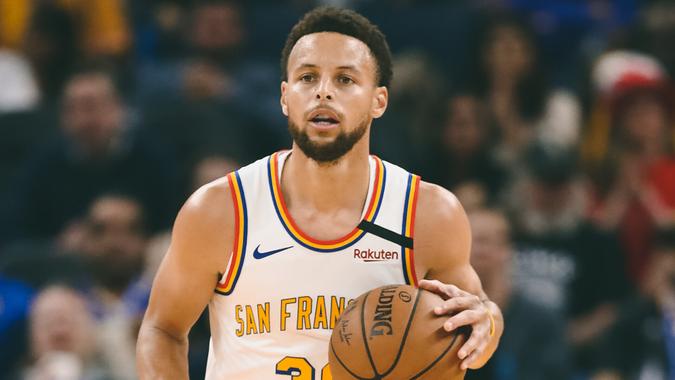 Ezra Shaw / Getty Images
When he's not tearing up the court with the Golden State Warriors, basketball superstar Stephen Curry is making waves in both the sponsorship and media industries. Thanks to his efforts, Celebrity Net Worth estimates Curry is worth a cool $160 million.
Net worth: $160 million
Date of birth: March 14, 1988
Primary sources of wealth: Playing basketball and endorsement deals
Career highlights: Won the NBA championship in 2015, 2017 and 2018 and was named the league's MVP in 2015 and 2016
Read More: Steph Curry and 25 Athletes With Major Business Empires Outside of Sports
Stephen Curry's Net Worth: $160 Million
Curry has proved his value on the court, which is why he was able to earn the NBA's highest-paid salary ever in the 2016-17 season. He signed a five-year, $201 million contract in 2017. This was an incredible increase from his previous salary of $12.1 million just the year before.
Top Earners: The Richest Athletes in the World
Stephen Curry's Career Timeline
Curry's career in basketball wasn't a foregone conclusion. In fact, he was barely recruited during college. It wasn't until he was averaging 28.6 points per game as a college junior that the big leagues started to notice him. He was drafted by the Golden State Warriors in 2009 and almost nabbed the Rookie of the Year award in 2010.
Make Your Money Work for You
Curry got his first All-Star nomination in 2014 and led his team to the NBA championships in 2015, where he beat LeBron James. Since then, he's won two more championships and was the league MVP in 2015 and 2016.
Yikes: Injuries Cost These 13 Athletes a Fortune
Stephen Curry's Partnerships
As one of the biggest players in the game, it's no surprise that Curry racked up a number of partnerships with big-name brands. He earns an estimated $44 million a year by endorsing brands like Chase, Fanatics and Under Armour.
As if that wasn't enough, Curry also started a production company called Unanimous Media. The company produced the film "Breakthrough" in 2019, which grossed $40.7 million at the U.S. box office.
See the List: Most Successful Athlete From Every Decade
Stephen Curry's Philanthropy
Curry puts all of his earnings to good use. He signed an endorsement deal with Callaway in 2019, and as part of the deal, he donated a seven-figure amount to create a golf program at Howard University. He also founded the Stephen Curry Foundation, which raises money for schools.
Make Your Money Work for You
More From GOBankingRates