What Is Venus Williams' Net Worth?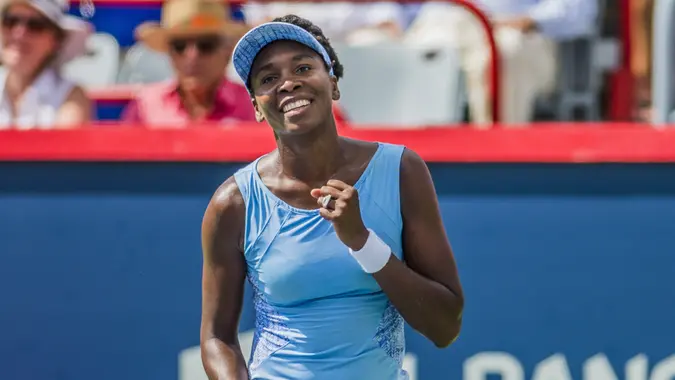 pdrocha / Shutterstock.com
Just like her younger sister Serena Williams, tennis powerhouse Venus Williams has evolved into one of the greatest athletes and tennis players of all time. With seven grand slam titles and five Olympic medals under her belt, it's no wonder why she's still considered one of the dominant forces in tennis today.
Net Worth: $95 million
Primary sources of wealth: Tennis, brand endorsements
Career highlights: Seven Grand Slam singles titles and 14 Grand Slam Women's doubles titles
After more than 20 years in the game, the tennis star is still going strong. And although Venus might be well-known for her extraordinary performance as an athlete, she has made millions off the tennis court as well. Take a look at how the tennis champion built up her $95 million fortune.
Click through to see the 20 richest female athletes.
Venus Williams Career Highlights and Awards
Venus Williams stepped onto the tennis scene in 1994 in her first professional tennis match. Three years later, she competed in the final of the U.S. Open against Switzerland's Martina Hingis at just 16 years old. Venus fell short in the final, but she redeemed herself in 2000 by winning her first two Grand Slam singles titles at Wimbledon and the U.S. Open — a feat she repeated in 2001. Both victories came against fellow American tennis player Lindsey Davenport.
Make Your Money Work for You
In 2002, Venus had one of her best seasons to date, ranking as the No. 2 best female tennis player in the world — second to her sister Serena — reaching the final of the French Open and winning seven WTA titles at Gold Coast, according to the Women's Tennis Association. But her success didn't stop there. Venus' winning streak continued as she captured her fifth, sixth and seventh Grand Slam titles in 2005, 2007 and 2008. For her Grand Slam title win in 2008, Venus went head-to-head in a grueling match at Wimbledon against her sister.
In 2017, Venus was listed as the No. 10 highest-paid tennis player in 2017, taking home a salary of $10.5 million, with nearly $4 million of that coming from match prize money, according to Forbes. But throughout her career, Venus has racked up more than $40 million in prize money.
Check Out: The Highest Paid Athletes of All Time
Venus Williams Endorsements and Business Endeavors
Like most successful athletes, Venus attracts major brand endorsements. She signed a five-year, $40 million deal with Reebok in 2000, which was one of the biggest endorsement deals at the time. However, her marketability extends beyond athletics. Venus has also partnered with Tide, Electronic Arts and Ralph Lauren among other brands.
Make Your Money Work for You
The tennis star is also a bona fide fashion designer. At 18 years old, she was accepted to design school, which she put on hold to pursue her tennis career. However, in 2007, the world-class athlete returned to fashion when she launched her activewear clothing line EleVen.
Two years after that, Venus and her sister invested in the Miami Dolphins and became part-owners.
In addition, the tennis star is also an investor of Ellevest, an online investment resource aimed at helping women.
Venus Williams Relationship and Rivalry With Serena
Although sisters and business partners, there has been quite the rivalry between the two as competitors on the court.
Of the nine Grand Slam title matches in which they have faced off against each other, Venus has only won two.
At the same time, the sisters are a dominant force together, winning 14 Grand Slam doubles titles and a handful of Olympic medals.
Make Your Money Work for You
Click through to learn the surprising side hustles of these top athletes.
More From GOBankingRates
Last updated: Aug. 30, 2021
Make Your Money Work for You