What Is Lance Armstrong's Net Worth?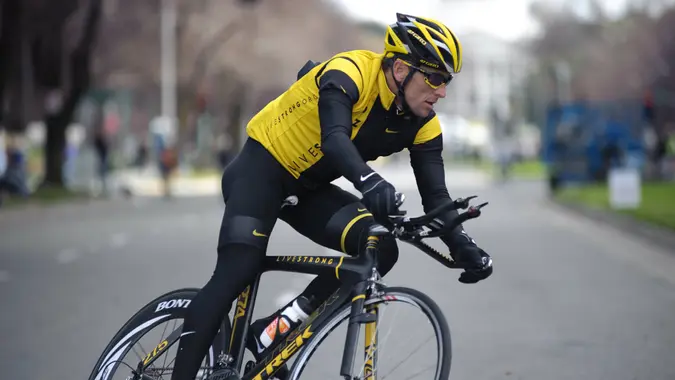 ©Shutterstock.com
Cycling's most celebrated event, the Tour de France, begins July 1 and runs through July 24. For years, the grueling European course was the personal playground of American Lance Armstrong, who won the race a record seven times from 1999 to 2005.
His achievement was even more compelling because in 1996, he received a grim diagnosis of advanced testicular cancer that had spread throughout his body, including to his lungs and brain. He beat the disease and inspired a legion of cancer patients.
Along the way, he made serious money and today, at age 50, he has a net worth of $50 million, according to Celebrity Net Worth. But his path hasn't been a smooth one.
Livestrong
In February 1997, after surgeries and rounds of chemotherapy, doctors declared the cyclist free of cancer. He founded the Lance Armstrong Foundation, later rebranded as Livestrong. Its yellow bracelets were a symbol of support for those both battling the disease and working toward a cure and were worn on millions of wrists. The charity raised $41 million in 2009, ESPN reported.
The year 1997 also was significant for Armstrong as he returned to cycling, supported by the U.S. Postal Service team, which paid him $200,000 a year, according to Biography. His previous sponsor, Cofidis, was paying him $600,000 a year but ended his contract following his cancer diagnosis.
Victories and Whispers
In 1999, Armstrong became the first American since Greg LeMond to win the Tour de France, and he won the next six. He mixed in a bronze medal in the Summer Olympics in Sydney. He retired following his 2005 Tour win.
Make Your Money Work for You
But there were whispers of possible doping among members of the U.S. Postal Service team. ESPN reported that in 2002, authorities in France determined following a two-year investigation that no performance-enhancing drugs were used.
Three years later, the French newspaper L'Equipe reported a 1999 blood sample from Armstrong that was retested showed evidence of doping, which the cyclist vehemently denied in a 2005 interview with Larry King on CNN.
"This thing stinks," Armstrong told King. "I've said it for longer than seven years: I have never doped. I can say it again. But I've said it for seven years; it doesn't help. But the fact of the matter is I haven't (doped)."
He added that, as a cancer survivor, he wouldn't take performance-enhancing drugs.
"If you consider my situation: a guy who comes back from arguably, you know, a death sentence, why would I then enter into a sport and dope myself up and risk my life again? That's crazy. I would never do that. No. No way."
The Admission
In the early 2010s, Armstrong's world started to crumble as former teammates began admitting to using banned substances and implicating Armstrong. In 2012, he was banned from racing for life and had all of his titles — including his Tour de France wins — stripped. He returned his Olympic medal.
In a January 2013 televised interview with Oprah Winfrey taped in his hometown of Austin, Texas, Armstrong admitted to using banned substances in all seven of his Tour de France wins and said it wouldn't have been possible to ride to those consecutive victories without performance-enhancing drugs.
Make Your Money Work for You
Lance Armstrong's Family
Armstrong married public relations executive Kristin Richard in 1998, and they filed for divorce in 2003. The couple froze his sperm before his chemotherapy treatments and went on to have a son in October 2009 and twin daughters in 2001. He dated several women in the entertainment industry before settling down with yoga professional Anna Hansen, with whom he shares a son and daughter.
Lance Armstrong Today
In 2008, Armstrong opened Mellow Johnny's Bike Shop in the historic warehouse district of Austin. Inside the shop is his café, Juan Pelota, where both locals and cycling enthusiasts gather for coffee, smoothies, wine, beer and snacks. He hosts The Move, a cycling-focused podcast, and has led The Forward Podcast with Lance Armstrong, in which he talks to A-list guests from avenues that include business, entertainment, sports and art.
Among his other ventures, he is a co-founder of Lift Vodka, based in Aspen, Colorado, where he owns a home.
In 2018, The Washington Post said Armstrong had estimated a loss of $100 million in income following his doping admission. Sponsors including Oakley, Nike and Michelob parted ways with him, as did Livestrong.
Later that year, he told CNBC that a $100,000 investment he made in a venture capital firm in 2009 had "saved our family." The firm put most of the money into Uber in its early stages, and Armstrong said the return he got was "too good to be true."
More From GOBankingRates
Make Your Money Work for You
Andrew Lisa contributed to the reporting for this article.