41% of Americans Paused Saving for Retirement Due to Inflation — and It's Changing the Future for Everyone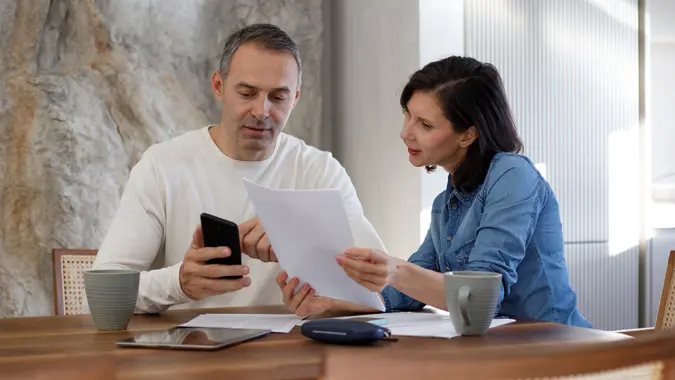 Sneksy / iStock.com
Though inflation is cooling off, it's far from tenable, and Americans are still struggling to get by as prices soar across many sectors. Unfortunately, the toll of inflation has caused many to put a halt to contributing to their retirement savings.
A recent survey from U.S. News & World Report found that 41% of Americans saving for retirement paused putting money in their retirement funds in 2022 due to inflation. Thirty-two percent of Americans withdrew money from their existing retirement funds to keep up with rising costs.
"The difference between what retirement savers need and what they have is playing a critical role in reshaping retirement. Most experts agree the retirement savings gap is growing, largely due to inflation, with millennials and centennials (Gen Z) impacted the most," Laura Sterling, vice president of marketing at Georgia's Own Credit Union, told U.S News & World Report.
There's substantial evidence that Americans are simply not saving enough for retirement — with or without the pressures of inflation. Another recent survey, this one from Principal, asked financial professionals and employers about the most notable trends disrupting the retirement industry through 2030. Their consensus was that the retirement industry seems to be "on the cusp of a major transformation that hasn't been seen since the introduction of the 401(k) in 1978."
The Principal survey respondents indicated that by 2030, the shortfall between how much money people need to retire comfortably and how much they've saved will persist.
The hope now is that new legislation, such as the SECURE 2.0 Act, which was enacted in December 2022 and boasts incentives for retirement savings, will help people better prepare for retirement.
Are You Retirement Ready?
There is also hope that companies in the coming years will develop wellness programs for employees that will make saving for retirement no longer a stand-alone benefit, but one that is included in an overall holistic plan. Such a development would mark a major transformation for future retirees, businesses and the retirement industry at large.
More From GOBankingRates