Retired With Increasing Rent? Tips for Finding Cheaper Housing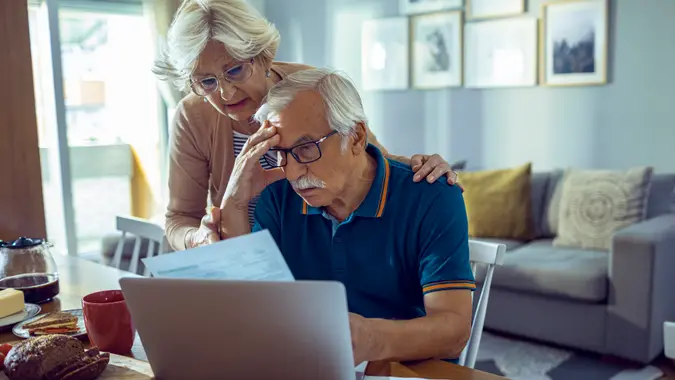 vorDa / Getty Images
It's difficult for anyone to financially cope when their rent increases, and it's especially challenging if you're living on a fixed income, which is the case for many retirees. A recent GOBankingRates survey found that 60% of Americans ages 65 and older are currently renting, and 20% of Americans in that age range are facing rent increases.
If you're in that situation, there are things you can do to save on rent. Here are a few tips for finding cheaper housing, as well as for saving on your current place so you don't have to move.
How To Save on Your Current Rental
Moving can be a hassle, but it can become necessary if your rent has been raised to more than you can afford. However, there are a couple of ways to save on your current space.
Talk To Your Landlord
If you've been a longtime, responsible tenant, your landlord may be willing to negotiate your rent price.
"From a landlord's perspective, I want certainty and stability," said Greg, a landlord of over 22 years and a chartered financial analyst. "I want a high degree of confidence that rent will be on time and the house will not be destroyed. Retirees have the ability to demonstrate certainty to a landlord that will listen. Explain why you are stable and provide documentation of your track record. I have personally discounted — sometimes substantially — tenants that I am very confident in."
Are You Retirement Ready?
Or Get a Roommate
Another option to make renting your current place more affordable is to find a roommate.
"An easy strategy to save on rent is to bring in a roommate, which will essentially cut your rent in half," said Omer Reiner, a licensed Realtor and president of Florida Cash Home Buyers. "Now, for a retiree, this is probably not an ideal situation. However, this doesn't mean that you need to live with a stranger. You can reach out to friends and family who live in the area to see if they might be interested in living together."
How To Find Cheaper Housing
If your landlord isn't willing to negotiate and getting a roommate won't work for your lifestyle, it may be time to consider moving. Use these tips to save on your next rental.
Seek Out Rent-Stabilized Housing
Consider seeking out rent-stabilized housing if it's available to you.
"Retirees that are currently renting and want to avoid the crazy increases in pricing should look for rent-stabilized housing if the state has laws in place," said Ryan Fitzgerald, a Realtor and owner of UpHomes.com. "This way, landlords can only increase the rent by a certain percentage each year."
Sign a Longer Lease
If rent-stabilized housing is not an option, consider signing a longer lease to lock in your rent price for an extended period of time.
"This way, while rent prices increase, yours will stay the same," Fitzgerald said. "Most properties provide flexible lease lengths such as 12 months, 16 months, etc., to ensure the price will remain the same during the duration of your stay."
Are You Retirement Ready?
Look Into 55-Plus Communities
Communities that cater to seniors may offer more affordable rent options than what's available to the general population.
"Most 55-plus communities are much cheaper than other rental properties due to the smaller marketing pool," Fitzgerald said.
As a bonus, many of these communities offer resort-style amenities such as pools, gyms and tennis courts.
Consider Government-Subsidized Housing
Depending on your income, you may qualify for affordable senior housing through the U.S. Department of Housing and Urban Development (HUD).
"HUD-sponsored senior housing includes privately owned apartments with senior-friendly rental rates, public housing for older adults with little financial resources and the Section 8 Housing Choice Voucher Program for seniors," said Nick Polyushkin, a licensed real estate broker and co-founder of Ofirio, an AI-powered real estate investment platform. "Look for HUD-sponsored apartments in your state by searching for those with the phrase 'Total Units Designated for Elderly.' There are HUD-sponsored apartments for seniors on a fixed income, where one's income determines the monthly rent."
Downsize
If you want to stay in your current area, downsizing may be your best bet.
"Moving to a smaller home will allow you to cut a significant cost on the rent," said Wesley Willoughby, a Nashville real estate specialist with The Music City Group of Benchmark Realty. "At the same time, it will minimize your hassles of cleaning and maintenance. Also, it will be wise to get rid of some of the furniture that you don't actually need and sell it to get some additional money."
More From GOBankingRates
Are You Retirement Ready?