Retirement Mindset: These Easy-To-Remember Guidelines Break Down Where You Should Be by Decade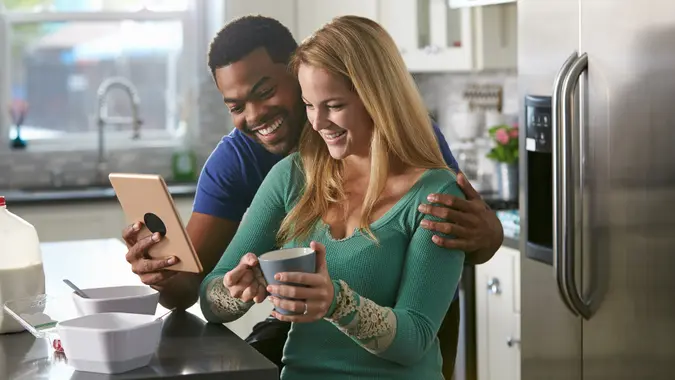 Monkey Business Images / Shutterstock.com
Saving enough for retirement requires a lifelong commitment to setting aside money every month no matter how much you'd rather use it on something else. This can be a challenge during the best of times, but it's especially difficult during periods of high inflation and economic uncertainty — like now.
See Our List: 100 Most Influential Money Experts
More: 5 Things You Must Do When Your Savings Reach $50,000
The key is to start early and turn retirement savings into a financial habit you don't even have to think about, just like paying the bills.
"When you start saving as a young adult, time is on your side," Danielle Harrison, a certified financial planner and founder of Harrison Financial Planning in Missouri told CBS News. "You can begin setting aside a small percentage of your paycheck, let compounding do the hard lifting, and be well prepared for retirement."
If you need a road map on how much to save every month, there are plenty of strategies to choose from. But one of the easiest and most popular is Fidelity's guideline on saving a certain amount every decade.
The guideline was developed following an analysis of age-based retirement savings factors. It is based on the assumption that a person saves 15% of their income per year beginning at age 25, including any employer matches. It also assumes that you invest more than 50% of your savings in stocks over your lifetime, retire at age 67, and plan to maintain your preretirement lifestyle in retirement.
Based on these assumptions, Fidelity estimates that if you save 10 times your preretirement income by age 67, you should have enough wealth to maintain your current lifestyle in retirement. For example, if your preretirement income was $80,000 a year, you should have $800,000 saved up.
Here are simple steps you can take by decade to help stay on track:
Save at least 1x your income by age 30
Save at least 3x your income by age 40
Save at least 6x your income by age 50
Save at least 8x your income by age 60
Keep in mind that your personal savings goal might be different based on two main factors. One is when you plan to retire. As Fidelity notes, the longer you can postpone retirement, the less savings you'll need in your younger years because you're allowing more time to build up your next egg. Another bonus: the longer you delay filing for Social Security benefits, the higher your monthly payment will be.
Take Our Poll: Do You Think You Will Be Able To Retire at Age 65?
The other major factor is how you plan to live in retirement. If you want to maintain the same lifestyle you had when you were working — including discretionary expenses like travel, recreation and dining out — you'll need to stay on track to save at least 10 times your preretirement income. On the other hand, if you plan to live more frugally by moving to a cheaper location and cutting back on discretionary spending, you can get by with less savings.
If you find yourself running behind on the Fidelity savings guidelines, don't get discouraged — you're hardly alone. In fact, you're probably in the majority.
The average retirement savings for Americans ages 65 to 69 is less than $207,000, according to Federal Reserve data cited by Synchrony Bank. That's much less than you would expect, given that the median weekly income for people ages 65 to 69 is $991 a week or about $51,500 a year, according to the U.S. Bureau of Labor Statistics.
Under the Fidelity plan, that means the average American age 65-59 should have about $515,000 saved up.
More From GOBankingRates