Here's the Average Social Security Check for Men vs. Women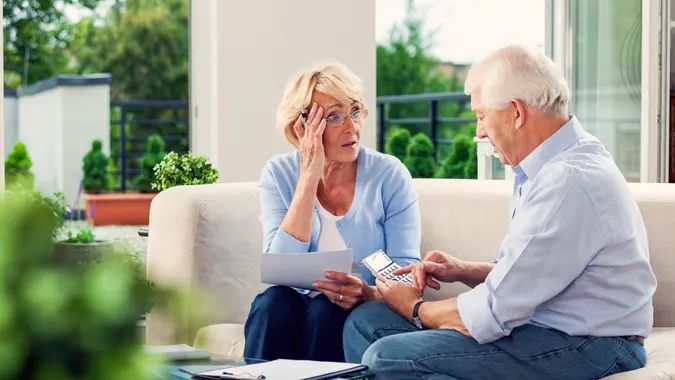 izusek / Getty Images
Although Social Security retirement benefits are available to all American seniors who worked the required number of years, there's a huge gap when it comes to monthly payments. Benefits are based on income earned before retirement, so the more you earn working, the higher your benefit.
That helps explain why men tend to get bigger monthly Social Security checks than women. Men have historically earned more than women — even when they worked the same jobs. In addition, women are much more likely than men to leave the workforce to care for children, which means they miss out on key earning years that contribute to their eventual Social Security benefit.
Benefits are based on income during your 35 highest-earning years. When you drop out of the workforce for a substantial number of years, those zero-income years are factored into the benefit calculation, which shrinks checks even more.
As of December 31, 2021, the average Social Security payment for all retirees was $1,658.03 a month, according to the Social Security Administration's Annual Statistical Supplement for 2022. For men, the overall average was $1,838.08. For women, the average was $1,483.75 — a difference of $354.33 per month. Multiplied over the course of a year, that adds up to about $4,252. When you multiply it by a 25-year retirement, the difference is more than $106,000.
Men get higher average Social Security payments across all age groups — from age 62, when you first qualify for benefits, to 100 years old and beyond. Here's a look at the payment gap between men and women across age groups, according to the SSA.
Are You Retirement Ready?
| | | | |
| --- | --- | --- | --- |
| Age(s) | Average Monthly Benefit for All Retirees | Average Monthly Benefit for Men | Average Monthly Benefit for Women |
| 62 | $1,226.29 | $1,370.10 | $1,095.01 |
| 63 | $1,247.81 | $1,387.88 | $1,119.64 |
| 64 | $1,287.94 | $1,431.08 | $1,158.20 |
| 65 | $1,389.51 | $1,546.26 | $1,249.12 |
| 66 | $1,626.89 | $1,816.99 | $1,441.82 |
| 67 | $1,665.17 | $1,853.68 | $1,478.02 |
| 68 | $1,642.25 | $1,826.01 | $1,452.42 |
| 69 | $1,671.73 | $1,860.00 | $1,477.39 |
| 70 | $1,768.94 | $1,965.31 | $1,568.68 |
| 71 | $1,749.57 | $1,939.71 | $1,556.50 |
| 72 | $1,759.60 | $1,951.87 | $1,565.79 |
| 73 | $1,770.79 | $1,968.18 | $1,572.59 |
| 74 | $1,743.53 | $1,936.28 | $1,549.02 |
| 75-79 | $1,719.43 | $1,910.12 | $1,529.61 |
| 80-84 | $1,663.55 | $1,837.44 | $1,498.15 |
| 85-89 | $1,549.19 | $1,655.19 | $1,456.08 |
| 90-94 | $1,556.14 | $1,643.80 | $1,491.95 |
| 95-99 | $1,543.58 | $1,621.84 | $1,502.64 |
| 100 and older | $1,521.17 | $1,549.17 | $1,511.79 |
More From GOBankingRates