How Big Is Robert F. Kennedy Jr.'s Social Security Check?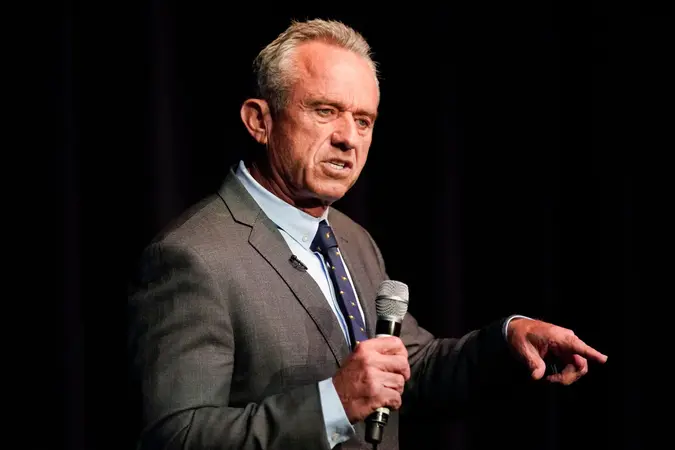 CAROLINE BREHMAN/EPA-EFE/Shutterstock / CAROLINE BREHMAN/EPA-EFE/Shutterstock
Robert F. Kennedy Jr., a prominent name in both American politics and the legal sphere, has worn multiple hats throughout his career – a lawyer, an environmental activist, a member of the wealthy Kennedy family, and now a future Presidential candidate, running as an Independent in the 2024 elections. But when it comes to his retirement and, more precisely, his Social Security benefits, how does RFK Jr. navigate through the waves?
With an estimated net worth of $15 million, according to Forbes, it's evident that RFK Jr. isn't short on financial resources. His investments span various sectors, from real estate to cryptocurrency, each contributing significantly to his financial portfolio. Thus, similar to other high-net-worth individuals, one might ponder whether Kennedy even bothers to collect Social Security benefits.
Balancing Wealth and Entitlements
Despite his substantial wealth, which includes assets in real estate ventures like Wolf Point and investments in stocks, private equity, and hedge funds, Kennedy, like all Americans, has paid into the Social Security system. He has engaged in numerous lucrative endeavors – legal battles that have brought about substantial settlements, consultancies, and notably his non-profit, the Children's Health Defense, which have all provided him with a steady income throughout his career.
Given that the maximum Social Security benefit in 2023 is $4,555 a month for those who claim at age 70 and meet certain earning milestones, a person with RFK Jr.'s earning history likely qualifies for the maximum payment, should he choose to claim it.
Are You Retirement Ready?
To Claim or Not to Claim?
Wealthy individuals, despite having the entitlement to claim Social Security due to their contributions to the system, often opt out of doing so. The rationale behind this is not merely based on their financial stability but sometimes also aligns with their perspectives on wealth distribution and social responsibility.
For example, as seen with former President Donald Trump, despite qualifying for the maximum Social Security payment, he chose not to claim his Social Security income for several tax years, a decision not uncommon among high earners who may deem the additional income as unnecessary.
Wealth, Ethics, and Social Security
For wealthy retirees like RFK Jr., the decision to claim Social Security is not solely financial but often ethical and strategic. With the Social Security program's Old Age and Survivors Insurance (OASI) Trust Fund projected to deplete its reserves in the next decade, some argue that the wealthy should abstain or be limited in claiming benefits to ensure the system's viability for those who rely on it most.
Yet, there is a counter-argument: since high earners have paid into the system, they are just as entitled to the benefits. Moreover, their loved ones might become eligible for Social Security benefits under their work record, potentially providing financial stability in unforeseen circumstances.
RFK Jr.'s financial transparency, as seen with his real estate dealings and cryptocurrency investments, opens a window into the world of wealth management among America's elite. However, when it comes to Social Security, privacy prevails, and the specifics of whether RFK Jr. claims his entitled benefits remain undisclosed. The question looms not just around the numerical value of his potential Social Security check but around the broader dialogue concerning wealth, entitlement, and social responsibility within the societal structures of America.
Are You Retirement Ready?
RFK Jr. has claimed where he stands on if the government should raise the age for social security, where he said according to isidewith, "No, this will disadvantage low income seniors whose life expectancy is lower than wealthier seniors."
In a nation where the balance between personal wealth and collective welfare is constantly under scrutiny and subject to policy debates, the actions of those in a financial position to forego such benefits become particularly poignant, subtly nudging the ethical compass that navigates American socio-economic policies.
Editor's note: This article was produced via automated technology and then fine-tuned and verified for accuracy by a member of GOBankingRates' editorial team.
More From GOBankingRates