How Much Does the Social Security COLA Matter Across the US?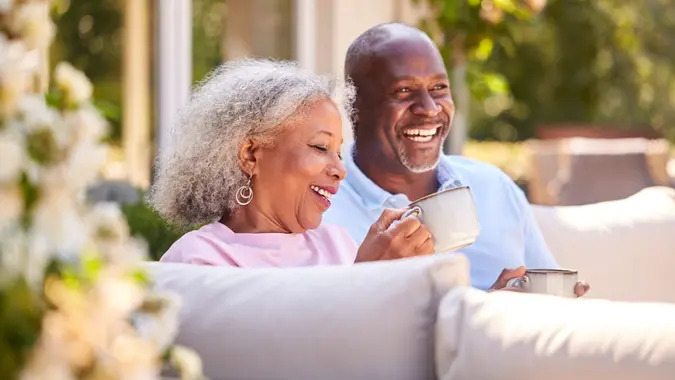 monkeybusinessimages / Getty Images/iStockphoto
Last year's high inflation was especially hard on Social Security recipients, a fact that was not lost on the Social Security Administration. The SSA announced an 8.7% cost-of-living adjustment (COLA) for 2023 that is delivering a sorely needed raise to more than 65 million Social Security beneficiaries and more than 7 million SSI recipients.
Live Richer Podcast: How To Leverage Your Investments
Advice: With a Recession Looming, Make These 3 Retirement Moves To Stay on Track
Discover: All of the States That Don't Tax Social Security
Last year's 5.9% COLA was the biggest increase since 1982, when payouts grew by 7.4%. The current adjustment is the steepest increase since 1981, when record-high inflation forced an 11.2% COLA.
After the budget-bleeding year that was 2022, an extra 8.7% is more than welcome nationwide, but the average increase of $140 per month will go a whole lot farther in some places than in others. Here's a look at how this year's COLA will help offset inflation and the overall cost of living in five of the country's biggest, priciest cities — as well as in five smaller metros where the cost of living is lower.
Inflation or No Inflation, 8.7% Barely Makes a Dent in the Big Cities
In America's major metros, the effects of inflation were relatively modest. But in many cases, that's because the exorbitant cost of living simply couldn't get much higher. Daily life in the biggest cities is so prohibitively expensive that even the largest COLA in more than 40 years won't get Social Security beneficiaries very far.
Los Angeles
The good news in the City of Angels is that prices rose by only 3.2% compared to one year ago. The bad news is that the cost of living in L.A. is 41.1% more expensive than the national average.
Healthcare expenses are a little lower than average, but energy costs one-third more and housing isn't far behind.
New York City
Prices in New York City rose only by 1.6% year-over-year, but the cost of living there is a staggering 80.4% higher than average, which dilutes even the heftiest of COLAs. The real killer in the Big Apple is housing, which costs nearly 54% more than the national average.
San Francisco
Prices in San Francisco rose by 4.5%, which is manageable — but the cost of living is 86.1% higher than average, which is not. Housing costs are an eye-popping 80.5% more than the national average, and that's hardly the only bite that San Francisco takes out of Social Security checks.
Energy costs are nearly 45% more than the national average, food is more than 30% higher and transportation costs are more than 20% above average.
Take Our Poll: Do You Have a Second Job or Backup Plan in Case You Are Laid Off?
Washington, D.C.
Prices rose by only 1.3% over the previous year in the District of Columbia, which is incredibly low even by the standards of average inflation. The trouble is that the cost of living in the nation's capital is 56.1% higher than average.
Interestingly, energy, food and healthcare costs are all cheaper than average. As in so many other big cities, however, housing breaks the bank. District residents pay 37.1% more than average.
Chicago
Chicagoans have it easier than residents of all the other big cities. Not only did inflation push up prices by just 0.8% during the last year, but the cost of living in the Windy City is "only" 15% higher than the national average.
At 21.8% above average, healthcare is the biggest challenge. Food and housing are higher by double digits, but by less than 15% in both categories. Energy and transportation are only a couple of percentage points or so more expensive than average.
In Smaller Cities, the COLA Means Money in the Bank
Unlike those who live in the biggest cities, residents of smaller metros were already spending much less than the average American to get by. In many cases, another 8.7% will help them outpace inflation and then some.
Topeka, Kansas
The cost of living in Topeka was already 10.6% lower than the national average — around 97% cheaper than San Francisco and 91% less than NYC — and inflation hiked prices by just 1.3% last year. All major expenses are cheaper by double-digit percentage points in Topeka, with housing and healthcare leading the way at -35.3% and -28.5%, respectively.
Mobile, Alabama
In Mobile, daily life is 4.5% cheaper than the national average, which makes the city's modest 1.3% year-over-year cost-of-living increase relatively easy to handle. With housing costs 30% lower than the national average, it could be one of the cheapest cities in America if it weren't for the cost of food, which is more than 18% higher than average.
Oklahoma City
OKC residents enjoy a cost of living that's 6.9% less than average — and prices there rose by just 1.2% last year. Expenses in the state capital are lower across the board, with healthcare and housing leading the way at roughly 20% less than the national average.
Decatur, Illinois
Life in Decatur is 6.4% cheaper than average and prices rose last year by just 1.3%. Housing costs are more than 25% lower and transportation is more than 18% less. The problem category is energy — Decatur residents pay 34.6% more than the national average.
Kalamazoo, Michigan
Kalamazoo residents also experienced a modest cost-of-living increase of just 1.3% last year, but residents enjoy a cost of living that's 10.3% cheaper than average. Housing costs are a whopping 36.4% lower than average. Food is -34.5%, healthcare is -22.1%, energy is -20.5% and transportation is nearly 10% lower than average.
More From GOBankingRates
All data comes from Salary.com, which gauges cost-of-living expenses based on five categories: energy, food, healthcare, housing and transportation.