Potential Workaround Could Keep Social Security Checks Flowing If Debt Limit Reached — But There's a Hitch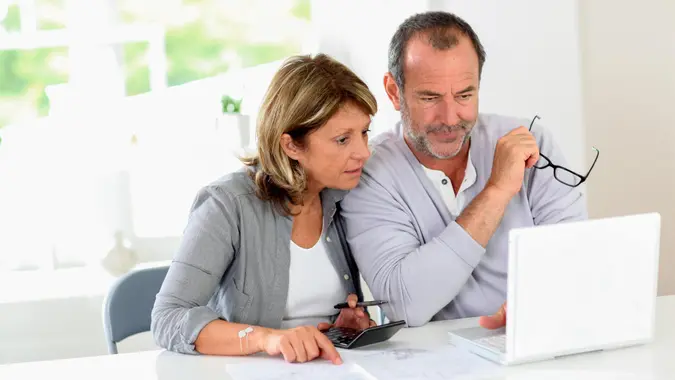 Goodluz / Getty Images/iStockphoto
A major worry surrounding the current debt-ceiling crisis is how Social Security payments will be made should the ceiling not be raised. While some warn that payments would be jeopardized, a law dating back more than a quarter-century could protect Social Security benefits.
Discover: 7 Ways Baby Boomers Are Wasting Money in Retirement — and How To Stop It
With a Recession Looming: Make These 3 Retirement Moves To Stay On Track
The law, signed in 1996, provides an "escape clause" from the debt limit that lets the U.S. Treasury Department pay Social Security and Medicare benefits even if there is a delay in raising the debt ceiling, the Roll Call legislative news site reported.
Under the law, Social Security and Medicare trust funds can be drawn down to keep benefits flowing until the debt limit is raised. The law also prohibits those funds from being used to pay for any other government programs.
That option is not a sure thing this year, however. Under an administrative policy change that went into effect a year later, in 1997, the Social Security Administration no longer pays out all benefits at the beginning of each month. Instead, they are paid out based on each beneficiary's date of birth, according to Steve Robinson, chief economist for the Concord Coalition, a nonpartisan advocacy group that promotes responsible fiscal policy.
The reason this is a problem gets complicated. In a Feb. 27 paper on the Concord Coalition website, Robinson wrote that "read in combination, these two changes could have the unintended effect of funding the rest of the government until the Social Security trust funds are exhausted should Congress fail to increase the debt limit after other extraordinary measures have been exhausted."
As Robinson noted, the current Social Security trust fund balance — $2.8 trillion — is big enough to ensure the payment of Social Security benefits and other government programs "for a considerable period without increasing the debt limit."
The 1996 law could still work as a safeguard for Social Security, but the surest way to keep Social Security payments flowing is for Congress to raise the debt limit. If that doesn't happen, advocates for the retirement program fear the worst.
A default on government obligations "could be devastating for the 65 million older Americans on Social Security," according to a January blog from the National Committee to Preserve Social Security and Medicare.
"Absent the legal authority to borrow beyond the current debt ceiling, Social Security … and other payments may not be made on time and in full unless Congress approves an increase in the debt limit," the blog said. "Even a short delay in the payment of Social Security benefits would be a burden for the millions of Americans who rely on their earned benefits to pay for out-of-pocket health care expenses, food, rent and utilities."
But others downplay the threat. Among them is U.S. Rep. Jason Smith (R-Mo.), chairman of the House Ways & Means Committee, which has jurisdiction over the debt ceiling, Social Security and Medicare.
Take Our Poll: Are You Concerned the US Debt Ceiling Issue Will Endanger Social Security?
2023 Social Security: 6 Numbers You Need To Know
In a March 1 column for CNBC, Smith wrote that "Democrats in Congress are trying to scuttle the very notion of bipartisan negotiations by drumming up fake threats to Medicare and Social Security … No debt ceiling legislation that passes through my committee will include cuts to these vital programs. Period."
This article has been updated for clarity.
More From GOBankingRates