Latest (and Final) Estimates on 2024 COLA Are In — How Much More Could Beneficiaries Be Making?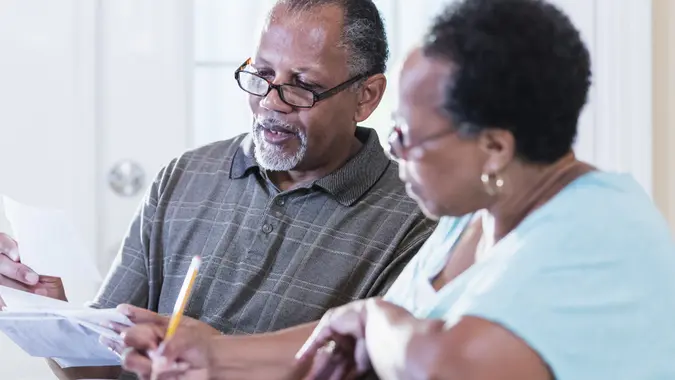 kali9 / iStock.com
Social Security beneficiaries can expect a much lower cost-of-living adjustment (COLA) in 2024 than they got this year as easing inflation has lessened the need for the kind of historically high COLAs that have been issued the last couple of years.
The 2024 COLA will likely be 3.2%, according to the latest and likely final estimate from The Senior Citizens League (TSCL), a nonpartisan seniors advocacy group. Its estimate was based on consumer price data released on Wednesday showing that overall inflation in August rose 3.7% from the previous year.
A COLA of 3.2% would raise the average monthly retiree benefit of $1,790 by $57.30, according to TSCL. That's a huge drop from this year's 8.7% COLA, which pushed the average monthly check up by about $146. The COLA for 2022 was 5.9%.
The official 2024 cost-of-living adjustment is expected to be announced on Oct. 12, when the September inflation numbers come out. The Social Security Administration bases its annual COLA calculation on the percentage increase in the Consumer Price Index for Urban Wage Earners and Clerical Workers (CPI-W) in the third quarter.
CPI-W changes for July, August and September are added together and averaged, then compared with the Q3 average from a year earlier. The percentage difference is the amount of the COLA, which would be payable in Social Security checks beginning in January 2024.
Are You Retirement Ready?
A 3.2% COLA is still higher than the average over the past 20 years, which was 2.6%. While that's good news, it might not do much to ease the financial concerns of seniors who still face high prices on essentials such as housing, healthcare and certain grocery items.
Even with this year's 8.7% COLA, "nobody is getting rich," according to Mary Johnson, Social Security and Medicare policy analyst at The Senior Citizens League.
"The reality is that the dollar amount of the COLA increase received is meager at best, with the average monthly retiree benefit only $1,790 in 2023," Johnson wrote in a Wednesday press release she shared with GOBankingRates.
According to TSCL's latest Retirement Survey, more than half of respondents (52%) reported spending $2,000 or more on monthly expenses in 2023. Meanwhile, Social Security benefits replace only about one-third of a middle earner's average wages, according to the Social Security Office of Chief Actuary.
"Making matters worse, most older adults claim Social Security benefits before reaching full retirement age and receive permanently reduced benefits according to TSCL's Retirement Survey," Johnson wrote.
The full impact of next year's COLA won't be known until Medicare premiums are announced, which is typically in November. As TSCL noted, the SSA automatically deducts Medicare Part B premiums from Social Security benefits before the benefits are received.  
In an annual report released earlier this year, the Medicare Trustees forecast that monthly Part B premiums will increase from $164.90 in 2023 to $174.80 in 2024. That estimate doesn't include any "significant new costs" that come up after the estimate is released, according to TSCL.
One of those costs could be Medicare's coverage for another new Alzheimer's drug, known by the brand name Leqembi. It is expected to cost $26,000 per year without insurance, TSCL reported.
Are You Retirement Ready?
More From GOBankingRates