Social Security 2023: How Long Does It Take To Get Approved?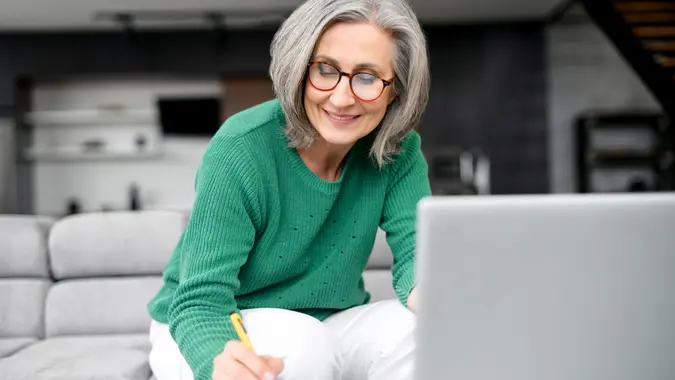 Vadym Pastukh / Getty Images/iStockphoto
As an American taxpayer, you've likely heard about Social Security your entire working life, and perhaps even bemoaned the amount of taxes that are subtracted from your paycheck. But as you approach retirement age, you're likely aware that you can soon begin drawing benefits instead of paying them out.
Still, fewer and fewer Americans are as well-versed in the actual procedures and timelines of applying for Social Security benefits. Here's a look at how long it takes to get approved for Social Security benefits, along with some other information you should be aware of regarding the process.
How Long Does It Normally Take To Get Approved for Social Security Benefits?
The Social Security approval process is relatively speedy, but as it is a government program with a huge number of applicants, you can expect to wait 3-5 months before you get your approval for benefits.
Bear in mind that this timetable only applies if everything runs smoothly. If you supply inaccurate information on your application, such as a transposed number in your birthdate or Social Security number, for example, you can expect a rejection and for the entire process to start all over again.
Note that nonretirement Social Security benefits, like disability benefits, may take as long as three to five months for approval.
When Should I Apply For Social Security Benefits?
The Social Security Administration allows you to apply for benefits as early as four months before you're eligible to be approved. For example, if you turn 62 in June — which is the earliest age you can begin receiving benefits — you can file your application four months in advance, or in February. Seeing as your application could take six weeks or more to process, it's in your best interest to file for your benefits the full four months before you're eligible to receive them.
Are You Retirement Ready?
The question of when to apply for Social Security benefits runs much deeper than following a simple timeline, however. If you claim your benefits early, at age 62, you're locking in a permanent 30% reduction in your monthly benefits. If you wait instead until age 70, your benefits will actually increase by 8% annually over your full retirement age benefit reached at age 67. This decision has lifelong ramifications for your retirement income, so it's a good idea to speak with a tax advisor and/or financial consultant before you make your final choice.
What Are the Steps To Get Approved for Social Security?
The actual steps to get approved for Social Security are fairly straightforward. According to the Social Security Administration, here's what you'll need to do:
Gather the information and documents you need to apply.
Complete and submit your application, typically online. 
They will review your application and contact you if they need more information.
They will mail you a decision letter.
You start receiving your retirement benefits.
The specifics regarding your application are slightly more involved. Here's the information you'll need to know.
Who Is Eligible To Apply For Social Security Benefits?
The primary Social Security benefit comes in the form of monthly payouts to retirees. However, there are a host of other benefits paid out by the Social Security Administration, from disability and spousal benefits to Supplemental Security Income.
To qualify for the largest and most-used benefit, the retirement benefit, you must earn "40 quarters of credit." Typically, that means you must have worked and paid into the Social Security system for 10 years.
What Information and Documents Do You Need To Apply?
To apply for Social Security, you'll have to provide the SSA with basic identifying information, such as your birthdate, Social Security number, number of dependents and citizenship status. You'll also need to provide work information, including your employer's name and address and how much money you earned over the past two years. Documents you may need to provide include:
your original birth certificate or other proof of birth;
proof of U.S. citizenship or lawful alien status if you were not born in the United States;
a copy of your U.S. military service paper(s); and
a copy of your W-2 form(s) and/or self-employment tax return for last year
Are You Retirement Ready?
The Social Security Administration will contact you if you need to provide any additional information. 
How Much Am I Eligible To Receive?
As of April 2023, the average social security check sits at $1,698. Your Social Security retirement benefit will be determined based on a combination of your earnings record and the age at which you claim benefits. The maximum benefit depends on the age you retire.
The SSA provides this example: If you retire at full retirement age (67) in 2023, your maximum benefit would be $3,627. However, if you retire at 62, your maximum would be $2,572. And if you retire at 70, your maximum would be $4,555.
To maximize your benefit, you'll have to claim your benefits at age 70 and max out your earnings throughout your career. 
How To Find Out You're Approved
The Social Security Administration will notify you of your approval (or denial) status via a mailed decision letter. If you would like the most up-to-date information possible, you should sign up for a "my Social Security" account online at www.ssa.gov. Sign into your account, scroll down to the "Your Benefit Application" section and click on "View Details" to see your application status.
You can also call the Social Security Administration directly at 800-772-1213.
More From GOBankingRates
Are You Retirement Ready?