Social Security COLA: 6 Things You Need To Know Well Before You Retire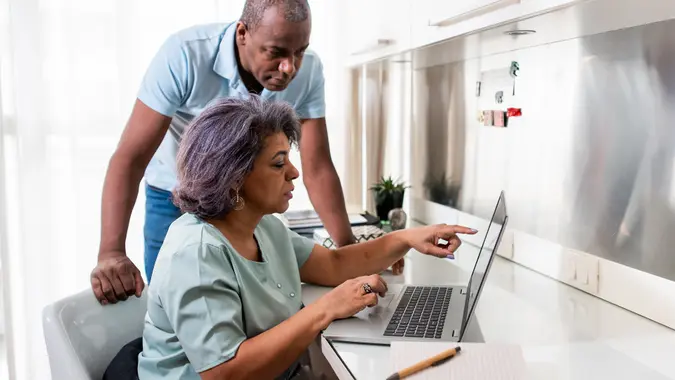 andreswd / iStock.com
While retirees and those collecting SSI may be celebrating the generous COLA increase of 8.7% in 2023, if you are planning for retirement, you may be curious about how COLAs (or cost-of-living adjustments) will affect your future income.
Social Security COLA Still Too Small? Save Money with DIY and These AARP Tips
See: With Recession Looming, Make 3 Retirement Moves To Stay On Track
Explore: Millionaires Are Worried About Having Enough Money for Retirement
Here are a few things you should know about COLA during any stage of your retirement planning:
1. COLA Increases Vary — And May Not Happen
The cost-of-living adjustment is, typically, a bump in Social Security benefits that begins each January based on inflation from the prior year. The Social Security Administration has issued COLA increases every year since 1975, except for a handful of years when COLA was set at 0.0%.
Increases have ranged from less than 1% up to 14.3% in 1980. This year's increase of 8.7% is the fourth highest in history, and the largest since 1981.
2. Social Security Calculates Your Benefits Through Your 35 Highest Earning Years
When you turn 62, whether or not you decide to claim your benefits at that point or wait until full retirement age, the SSA calculates your primary insurance amount (PIA) based on your highest 35 years of earning. If you claim benefits at 62, you'll receive 75% of that amount.
3. If You Continue Working After Age 62, Your PIA Will Be Recalculated
Many people continue working full-time after the age of 62 and may even make more money than they did in their earlier years. You don't lose out, though, because the SSA will recalculate your PIA to account for your 35 highest earning years whenever they occur.
Take Our Poll: How Do You Think the Economy Will Perform in 2023?
4. Unclaimed Benefits Also Increase Due to COLA
Even if you don't claim Social Security benefits at age 62, you'll receive COLA increases the same as beneficiaries do. When you finally begin collecting Social Security, your benefits will be adjusted to reflect all the COLA increases that occurred between the time you reached age 62 and the time you started collecting benefits.
COLA benefits are compounded annually even if you don't claim benefits starting at age 62.
5. COLA Benefits Are Calculated Based on Amount You Are Receiving from Social Security
If you begin claiming benefits at age 62, your PIA is reduced by 75%. Your COLA increase will be calculated based on that figure, not the full amount you would receive if you wait to claim until full retirement age. This can lead to a large disparity in benefit amounts down the line.
6. Your Benefits Can Increase Substantially For Every Year You Delay Retirement
Let's consider someone who started receiving benefits at age 62 in 2021. By the time they reached 70 — with their PIA adjusted for COLA increases of just 2.5% — they would be receiving $2,330 per month. If they waited until age 70 to claim benefits, they would receive $4,101 per month. That's assuming an annual average COLA of 2.5%. The increase will be even greater when you consider years like 2023, when the COLA increased by 8.7%.
Social Security and Full Retirement Age: What To Consider Before Filing in 2023
Find: Freelancers Will Be Better Able To Save for Retirement Under SECURE 2.0 Act
Cannon Financial Strategists provide a handy chart that lets you see some hypothetical scenarios based on when you decide to claim Social Security benefits.
Some people may have to claim Social Security benefits before age 70 if they can no longer work and have no other retirement savings. But if you can hold off on claiming Social Security until age 70, you'll have more income at times when you may need it for travel, healthcare or simply to keep up with rising costs.
More From GOBankingRates