Social Security Inflation Tips: AARP Offers 7 Ways To Save Money on Travel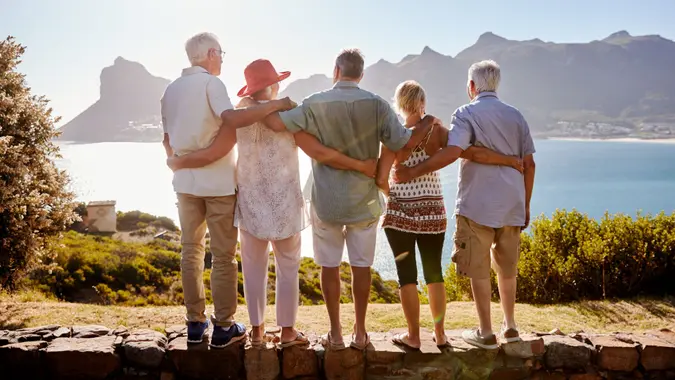 monkeybusinessimages / Getty Images/iStockphoto
For the first time in more than a year, the annual boost in monthly Social Security payments should keep beneficiaries ahead of inflation. That's because the 8.7% cost-of-living adjustment added to checks in 2023 is above the most recent inflation rate of 7.1%, recorded in November 2022.
Social Security Payment Schedule 2023: What Dates To Watch Out For
See: With A Recession Looming, Take These 3 Retirement Moves To Stay On Track
Last year's COLA was 5.9% — and not once was it enough to offset an inflation rate that ranged between 7% and 9.1%, according to U.S. Bureau of Labor Statistics data cited by Trading Economics.
That's the good news. The bad news is, the current inflation rate of 7.1% is still close to the highest in 40 years. Even with an 8.7% COLA, Social Security beneficiaries will need to figure out ways to save money in an environment of historically high consumer prices. This includes saving on travel.
Cutting travel costs requires a broad strategy that includes everything from maximizing gas mileage to booking flights and hotels at the right time.
Following are seven ways to save on travel as recommended by AARP.
Travel When Others Don't
Traveling during the off-season ensures that your destination will be less crowded, meaning fewer traffic jams and long lines, and a much easier time getting reservations to shows and restaurants. Best of all, you'll save a lot of money. As AARP noted, a two-bedroom oceanfront condo on the Outer Banks of North Carolina is $200 a night in April but rises to $300 a night in June.
Maximize Your Gas Mileage
Although gas prices have fallen sharply in recent months, they're still hovering near their highest point in more than eight years. You can get better gas mileage by paying attention to the way you drive and prepare your car. Instead of braking frequently, which wastes gas, drive at a speed that allows you to coast as much as possible. Also, keep your tires properly inflated. And if you really want to get the best gas mileage, consider switching to low rolling resistance tires. These are designed to reduce the friction of the tire against the road and can improve fuel economy as much as 11%, according to some estimates.
Skip the Weekends
Hotels and resorts almost always offer lower rates on weekdays than on weekends, so you can save a lot of money by booking your travel for midweek. Instead of heading out on Friday and returning on Sunday, head out on Tuesday and return on Friday.
Use Gas Apps
A number of gasoline apps are available — including GasBuddy, Gas Guru, Fuelio, Waze, AAA Mobile, Google Maps, Upside and Checkout 51 — to help you find the best prices at the pump wherever you travel. They typically work by showing where you can find the cheapest gas in your immediate area.
Avoid Rental Cars
Traveling to cities with good public transportation can help you avoid relying on rental cars, which have become much more expensive over the last couple of years. Car rental companies depleted their fleets during the COVID-19 pandemic and still have not replenished them, leading to fewer available cars and higher prices.
Book Flights and Hotels Early
It's no secret that booking early improves your chances of getting a good deal. For flights, GOBankingRates recently reported that the sweet spot for yielding the lowest prices is to book anywhere from three weeks to four months in advance. For hotels, it's a little trickier. You don't want to wait until the last minute to book, but you don't want to book too early, either. For example, you can save an average of 13% by booking two weeks in advance rather than four months ahead, according to data cited by AARP.
Take Our Poll: How Do You Typically Split the Restaurant Bill?
Discover: 9 Safest Places To Retire Abroad for Less Than $2,000 a Month
Steel Clear of Resort Fees
If your budget allows you to stay at a luxury resort, you can still save money by avoiding fees for pools, concierge services and other items that might kick your bill up by $25 a night. You can find fee-free options at ResortFeeChecker.com. Another option is to book with hotel loyalty points, which often let you waive resort fees.
More From GOBankingRates