Social Security: Garnishments for Delinquent Student Loans Might Resume Soon — and It Could Cost You $2,500 a Year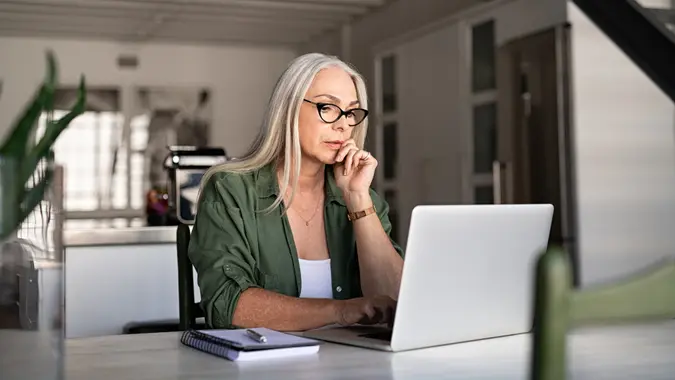 Ridofranz / Getty Images/iStockphoto
Delays in implementing President Joe Biden's federal student loan forgiveness program have extended the COVID-era pause on loan repayments, which had been scheduled to end at the close of 2022. When the pause lifts, garnishments tied to delinquent loans will resume — including garnishments to Social Security checks.
A recent analysis by the Center for Retirement Research at Boston College estimated that on average, delinquent borrowers will face about a $2,500 annual reduction in Social Security benefits when garnishments resume, representing about 4% to 6% of household income.
For now, no benefits or wages are being garnished because the federal student loan payment pause was extended an additional 60 days while legal challenges to the forgiveness program play out in the courts. The pause could be extended much longer than that. If the debt relief program has not been implemented and the litigation has not been resolved by June 30, then payments will resume 60 days after that, as GOBankingRates recently reported.
Only a small percentage of Social Security beneficiaries, less than 5%, currently have student loan debt, according to the Center for Retirement Research. But that percentage is expected to go way up for future beneficiaries. Estimates are that 22% of Black Social Security beneficiaries will have student loan debt in coming years, along with 14.1% of white beneficiaries and 10.4% of Hispanics.
The size of the debt is also substantial. As of 2019, the most recent data available, the average origination balance for student loan borrowers 62 and older was $45,500, and the outstanding balance was $30,600. And while only a small percentage of older borrowers are delinquent on their student loans, delinquency rates are projected to increase for future Social Security beneficiaries.
Are You Retirement Ready?
"Among younger cohorts, the share of people holding student loans are much larger," Siyan Liu, research economist at the Center for Retirement Research, told CNBC. "If that continues on into retirement, then a much larger proportion of them, if they have trouble making payments, could be facing benefit upsets," she said.
The average reduction in Social Security benefits for delinquent borrowers, about $2,500 a year, might not seem like much. But as the Center for Retirement Research notes, even a small decline in income can have "significant consequences" for households that are just making ends meet.
Social Security benefits are usually subject to partial withholdings after prolonged federal student loan delinquencies, CNBC reported. The Social Security withholding amount for student loan borrowers is typically either 15% of the total monthly benefit or the amount by which the benefit exceeds $750 per month — whichever is less.

:
"It has been a real issue for people who are on a fixed income and have no other support," Adam Minsky, a Boston-based lawyer specializing in student loan law, told CNBC. "That 15% really can make the difference between being able to pay for rent or food or medication."
More From GOBankingRates
Are You Retirement Ready?