Social Security: How Big is Donald Trump's Social Security Check?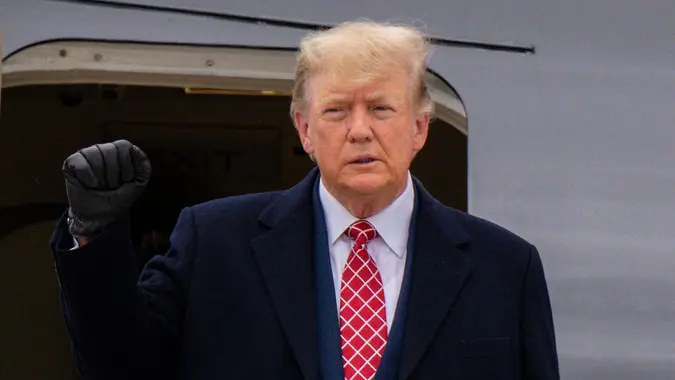 Stuart Wallace/Shutterstock / Stuart Wallace/Shutterstock
With an estimated net worth of $2.6 billion, former President Donald Trump doesn't necessarily need a monthly Social Security check to help pay the bills. At 77 years old, he has been eligible for Social Security for 15 years and reached his full retirement age more than a decade ago.
Given his earnings history, Trump likely qualifies for the maximum Social Security payment. In 2023, the max is $4,555 a month for those who claim benefits at age 70 and meet certain earnings milestones over 35 years.
Normally, it's not possible to know the amount of someone's Social Security check because that information is private and confidential. But in Trump's case, the world got a glimpse of his income late last year when his tax returns were released to the public.
One of the things those returns revealed is that Trump had no Social Security income for tax years 2015 through 2020, CNBC reported. That's not a huge surprise. Although wealthy people might qualify for Social Security retirement benefits, they are under no obligation to claim them. Many take a pass because they don't need the money.
"It's not necessarily uncommon that the real high earners just skip Social Security," Jim Blair, vice president of Premier Social Security Consulting and a former Social Security administrator, told CNBC.
In fact, some people would like to see all wealthy retirees either be disqualified from collecting Social Security or have their benefits greatly reduced. This is mainly because the program's Old Age and Survivors Insurance (OASI) Trust Fund is expected to run out of money in about a decade, leaving it solely reliant on payroll taxes for funding. Those taxes will only cover about 77% of current benefits.
Are You Retirement Ready?
Not paying Social Security to the wealthy would help a little, though not nearly enough to make up for the shortfall.
For Trump, skipping Social Security is no great sacrifice — especially since he qualifies for a pension as a former president. As of July 2022, he had already collected about $342,000 in pension benefits since leaving office 19 months earlier, NBC News reported, citing General Services Administration data.
Like all former presidents, Trump gets a lifetime federal pension as well as other taxpayer-funded benefits under The Former Presidents Act. 
Whether or not all wealthy retirees should skip collecting Social Security is up for debate.
Although the rich might not need the money, there are a few reasons they might consider collecting it anyway, CNBC noted. For one thing, they paid into the system, so they have a right to the money. For another, their loved ones might be eligible for Social Security benefits under the high earner's work record — and those loved ones might one day need the money.
Unlike Trump, President Joe Biden does collect Social Security. As previously reported by GOBankingRates, Biden and his wife Jill collected a combined $54,665 in Social Security benefits in 2021, according to their income tax returns. That breaks down to roughly $4,555 a month or $2,277 for each spouse per month.
More From GOBankingRates
Are You Retirement Ready?