Social Security: Here's How To Know If You Should Start Claiming Early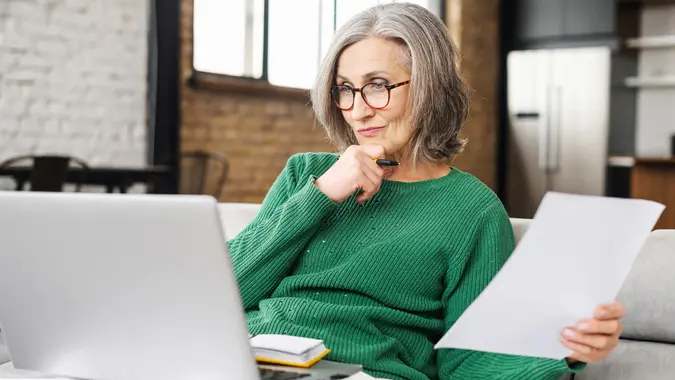 Vadym Pastukh / iStock.com
One of the biggest questions when it comes to planning your retirement is when you should take your Social Security benefits. Although "full retirement age" for most retirees is now 67, you can file for your benefits as early as age 62 or you could wait until later, like age 70.
Depending on when you claim your benefits, your payout may vary greatly. For example, if you wait to file until age 70, you'll receive about 77% more per month than if you filed at age 62. This can be a considerable boost to your monthly income. However, if you wait that long to file, you'll also be forgoing the eight years of payments — that's 96 monthly checks — that you would have received if you filed at age 62. But is it worth getting more checks if they are substantially less? You'll have to make that determination yourself. Here are some of the reasons why filing at age 62 would make sense.
You Need the Money
While receiving a monthly check that's 77% larger seems great, if you need the money at age 62, you may not be able to wait eight years to earn it. If you retire for whatever reason at age 62 and don't have enough money or income to meet your basic needs, you may have no choice but to file early.
You Have Health Insurance
One of the main drawbacks of filing for Social Security early is that you won't yet qualify for Medicare, which kicks in at age 65. If you retire at age 62, you'll need your own private insurance to cover your medical bills for three years. 
Are You Retirement Ready?
You Don't Anticipate Living a Long Life
The math of Social Security is supposed to work out so that whether you file early or late, you'll receive roughly the same amount of total benefits based on your life expectancy. But if you have chronic health problems or a history of short longevity in your family tree, it may work out better for you if you file as early as possible. While no one can accurately predict their own demise, if you have reason to believe that your life expectancy will be around 72 years, for example, then you'll be far better off mathematically if you claim your Social Security benefit at age 62. If you wait until age 70, you may only end up with two years of benefits. 
You Can No Longer Work
Unfortunately, sometimes the option of when to take Social Security really isn't a choice. If you can no longer work, due to disability or some other issue, you may be forced to file for Social Security early. 
You Don't Trust the System
As things currently stand, the Social Security Trust Fund is due to run out in 2034. While this doesn't mean an end to Social Security payouts, which are primarily funded by taxes on current workers, it may mean a reduction in benefits to 78% of current levels. If you're not a believer that the U.S. government can fix this deficit, or you otherwise want to get any government payouts in your hand as quickly as possible, you may want to file early. While this doesn't guarantee that benefits won't change in the future, at least you won't be caught in the position of waiting eight years for your maximum benefit only to see that reduced before you've even received a dime. 
Are You Retirement Ready?
More From GOBankingRates