Understanding Social Security Retirement Age and Why It Matters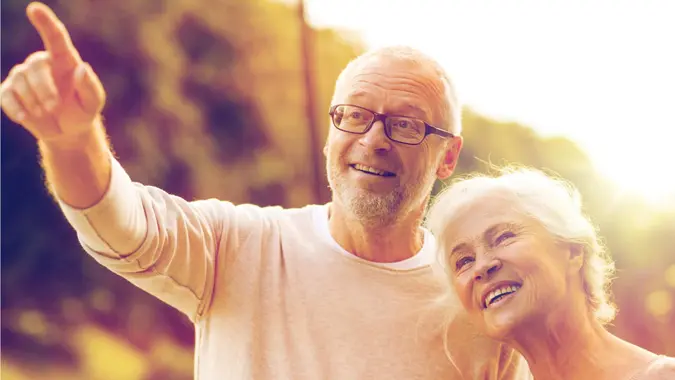 What You Should Know About Social Security Full Retirement Age
Your Social Security retirement age depends on when you were born. Generally, the later you retire, the higher your benefits will be.
You have options, like early retirement at age 62. Benefits will be reduced if you choose to retire before reaching your Social Security retirement age eligibility. As you evaluate your retirement planning needs, consider how your retirement age affects your Social Security benefits.
What Is My Social Security Retirement Age?
The Social Security retirement age is 66-67 for individuals born in 1943 or later. The retirement age ranges from 65 to 65 and 10 months for individuals born before 1943.
Consult the following chart to help you choose the age to retire.
What Is The Social Security Retirement Age?
Year of Birth
Full Retirement Age
Delayed Retirement Yearly Increase
Pre-1943
65 to 65 and 10 mos.
3%-7.5%
1943-1954
66
8.00%
1955-1959
66 years and 2 mos. to 66 years and 10 mos.
8.00%
1960 and later
67
8.00%
Here is the data on Social Security benefits for early retirement:
Social Security for Early Retirement
Year of Birth
Early Retirement Age
Early Retirement Benefits Reduction
Pre-1943
62
20%-24.17%
1943-1954
62
25%
1955-1959
62
25.83%-29.17%
1960 and later
62
30%
Your Social Security eligibility is based on the number of credits you've earned by working. You can receive up to four credits per year based on your income. As of 2020:
You receive one credit for every $1,410 you earn.
You achieve your maximum of four yearly credits once you earn $5,640.
Are You Retirement Ready?
To qualify for retirement benefits, you must earn 40 lifetime credits if you were born after 1928. To qualify for survivor and Social Security retirement-age disability benefits, you generally need 40 lifetime credits, although younger workers can qualify with fewer.
How Do I Know My Full Retirement Age for Social Security?
Most Americans expect to retire at age 66 or older, according to Gallup. However, the average age of Americans currently retired is 61. This is years away from the Social Security Administration's definition of full retirement age.
According to a study by GOBankingRates, several Americans were unsure at what age they can begin collecting Social Security benefits. 30% of respondents answered this question correctly, which is at age 62 for those who choose early retirement.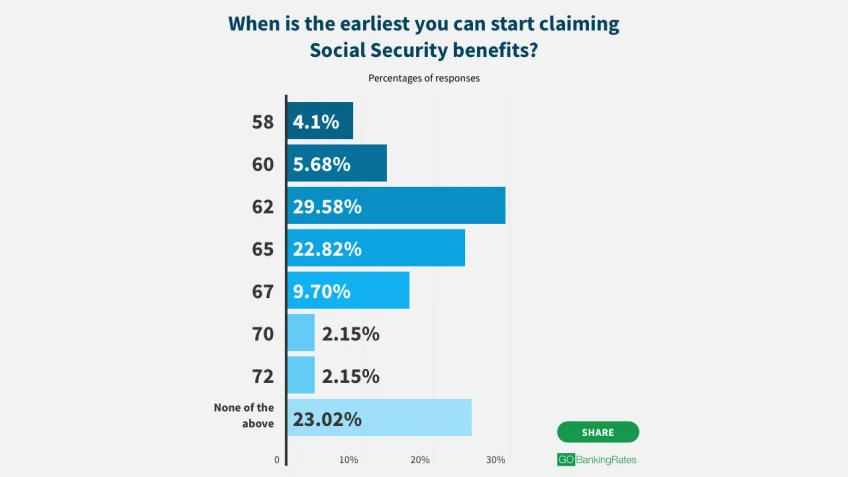 Benefits are based upon full retirement age. The retirement age for Social Security depends on the year in which you were born.
If you were born in 1955-1959 — the so-called gap years — your full retirement age increases by two months per year. This would, for example, raise the exact Social Security retirement age to 66 years and 10 months if you were born in 1959.
Are You Retirement Ready?
Use the Social Security Administration's retirement calculator to figure out your exact Social Security retirement age for full benefits.
How Retirement Age Affects Social Security Benefits
You can retire as early as 62 and still receive Social Security retirement benefits. If you do so, however, your monthly benefit will be reduced. In 2020, your Social Security full retirement age earnings limit is $18,240.
People born in 1955-1959 who retire at age 62 get a 25.83%-29.17% reduction in benefits. If you were born in 1960 or later, that number jumps to 30%.
A person born in May 1955 and earning $40,000 annually would receive roughly $1,259 monthly at full retirement age. Retiring just eight months earlier lowers the benefit by $67 per month.
Social Security provides a benefits calculator to help you determine the right time to retire.
Delaying Social Security Retirement Benefits
If you delay retiring, your Social Security retirement benefits will increase. For each year you postpone claiming benefits — up to age 70 — you'll receive an additional 8% annually.
Claiming Social Security Spousal Benefits
Even if you've never worked, you can get benefits if your spouse is already receiving them. The amount you can get is reduced if you claim benefits before your full retirement age. The most you can receive at full retirement age is half the amount of your spouse's full benefit.
Are You Retirement Ready?
This article has been updated with additional reporting since its original publication.
Our in-house research team and on-site financial experts work together to create content that's accurate, impartial, and up to date. We fact-check every single statistic, quote and fact using trusted primary resources to make sure the information we provide is correct. You can learn more about GOBankingRates' processes and standards in our editorial policy.