Social Security: When March 2023 Benefit Payments Are Scheduled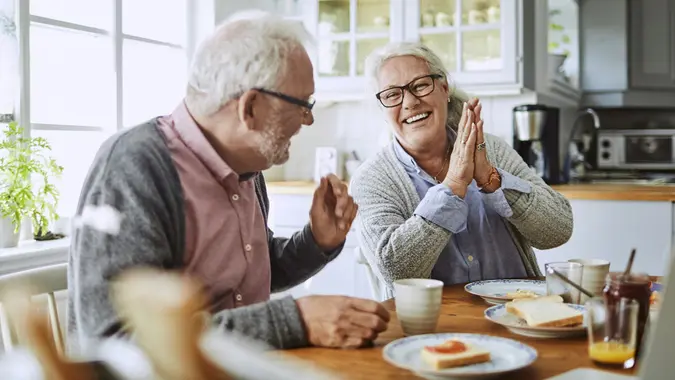 Geber86 / iStock.com
Social Security checks for March are scheduled to go out soon. Beneficiaries will continue to see bigger benefit checks thanks to the 8.7% cost-of-living adjustment (COLA) for 2023.
Social Security: No Matter Your Age, Do Not Claim Benefits Until You Reach This Milestone
With a Recession Looming: Make These 3 Retirement Moves To Stay On Track
Social Security payments are distributed according to the same monthly schedule, with payments going out on the second, third and fourth Wednesdays of each month.
Here's when you should expect your March payment:
If your birth date is on the 1st-10th of the month, your payment will be distributed on Wednesday, March 8.
If your birth date is on the 11th-20th, your payment will be distributed on Wednesday, March 15.
If your birth date is on the 21st-31st, your payment will be distributed on Wednesday, March 22.
If you received Social Security before May 1997, or if you're receiving both Social Security and SSI, then you will receive Social Security on March 3 and SSI on March 1.
If you don't receive your payment on the expected date, delays can happen. Some situations that may hold up your payment are if you recently updated your bank information, changed your address or if there are field office delays, GOBankingRates reported. The SSA advises allowing three additional mailing days before contacting Social Security. The SSA can be reached at 1-800-772-1213 on Monday through Friday between 8 a.m. and 7 p.m. Those who are deaf or hard of hearing may reach the SSA's TTY line at 1-800-325-0778.
Last year's 5.9% COLA had done little to help seniors deal with the inflated cost of living. Although seniors have received a boost to their monthly benefits, a survey from The Senior Citizens League found that 54% of older consumers "remain unconvinced" that the 8.7% COLA will keep pace with rising costs this year, as previously reported by GOBankingRates.
If Social Security checks aren't enough to cover basic living expenses, you may also qualify for Supplemental Security Income (SSI). The SSI program sends monthly payments to adults and children with a disability (or partial or complete blindness) that prevents the ability to work. SSI recipients must meet financial qualifications. SSI is also available to those 65 years and older with limited income and financial resources.
Take Our Poll: How Much Salary Would Buy You Happiness?
Democratic Sen. Bernie Sanders (Vt.) also reintroduced a bill called The Social Security Expansion Act, to help ease the financial strain of the country's most vulnerable citizens. Under the terms of the bills, anyone who is a current Social Security recipient, or who will turn 62 in 2023, would receive an extra $200 in each check. More than 50 organizations have endorsed the bill.
More From GOBankingRates