The holidays are just around the corner, meaning it's time to deck the halls with wreaths, Christmas lights and other festive decor. 
It's the most wonderful time of year, but it can also be rather stressful for folks looking to turn their homes into a winter wonderland without breaking the bank. You might be tempted to spend your precious time rifling through the clearance racks of your nearest big-box store.
But why put in all that effort when you'll likely just waste money on junk that not even people on Santa's naughty list deserve?
Your time is more valuable than that and Capital One knows it. That's why they have Capital One Shopping, a free browser add-on that scours the internet for hot deals and coupon codes when you shop on your laptop or desktop. When shopping on Amazon, you can see how much you could stand to save at another retailer via a friendly little pop-up window. Capital One Shopping also automatically applies coupon codes that provide you instant savings at thousands of online retailers.
Millions of customers are using Capital One Shopping — in the last year alone, they saved a combined $160 million with zero effort. 
You don't need a Capital One bank account or credit card to use this nifty internet browser plug-in. You can also head straight to Capital One Shopping to search for any product to potentially discover a great deal. You'll be shown any reward incentives you're eligible for if you click through and purchase from the site, and any rewards you receive can be redeemed for a gift card of your choice.
Let's see how Capital One Shopping could save you money on your holiday decor shopping.
Light it Up

The first step to getting one's home ready for the holidays is to put up the sparkling Christmas lights.
We found a set of 157.5-ft app-controlled LED string lights for $246.09 on Amazon. This seemed like they'd do the twinkly trick; but immediately Capital One Shopping alerted us that we could get the same set of lights for $204.30 elsewhere.
Plant the Giving Tree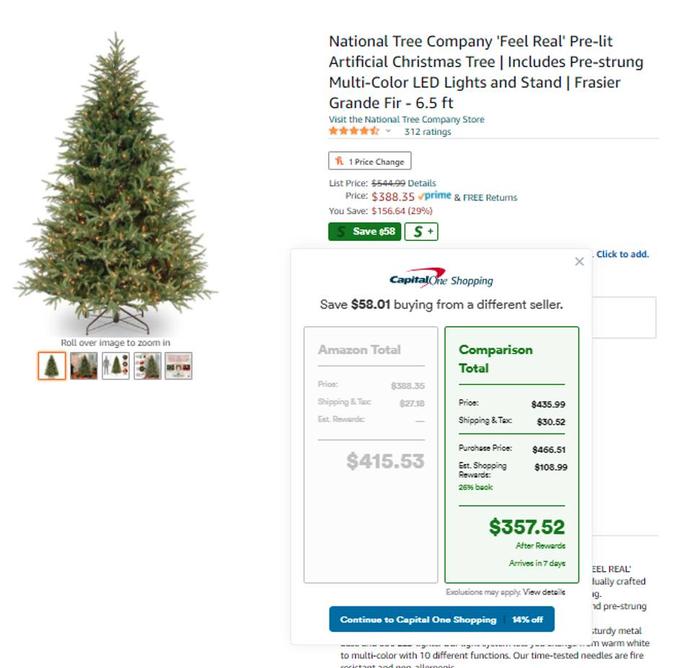 At the center of the boughs of holly is the glorious Christmas tree. Rather than forking over a fortune on a living tree, yuletide lovers can get a bigger bang for their buck by investing it in an artificial one. 
We found a 6.5 ft. artificial tree with pre-strung multicolor LED lights for $415.53 on Amazon. Capital One Shopping found us the same tree for $357.52 after rewards from a different seller.
Do the Dishes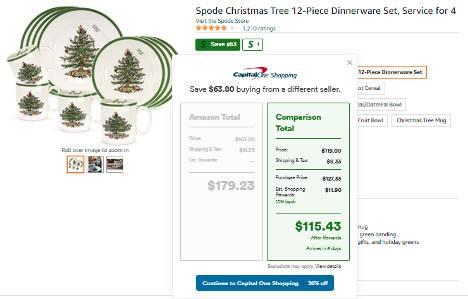 Holiday decor isn't just about decking the halls — it's about decking the tables with elegant seasonal dishware. 
Over on Amazon we found a 12-piece set of dinnerware adorned with illustrations of Christmas trees for $179.23. Capital One Shopping informed us that we would spend $115.43 by purchasing the same set from a different vendor. 
Give Santa's Little Helper a Home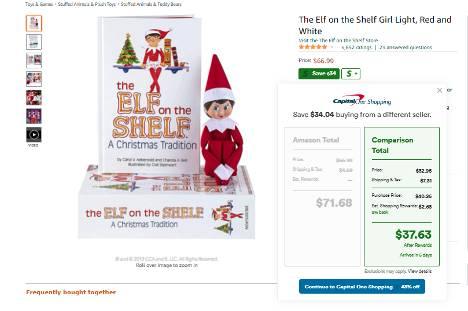 It wouldn't be Christmas without our favorite little tyke hanging out on the mantel, presiding over the stockings and cozy fireplace. 
The Elf on The Shelf costs $71.68 on Amazon, but Capital One Shopping showed us we could spend just $37.63 on the same mischievous doll by going with a different seller.
Branch Out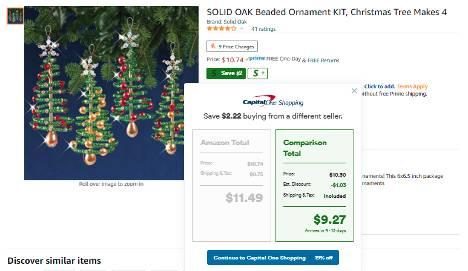 What's a Christmas tree without a decadent display of ornaments interspersed between the rows of sparkling lights? 
Amazon sells a beaded ornament kit for $11.49. Capital One Shopping revealed that if we bought the same kit from a different seller, we'd pay just $9.27.
Put a Ring on It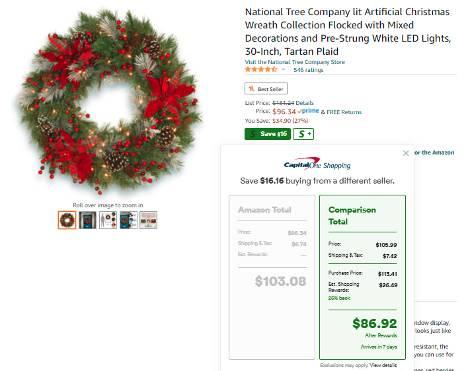 Seal the holiday decor deal by hanging a holiday wreath on your front door. 
A gorgeous artificial wreath with lush ornamentations and pre-strung LED lights goes for $103.08 on Amazon. Capital One Shopping instantly informed us that the same decadent wreath costs $86.92 when buying from a different seller and applying rewards. 
How Much We Could Save With Capital One Shopping
Here's everything we researched to give our happy home the full holiday makeover, with the original Amazon prices and the savings we found using Capital One Shopping. The prices listed are the approximate totals after shipping and taxes.
| | | | |
| --- | --- | --- | --- |
| | Amazon | Capital One Shopping | Savings |
|      Lights | $246.09 | $204.30 | $41.79 |
|      Artificial tree | $415.53 | $357.52 | $58.01 |
|      Festive dishes | $179.23 | $115.43 | $62.80 |
|      Elf on the Shelf | $71.68 | $37.63  | $34.05 |
|      Ornament Kit | $11.49 | $9.27 | $2.22 |
|      Wreath | $103.08 | $86.92 | $16.16 |
Thanks to Capital One Shopping, we would save around $215 on holiday decor — and who knows how many hours diligently comparing prices from different sellers on our own.
Whether you're going all out on a towering artificial Christmas tree or just in the market for a few ornaments, you stand to save by getting Capital One Shopping today. It's free, requires no effort to find deals and takes under a minute to add to your browser.
Capital One Shopping