9 Budgeting Tips If You're Facing an Unexpected Pay Cut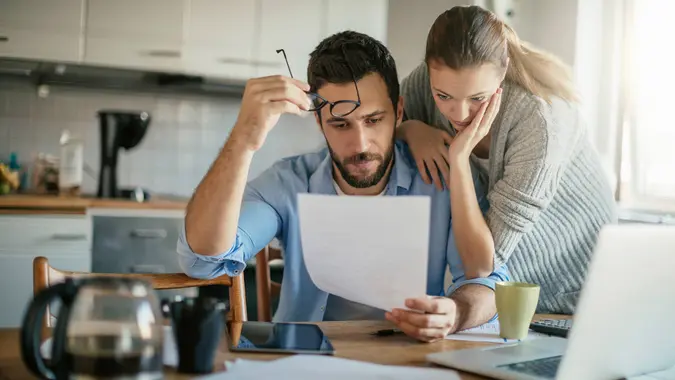 Geber86 / Getty Images
Sometimes you are forced to take an unexpected pay cut. Perhaps you needed a job ASAP and took a job that paid less than your previous one, or maybe you had to cut back on hours to take care of a loved one who became ill. Or maybe you recently lost your job altogether. Whatever the case, making less money means that you have to revisit your budget to ensure you can fulfill your needs (and wants) without going into debt.
Read More: 40 Money Habits That Can Leave You Broke
Learn: Tips To Keep Your Finances in Order Without Sacrificing What You Want

I spoke to financial experts to get their best advice for budgeting after an unexpected reduction in income.
Get a Clear Picture of Where Your Money Is Going
"Start by taking inventory of where your money is actually going — looking back through bank and credit card statements from the last three months to take stock of all of your expenses," said Stefanie O'Connell Rodriguez, a personal finance author and Discover partner. "Consider how your total monthly spending compares to your newly reduced income. Separate expenses into essentials — like housing, food, insurance, utilities, etc. — and nonessentials, like new clothing, entertainment, events, dinners out, etc."
Make Your Money Work for You
Discover: 12 Expenses Successful People Don't Waste Time or Money On
This will help you see where and how you can cut your spending.
Look at Your Large Expenses First
"Consider your largest monthly expenses and try to reduce those, because a decrease in food, housing or transportation can make a huge difference," said Barbara Friedberg, investing expert at Barbara Friedberg Personal Finance. "Shifting to public transportation, [having] one car in lieu of two, or exchanging an expensive gas guzzler for a small hybrid or EV can permanently reduce expenses. Food is another easy fix. There are scores of ways that are quick and easy to slash food costs, many of which require a bit of forethought. Shop with a list and stick to it. Choose less expensive meals — pasta, vegetarian and less meat. Consider buying in bulk, but make sure that the unit price is actually cheaper."
Get Started: Make a Debt-Free Future Your Reality
See If You Can Save on Other Fixed Expenses
"If people experience a pay cut, it's important to go through all the fixed expenses and examine each one," said Jillian Johnsrud, a progress coach who specializes in financial independence planning. "See which ones can be cut, reduced or paused, or switch service providers. [These expenses include] cell phones, car insurance, cable, internet, memberships, etc. It's easier to reduce your variable expenses like eating out, gifts or vacations. But if your fixed expenses are taking up too much of your budget, each month will feel like a struggle."
Make Your Money Work for You
Did You Know: Jaw-Dropping Stats About the State of Retirement in America
Create a 'Survival Budget'
In the case of job loss, your reduction in income will only be temporary (assuming you are actively looking for a new job). If this is the case, create a bare-bones "survival budget."
The Financially Savvy Female: 3 Alarming Ways Women Are Lagging Behind Men When It Comes to Their Finances
Economy Explained: How To Calculate Your Debt-to-Income Ratio
"The goal is to see how little you can temporarily survive on," said Bob Lotich, certified educator in personal finance and founder of SeedTime.com. "If you had to cut everything nonessential out, how little could you live on? Now, we all have our own definition of what bare minimum looks like, but in general, it should be only the absolutely essential items."
Poll: Have Child Care Costs Affected Your Career Path During the Pandemic?
Eliminating all nonessential items can feel "insane," Lotich said. "But it works. As you build your survival budget, remember these two key things: 1) Listing it out doesn't mean you'll live it. The goal is to find out how low you can go if you have to. 2) Even if you do have to live it, it's a temporary plan. It's not meant to last."
Cut Retirement Contributions and Investments If Need Be
"You must compare the income lost versus the money you are able to save by cutting out expenses other than food, shelter, medical, transportation and debt payments. If more needs to be cut, then you may have to, unfortunately, reduce any investment or retirement contributions," said Sam Dogen, founder of Financial Samurai and author of "How To Engineer Your Layoff and Walk Away With a Severance." "Hopefully, you have some reserves so you can still contribute enough to your 401(k) to get a company match if there is one. Given you don't know how long your income may be cut, it's better to be conservative than aggressive."
Make Your Money Work for You
Find Out: 25 Things You Should Never Do With Your Money
Cut Back On or Eliminate Any Subscriptions
"Digital newspapers, apps and streaming TV subscriptions can be reduced and put $30 to $50 quickly back in your pocket," said Ted Jenkin, CEO and co-founder of oXYGen Financial. "Scour your last three months of credit card statements to find out every subscription you have."
Read: How To Handle the Financial Pressure of Being the Sole Breadwinner
Modern Money Etiquette: What's Really the Best Way To Handle Splitting the Check?
Not only will cutting down on subscriptions save you money, but it will save you time that you can channel into upping your earning potential.
Learn More: How To Say 'No' to Friends or Family Who Want To Borrow Money
"If you're struggling to pay your bills, you should not be binge-watching 'Squid Game' on Netflix," said Jaspreet Singh, founder of Minority Mindset. "Your time would be better spent learning how to grow your income so you can stabilize your finances and take care of your family."
Raise Your Deductibles
"Whether it is your health insurance, auto insurance or your home insurance, raising your deductibles can put some of your monthly expenses back in your wallet," Jenkin said.
Do a 'No Spending Challenge'
If you view reducing discretionary expenses as a "challenge" rather than something you are doing begrudgingly, you may be more motivated to stick to these budget cuts.
Your Money: Stay on Track With the Financial Stability Roadmap
Find Out: 18 Reasons Why You Should Be Using Your Credit Cards More
"One of the quickest ways to cut costs after an unexpected pay cut is to do a spending freeze," said Amanda L. Grossman, certified financial education instructor and founder of Frugal Confessions. "These 'no spending challenges' will stretch your creativity while saving your cash flow. Commit to eating what you have in your freezer and pantry, to entertaining yourself and your family using free events and things you already own, and to not spend outside of a few absolute necessities."
Although you won't be able to keep this up permanently, it will help illuminate what costs you can completely eliminate as you figure out your new budget.
Read: 50 Easy Things You Should Do To Save Money
"You'll be able to reevaluate areas you are spending in that you thought were a need, but really are a want," Grossman said. "You'll be able to cut back much more easily afterward and do a proper reset, which is exactly what you need when you experience an unexpected pay cut."
Use an Automated Budgeting App
"We advise everyone concerned about controlling expenses to use an automated budgeting app that either integrates with their primary bank account or lives within their bank account," said Brian Martucci, personal finance expert at Money Crashers. "These apps use predictive algorithms to automatically save funds you don't need right away and reserve the rest in a 'safe to spend' balance that you can use for discretionary purchases. Lots of money management apps have this feature built into the account interface, or more accurately, offer deposit accounts as an accompaniment to a core budgeting product."
Gabrielle Olya contributed to the reporting for this article.
More From GOBankingRates
Make Your Money Work for You