Cable and Internet Bills Add Up to $1,161 Per Year — Are You Getting a Good Deal?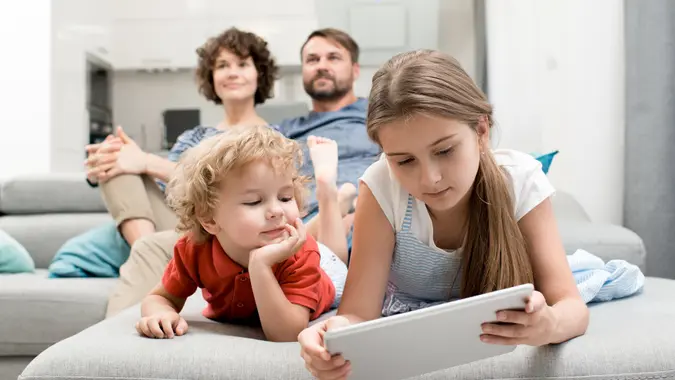 SeventyFour / iStock.com
In spite of the Federal Reserve's attempts to stem inflation, nearly three-quarters (73%) shared worries about being able to pay their bills, according to a recent survey from doxoINSIGHTS. The report showed 63% of American households are most concerned about paying their cable and internet bills, just behind auto insurance (also 63%) and utilities (73%).
On the surface, this may not seem surprising. Internet access is no longer a luxury, but a necessity for many to work, pay bills and stay in touch with family and friends. Cable and internet are often bundled together under one provider, with internet access representing the bulk of the bill. But you might be surprised to learn that cable and internet bills have been less affected by inflation than many other household expenses. In 2022, the national average for cable and internet was $1,122. In 2023, that price rose 1.7% to $1,161.
Plus, cable and internet make up less than 5% of a household's overall bill expenditure, based on doxoINSIGHTS research. "Other household bills, like mortgage and rent, have definitely seen a larger year-over-year spike when compared to cable and internet," said Liz Powell, senior director of INSIGHTS at doxo, in an exclusive email interview with GOBankingRates. "This is likely because traditional television watching has waned in recent years with changing consumer behaviors and preferences to OTT and streaming services."
Powell noted that they're seeing a levelling out of "cord-cutters" in recent years. "Our 2022 Cable & Internet report revealed that 82% of American households have a cable and internet bill, showing stability to the same 82% revealed in this year's report," she said. The average cable and internet bill costs $118 per month.
Make Your Money Work for You
Most Expensive and Least Expensive States for Cable and Internet
Your mileage may vary when it comes to cable and internet costs. The 2023 Cable & Internet spending report from doxoINSIGHTS spotlighted the five most expensive and five least expensive states for cable and internet bills. Here are the findings:
Most Expensive States for Cable and Internet
New Hampshire: $151
Vermont: $134
Delaware $134
Maryland: $131
New York: $131
Least Expensive States for Cable and Internet
South Dakota: $95
Nebraska: $97
Idaho: $101
Utah: $102
North Dakota: $104
When it comes to bills, cable and internet still offers some of the best value for the money in light of rising prices anywhere else. "We're definitely seeing some of the most stability when it comes to the price of cable and internet bills, compared to the other 10 most common household bills, which [also] include mortgage, rent, auto loans, auto insurance, utilities, health insurance, mobile phone, alarm + security and life insurance," Powell said.
In fact, she added, "I found it surprising that we didn't see a larger year-over-year increase in cable and internet bills as nationwide inflation continues to affect some of the major bill pay categories."
How to Save Even More On Your Cable and Internet Bills
Although it's a small percentage of a household's overall expenses, every penny counts with the economic stressors families face today. For families battling rising prices in virtually every bill category, high-interest debt and the challenge of saving for retirement, every dollar you can save on your cable and internet costs counts toward a healthier household budget.
For some lower-income families, the Affordable Connectivity Program (ACP) continues to provide up to $30 per month off an internet bill from a participating provider.
Make Your Money Work for You
But if you don't fall below the income thresholds, you can lower your cable and internet bill in other ways:
Review your bill carefully to understand exactly what you're paying for
Call and negotiate with your provider for a lower rate
Consider switching providers for a low introductory rate
Reduce the number of channels you pay for (or cut entirely)
Many cable providers charge "box fees" for each television connected to cable in your home. If you aren't ready to cut the cord completely, you might consider paying for cable for one TV in the family room and using streaming services for other TVs in your home.
Most importantly, understanding how much you pay compared to other households in your region can help you find or negotiate better rates.
"It's absolutely critical that consumers have accurate and transparent insights into not only what the average bill costs for their region, but also where in the U.S. these bills are most affordable and most expensive," Powell told GOBankingRates. "By providing this geographical snapshot of bill pay insights, we're fostering a more educated and economically conscious bill payer."
More From GOBankingRates
Make Your Money Work for You