Our Guide to Planning for the Holidays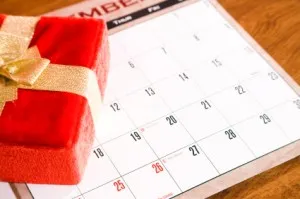 From the day after Halloween until the new year kicks in, stores start changing over their merchandise, commercials promote the "must haves" for the season and from your local pharmacy to the biggest mass retailer, there is a battle for your hard earned dollars.
It is no wonder that many find holidays stressful. From social obligations, family gatherings and monetary expenses, the pressure can feel overwhelming. That is why planning for the holidays will give you the guidelines and parameters needed to keep it all in check.
Creating a Holiday Budget
Perhaps you already learned from the ghosts of Christmas past that your biggest stress comes from not having a holiday budget and spending way to much on everything from gifts to travel. If so, you were probably wise enough to have already started a Christmas Club and are now actually in the process of receiving your disbursements from the investment. This year was an especially fruitful year for those looking for savings plans specifically for holiday expenses as several major retailers like Sears, Kmart and Macy's all got into the act.
Best Prices
No need to kick yourself if you did not put money aside, as  you still have time to plan accordingly. We have some ideas how you can save money on all your holiday expenses including ideas on how to get the best prices for:
Buy carefully minding your holiday budget you can more easily face whatever holiday conundrum may be lurching. Familial criticism, loneliness and exhaustion and it will all be easier to handle when you have full control of your finances. Only by taking the steps now can you ensure that you have a happy, healthy and affordable holiday season.