Why You Shouldn't Plan Your Budget Around Any Additional Stimulus Money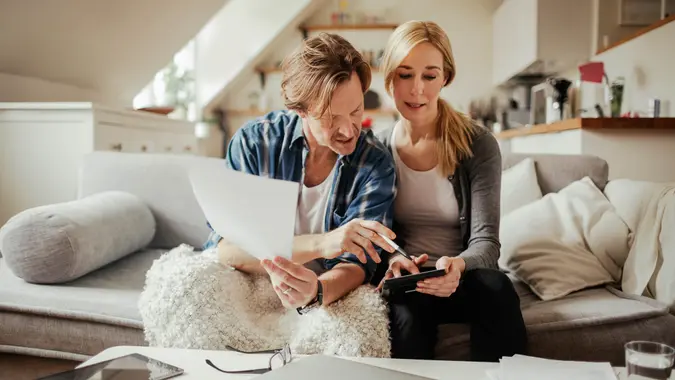 Geber86 / Getty Images
Lawmakers are rallying around issuing a fourth stimulus check as millions of Americans are trying to bounce back. To date, 21 Democrat senators have added their names to a March 30 letter to President Joe Biden in support of more stimulus payments, underscoring that the third round of $1,400 stimulus payments wouldn't go very far for those who've been hard hit by the pandemic. Meanwhile, a Change.org petition wherein Americans demand recurring stimulus payments has gone viral, garnering nearly 3 million signatures at the time this story was reported.
Find Out: Budgeting 101: How To Create a Budget You Can Live With
Don't Break the Bank: 17 Biggest Budgeting Mistakes You're Making
Millions of Americans are struggling to get by, and undoubtedly another stimulus payment would be crucial for them to make ends meet. But Leslie Tayne, Esq, a financial attorney and founder of Tayne Law Group, warns that you shouldn't plan your budget around receiving a future stimulus check — even if you sorely need the money. In fact, you shouldn't even definitively expect one. 
Make Your Money Work for You
"While the government may authorize the disbursement of additional stimulus funds, you can't be sure that will happen," Tayne said. "Plus, even if a new wave of funding does get approved, we currently don't know how much money to expect, when the cash will hit bank accounts or the income qualifications for the payout. That means factoring this money into your budget in advance is very risky."
Relying on Money That's Not Guaranteed Is a Recipe for Financial Disaster
"You could end up with an overdrawn bank account, unable to cover an important expense, or taking on debt to make ends meet," Tayne said. "In addition, if you're planning to use the money to make a splurge purchase, you may be disappointed if the funding falls through. Worse yet, if you buy the item before the stimulus check comes in, you might have to scramble to redo your budget if it doesn't." 
Cut Costs: 50 Easy Things You Should Do To Save Money
Prevent a Nightmare by Changing Your Thought Patterns Around Money
"To prevent one of these nightmare scenarios from happening (now and in the future), you should think about your spending habits and thought patterns around money," Tayne said. "Once you've identified any potentially problematic habits or patterns, you can make a plan to address them. Reviewing the basics of money management, teaming up with a friend for accountability, or even speaking to a therapist are some ways to overcome the actions and beliefs that can hold you back financially."
Make Your Money Work for You
The Economy and Your Money: All You Need To Know
Follow Along: 31 Days of Living Richer

Up Your Gratitude Game
"You can prevent shopping temptation by practicing gratitude for what you have and reminding yourself of your major life goals," Tayne said. "When we shop, we often buy things we don't need because we get a sense of satisfaction and joy at that moment. But, it's generally short-lived because the purchase wasn't truly fulfilling."
Tayne recommends thinking about everything you do have and how far you've come to make it to this point.

"That sense of gratitude may make you look at a potential purchase in a different light," Tayne said. "Plus, when you ask yourself if buying the item would help you get closer to your goals and the answer is no, it becomes easier to leave it on the shelf or in your cart."
See: 50 Terrible Ways To Try and Save Money
Reckless Spending Runs Amok
As the pandemic weirdly winds down in the U.S. (thanks to a successful rollout of the vaccine), Tayne is seeing more people spending like crazy. 
"I have seen people spending recklessly lately, largely because the pandemic has been challenging on everyone mentally and emotionally," Tayne said. "The negative emotions surrounding shutdowns and the joy of reopenings caused many to deviate from their budgets, even if they're otherwise frugal. Instead, they've made purchases as retail therapy to beat the COVID-19 blues, or they've opened their wallets to celebrate a return to normalcy extravagantly. While understandable, these expenditures could derail their short-term financial security and result in debt that takes years to pay off."
Make Your Money Work for You
Discover: How I'm Sticking to a Budget and Spending Less During COVID-19
And of course, there's always the more brutal take on stimulus expectations, as proffered by Howard Dvorkin, CEO and chairman of Debt.com, who told GOBankingRates: 
 "Anyone counting on another round of stimulus to balance their budget might as well spend $5 a week playing the lottery to fund their retirement. Your odds are about the same, which is to say, dismal."
Dvorkin went on to say that if you're spending more than you're making, the solution isn't a sudden one-time cash infusion. 
"Since you haven't addressed the spending, you'll be back in debt in no time," Dvorkin said. "The solution is to confront your personal issues instead. Most overspending isn't because we need something. It's because we want something. Spending is like a glass of fine wine or strong liquor. It makes us feel good quickly. But like those drinks, the effects wear off quickly, and the hangover can be costly."
More From GOBankingRates
Last updated: July 19, 2021
Make Your Money Work for You