'69 Mustang Anvil to the New Nissan GT-R: What an Auto Loan on Each of the Cars of Fast and Furious 6 Will Cost You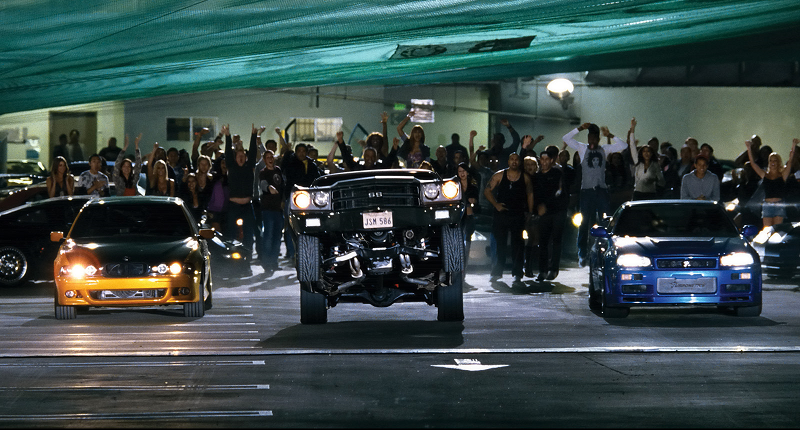 There's a small — very small — minority of Fast and Furious fans who show up to theaters to marvel at Vin Diesel's acting skills. Most people are there for the cars. It's one reason why the franchise has survived for 12 years, spanning six installments. Those car chases. The street racing. The pulse-pounding, red-lined throttle of modded-out V8 monsters, overshadowing all plot development, script and story in a cloud of thick exhaust smoke.

Over the years, we may forget some of the cast members who come and go, but the vehicles remain indelibly imprinted on the memory. We've had the freakishly modified 1971 "Frankencuda" from Fast Five that wears its engine on the outside (sold two years ago for $308,000!). In the same film, there's a Porsche 996 GT3 RS that needs no introduction or explanation.

And in the original The Fast and the Furious, we're even offered a financial lesson in car restoration when a rusted, junked Toyota Supra is reborn as turbo-charged god of automotive holiness, to the tune of $15,000.

cars of Fast and Furious are an impressive marriage of classic muscle with modern performance, and like most movie cars, well beyond our budgets. But out of curiosity, just how much would one of those chrome beauties set us back? To mark the release of Fast & Furious 6 on May 24, take a look at four of the film's featured vehicles, and how big of an auto loan a buyer can expect to pay to channel their inner Dom Toretto.

Sponsors of
Fast, Furious Auto Loans
Many sources differ on how big or small of a down payment on a car we should make. According to auto expert Edmunds.com, conventional advice states that 20 percent down is the average norm. Taking that number into account, whip out your handy auto loan calculator to see what you'll pay for one of the film's car stars.
#1. 1969 Dodge Charger Daytona
The Charger's aggressive reputation started in 1968 as a formidable opponent for Steve McQueen's Bullitt, and since then, it's seen a number of special editions, blessed by the likes of Carroll Shelby, and its recent "Super Bee" incarnations.
But the Charger Daytona — named so for the Daytona 500 — is a rarity indeed. Produced solely in 1969, coveted models house a mammoth, 7.2-liter fire breather under the hood, making the term "muscle car" an understatement. According to auto valuation guide Hagerty.com, an 8-cylinder, HEMI-powered Daytona fetches about $270,000. Other sources cite $300,000.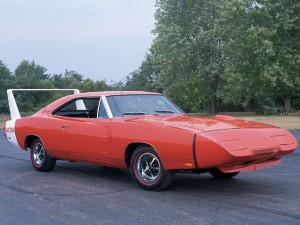 Money down: 20% on $300,000 = $60,000
Loan amount: $240,000
Loan term: 48-60 months
Interest rate: 1.9% APR (you have good credit)
Monthly payment: $5,205.78 (48 mos.); $4,205.61 (60 mos.)
Photo: Muskulcar
#2. 1978 Ford Escort
Fast and Furious filmmakers allegedly found seven 1978 Ford Escorts for use in the film, according to AutoBlog, "a celebrated 1970s-era rally car complete with stock fender flares." Fetching one of these compact-yet-swift European racers, heavily modified to win several RAC Rallies back in the day, won't cost you that much.
Auto Trader Classics says a classic, collectible Escort from that era can demand only $35,000 — a far cry from buying a new Ford Focus, but that is the price of nostalgia.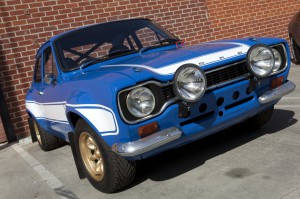 Money down: 20% on $35,000 = $7,000
Loan amount: $27,000
Loan term: 48-60 mos.
Interest rate: 1.9% APR
Monthly payment = $585.65 (48 mos.); $473.13 (60 mos.)
Photo: Auto Blog
#3. 2012 Nissan GT-R
Not all Fast and Furious cars are discontinued classics. Some are new classics with a long heritage. The 545-horsepower, turbo-V6 GT-R has been in production on and off for more than 40 years, originally called the Nissan Skyline. If you're looking to get on the celluloid level with some serious pavement cred, you'll want to opt for a GT-R with the "Track" package — 2012-2013 models run an average MSRP of $115,000.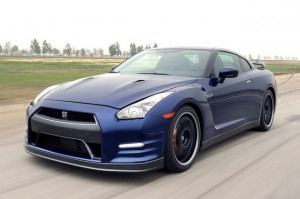 Money down: 20% on $115,000 = $23,000
Loan amount: $92,000
Loan term: 48-60 mos.
Interest rate: 1.9% APR
Monthly payment = $1,995.55 (48 mos.); $1,612.15 (60 mos.)
Photo: Auto Blog
#4. 1969 Ford Mustang Anvil
This author's favorite Fast Furious ride is a totally sweet 1969 Ford Mustang modified by El Segundo, CA car customizer Anvil Auto. A deity among muscle cars, this Anvil-modified 'Stang, according to the AmCar Guide, gallops out 805 horsepower through a 521 cid Boss 9 engine, with a specially tuned suspension, 6-piston brakes and a Kevlar clutch with 5-speed Tremec transmission.
Since this is not a production model car, it's hard to valuate it in dollars. However, since it contains a Boss engine, let's price it off a 1969 Boss 429. According to Hagerty, a mint-condition '69 Boss'll run you six figures at $193,000.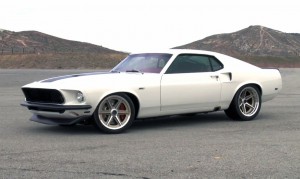 Money down: 20% on $193,000 = $38,600
Loan amount: $154,400
Loan term: 48-60 mos.
Interest rate: 1.9% APR
Monthly payment = $3,349.05 (48 mos.); $2,705.61 (60 mos.)
Photo: Mustangs Daily
#5. 1970 Plymouth Barracuda
Nelson Ireson of Motor Authority says that "the Plymouth Hemi Cuda is a by-word for the Holy Grail, hen's teeth, or free beer. In other words, it's elusive and highly sought after."
Enough said — the '70 Barracuda is inarguably the hottest car to be featured in one the Fast and Furious movies. According to Ireson, one was recently up for auction for $3.2 million! What makes the car so special? Very few were made in their first run, and to find one in its original state, low mileage and all, is rare. If you've got the cash, you can have the flash.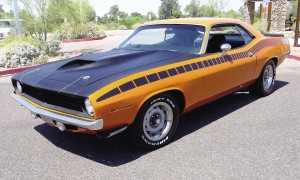 Money down: 20% on $3.2 million = $640,000
Loan amount: $2,560,000
Loan term: 48-60 mos.
Interest rate: 1.9% APR
Sponsors of
Monthly payment: $55,528.34 (48 mos.); $44,859.87 (60 mos.)
If you can afford those payments, you can probably afford to buy this car in full outright, making you one wealthy motorist, and the 1970 Barracuda the priciest, most coveted vehicle in the Fast and Furious canon.
Photo: Car Gurus
Recap
According to Auto Blog, 300 to 400 cars were destroyed during the filming of Fast Furious 6! Here's hoping that if you find yourself the proud owner of one of these magnificent beasts, you'll take as much care with it as you do in financing it. As always, alternative lending methods, like those from a bank or credit union, greatly improve one's chances at obtaining lower interest and save money.
And if, for some crazy reason, you grow tired of your wheels, a Fast Seven, Fast Eight and Fast Nine are in the works, leaving us with more unique cars to dream about — and maybe call our own.