9 Cars That May Actually Appreciate in Value Over Time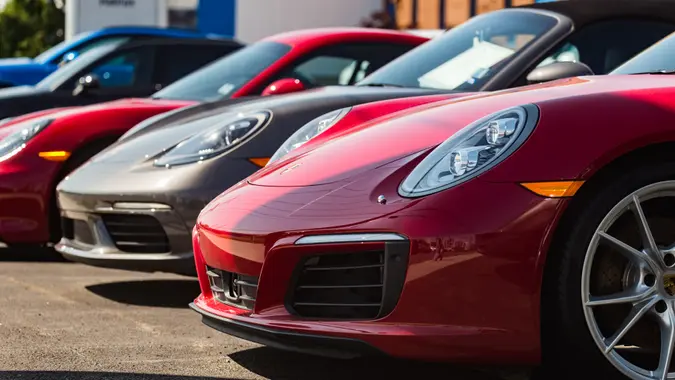 shaunl / Getty Images
In a market where vehicles are typically notorious for their depreciation, some cars defy this financial gravity, accruing value as they age.
These models often blend rarity, desirability, and historical significance to create a potentially appreciating asset. Let's explore nine cars that may actually appreciate in value over time.
1. Porsche 911 (Air-Cooled Models)
Air-cooled Porsches have long been sought after by collectors and enthusiasts alike. Models from the 1980s and 1990s, such as the Carrera 3.2 and the 993 generation, are particularly notable for their potential to appreciate due to their classic appeal and relative scarcity.
2. Toyota Supra (A80 – Fourth Generation)
The fourth-generation Toyota Supra has experienced notable appreciation over recent years. Renowned for its robust 2JZ engine and a cultural icon thanks to movies like "The Fast and the Furious," the A80 Supra continues to be a beloved model among car enthusiasts.
3. Acura NSX (First Generation)
The original Acura NSX is celebrated for its revolutionary design and being a performance car with daily drivability. With its clean lines, mid-engine layout, and Honda reliability, the NSX has gained significant attention from collectors.
4. Ford Mustang (First Generation – Shelby Models)
Classic Shelby Mustangs, such as the GT350 and GT500, have long been recognized for their investment potential. These high-performance models from the 1960s offer a compelling blend of American muscle and racing pedigree.
5. Land Rover Defender (Vintage Models)
Vintage Land Rover Defenders, particularly those from the 1960s and 1970s, have become increasingly desirable. Their iconic design, off-road capabilities, and the nostalgia they invoke have driven values upward, especially for well-restored examples.
Make Your Money Work for You
6. BMW M3 (E30)
The BMW E30 M3 is often dubbed the quintessential sports sedan, merging everyday usability with exhilarating performance. Its racing success and pivotal role in establishing the M Division's reputation have solidified its status as a collectible.
7. Mercedes-Benz 300SL Gullwing
As a pinnacle of engineering and design for its era, the 300SL Gullwing is already a high-value collectible and continues to appreciate. Its iconic gullwing doors and impressive performance make it a standout in the classic car market.
8. Ferrari F40
Regarded by many as one of the greatest supercars ever made, the Ferrari F40 has experienced significant appreciation. It melds a visceral driving experience with a striking design, underpinned by its status as the last Ferrari personally approved by Enzo Ferrari.
9. Mazda RX-7 (FD3S)
The third-generation Mazda RX-7, known for its sleek lines and unique rotary engine, has begun to see a rise in values. Its rarity, performance, and status as one of the last rotary-engined sports cars make it a potential future classic.
When it comes to investing in classic cars, one must consider various factors, including maintenance costs, storage, and insurance. Although these models showcase potential for appreciation, it's crucial to purchase vehicles for passion first and potential profit second.
Nonetheless, these nine models, cherished for their engineering, design, and historical significance, stand out as particularly noteworthy in the realm of automotive investment.
Make Your Money Work for You
Editor's note: This article was produced via automated technology and then fine-tuned and verified for accuracy by a member of GOBankingRates' editorial team.
More From GOBankingRates