10 Best Used Cars Worth Every Penny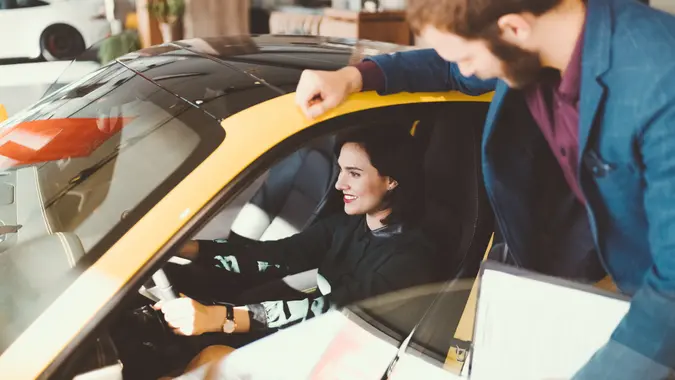 martin-dm / Getty Images
Used car prices have been on a steady decline. But this comes with the cost of higher interest rates for auto loans, which is reducing demand for new and used vehicles, alike. If the Fed keeps interest rates the same for the rest of the year, used car prices could rise again. "As soon as prices dip even a little bit, or dealers offer any kind of discount, buyers are swooping in," Pat Ryan, CEO and founder of the car-buying website CoPilot, said in a press release.
But, even with no significant market changes, used cars still cost 33% more than they would under normal depreciation circumstances, according to experts. With so much economic uncertainty right now, many car buyers are seeking the best value for their money. That means many drivers don't want — or can't afford — to buy new. What are the best used cars to buy right now? Keep reading to find out.
10 Best Used Cars
If you're in the market for a new-to-you vehicle, take heart. ISeeCars recently pinpointed the best used cars on the market today, showcasing vehicles with the longest remaining lifespan at the lowest prices per 1,000 miles. Here are the top 10 best used cars:
Chevy Impala
Toyota Prius
Honda Civic Coupe
Kia Sedona
Toyota Avalon
Honda Fit
Honda Accord
Ford Fusion
Toyota Camry/Camry Hybrid
Dodge Grand Caravan
1. Chevy Impala
Selling for under $10,000, a 10-year-old Chevy Impala is a solid mid-sized car perfect for family use, yet with a legacy of style. The Impala launched in the 1950s with a grille reminiscent of a Corvette and stylish design features. Readers of the Boomer generation might remember riding around in an Impala station wagon in the early 60s — or even crouching in the back seats to sneak into a drive-in theater at a discount.
Make Your Money Work for You
The vehicle has taken many forms over the years. If you can snag one from 2013, you can realistically expect almost another 10 years of road trips in the car, at the reasonable cost of $87 per 1,000 miles. The Impala also dominated ISeeCars' list of best used cars for the money based on city.
2. Toyota Prius
With gas prices on the rise, the eco-friendly Toyota Prius, a hybrid, remains an excellent value for those not yet willing to make the jump to full-fledged EV. Manufactured before Toyota shifted its hybrid models to plug-ins, a 5- or 10-year-old model of this commuter-friendly vehicle embodies Toyota's affordability and reliability. Plus, Kelley Blue Book reports its gas mileage at a combined 50 mpg, which is hard to beat.
3. Honda Civic Coupe
Whether you purchase a 5-year-old or 10-year-old model, the reliable Honda Civic Coupe delivers plenty of value. The 10-year-old model has a cost of just $108 per 1,000 miles, while the 5-year-old model costs $130. You can expect to get a total of over 226,000 miles out of either car.
The perfect first car for a new driver, the Honda Civic Coupe offers low cost, reliability and style.
4. Kia Sedona
The Kia Sedona is one of just two cars on this list with an average price under $10,000. This car has a cost of $110 per 1,000 miles. This minivan is packed with style, whether you're heading to your kid's soccer game or a cross-country road trip with friends.
Make Your Money Work for You
You can expect a total of over 200,000 miles out of it. That's a lot of soccer games in your future. It also means this could be the vehicle that helps your tween move into their college dorm someday.
5. Toyota Avalon
Toyota Avalon is another mid-size family sedan that makes the lists of best five-year-old and best 10-year-old vehicles. The 5-year-old model costs $139 per 1,000 miles, and you're likely to get more than 187,000 miles out of it. If you go for the 10-year-old model, you can expect more than 143,000 miles, which isn't too shabby for an average price of $15,818.  
6. Honda Fit
Honda Fit is another great used car option, especially if affordability is tops on your list when you're shopping. With an average price of $18,486 for a 5-year-old model and a price per 1,000 miles of $119, the Honda Fit is a tremendous value.
An older, 10-year-old model will run you $12,347 and have an overall cost of $112 per 1,000 miles. It's worth noting that the Honda Fit was discontinued in 2020 due to a lack of demand, but it still delivers a great ride if you're in the market for something small and fuel efficient.
7. Honda Accord
Making Car and Driver's List of top 20 vehicles sold in the U.S. in 2022, the Honda Accord typically represents a solid value for those in the market for a mid-size SUV. You can save a lot of money by investing in an older model. Both the five-year-old and 10-year-old models made ISeeCars' list of best values for used cars.
8. Ford Fusion
Whether you choose a five-year-old or 10-year-old model, a used Ford Fusion will still have plenty of life left in it. This sedan has an average price of just over $10,000 for a 10-year-old model, and is expected to last another 84,590 miles. A five-year-old model also offers a good value, selling for an average of $18,793, but delivering even better longevity with 130,209 more driving miles.
Make Your Money Work for You
9. Toyota Camry / Camry Hybrid
The Toyota Camry remains a favorite for drivers. Whether you choose a hybrid model or a regular gasoline engine, your Camry delivers a luxurious sedan experience at an affordable price. The regular and hybrid 5- and 10-year-old models all made the list of best used cars, with life expectancies of 223,000 miles for the regular gasoline models and 230,000 miles for the hybrids.
10. Dodge Grand Caravan
A 10-year-old Dodge Grand Caravan shines in longevity and costs just $120 per 1,000 miles. In its prime, the 2013 Dodge Grand Caravan offered more features at a lower price than competitors like Toyota Sienna or Honda Odyssey.
You'll find a rear-seat Blu-Ray/DVD player entertainment package on RT and Crew models, which can provide hours of nostalgia on road trips if your teens haven't scratched all their childhood movies. If you are a new parent, the Dodge Grand Caravan is a solid investment that should be good for 86,282 miles of future road trips.
Bottom Line
Investing in a used car makes good financial sense rather than paying high monthly loan payments for a brand-new car. When you buy a used car, consider the common problems it might face, the average miles the car is expected to last, and the cost of ownership per 1,000 miles.
Data is accurate as of Sept. 13, 2023, and is subject to change.
Our in-house research team and on-site financial experts work together to create content that's accurate, impartial, and up to date. We fact-check every single statistic, quote and fact using trusted primary resources to make sure the information we provide is correct. You can learn more about GOBankingRates' processes and standards in our editorial policy.